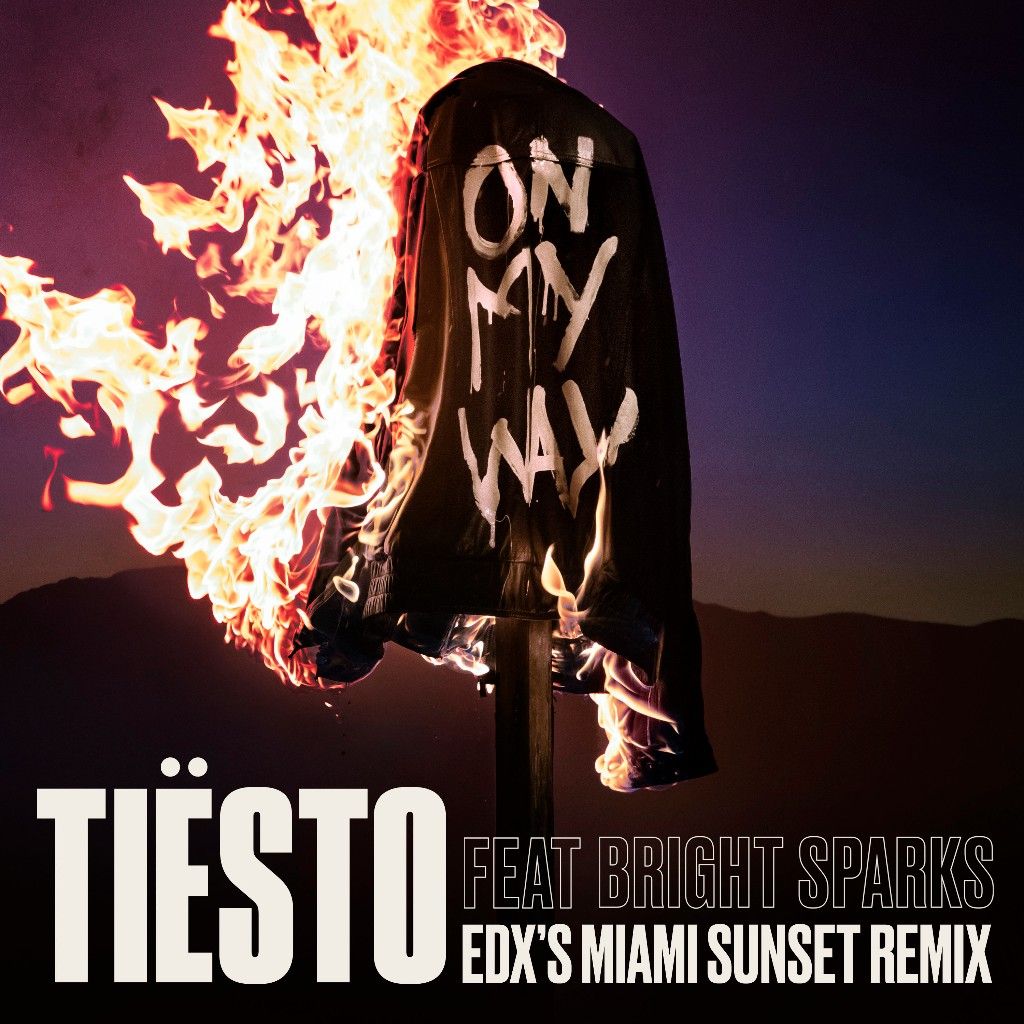 Tiësto - On My Way – EDX's Miami Sunset
Today, Grammy Award-winning dance music icon Tiësto dropped his Miami Sunset remix of "On My Way" by Swiss DJ/producer, EDX. This marks the first track from Tiësto's remix collection of "On My Way," with more exciting iterations coming in the following weeks.

The energetic and funky bassline on EDX's remix mixed with the warm vocals of English duo Bright Sparks conjures the image of a fun summer Miami night just in time for festival season.

"On My Way" was initially released earlier this year and represents Tiësto's first official single of 2017. The song, which makes use of flame imagery to suggest a cycle of rebirth and reinvention, serves as an anthem for anyone ready to seize the opportunity presented by a new year. Coupled with the track's melody and simple message of following your dreams regardless of naysayers, the release celebrates the individuals that stay true to themselves in pursuit of their ambitions.

Stay tuned for what Tiësto has in store for fans in the coming days. In addition to releasing additional remixes, Tiësto will be making a special announcement next week ahead of his headlining date at Ultra Music Festival on March 25th. For the latest visit Tiësto's website, https://www.tiesto.com/, and check out the new video for "On My Way" by visiting, https://youtu.be/7KW_5P1fkws.

About Tiësto:
With a remarkable career spanning over 20 years, Tiësto remains one of the top dance music acts in the world. Revered for his live shows as well as for his production and remix work, Tiësto is a globally celebrated DJ that has been named "The Greatest DJ of All Time" by Mixmag and the #1 DJ by Rolling Stone. Through revolutionary moments such as being the first DJ to open the Olympic Games and headlining festivals like Coachella, Electric Daisy Carnival, Stereosonic, Tomorrowland, Ultra and more, he has helped pave the way for today's modern music landscape. His 2014 album, A Town Called Paradise, yielded Tiësto his first platinum single in the United States with "Wasted" [featuring Matthew Koma] and his first gold single "Red Lights." In 2015, Tiësto was awarded a Grammy® in the Best Remixed Recording, Non Classical category for his remix of John Legend's "All Of Me." This was Tiësto's first Grammy® Award and second Grammy® nomination.