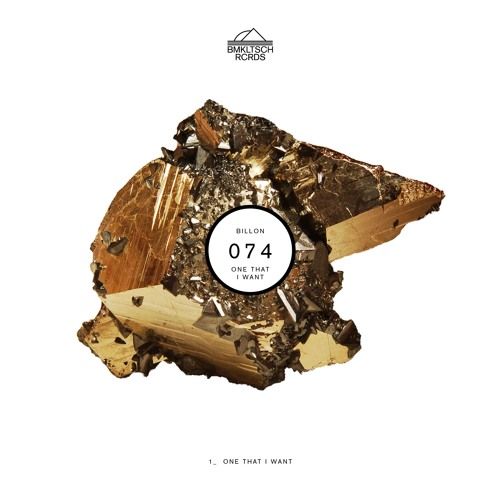 Billon - One That I Want
Known for his powerful basslines and infectious musicality, London-based Billon is often coined as one of house music's freshest talents – and for good reason. With remixes under his belt for Route 94, Keisza, Katy B, Zac Samuel and many more, plus stunning releases on Rinse, Virgin and Ultra, Billon's talents are laid bare for the world to see.
Now gracing Mike Mago's BMKLTSCH imprint with his unique sound, Billon releases an absolute gem of a track with One That I Want.
Starting off with a hypnotizing synth pattern, One That I Want is instantly captivating as it follows up with a dreamy vocal straight out of the soulful house era of the 90s. The vocal builds up to a grooving and jacking synth, accompanied by a stabbing drop that will fit both dancefloors and headphones alike.
"I wrote One That I Want last year. When I was at uni in Brighton I worked at the record label Tru Thoughts – it's a great indie label and has some really interesting artists. As I was working there I had access to a lot of things like stems and acapellas of their back catalogue… I dug out some by a group called Miles Benjiman. I'm a big fan of their album which is quite D'Angelo inspired…This one vocal really stood out to me and I loved the verse melody so I decided to sample it and built the track around it. I'm really happy with the result and that other DJs are feeling it and supporting it. Big up the Tru Thoughts team and Miles Benjiman for letting me use the vocal!" – Billon.
One That I Want is OUT NOW – grab your copy from BMKLTSCH.
BUY & STREAM:
https://fanlink.to/onethatiwant
SOCIAL MEDIA:
https://soundcloud.com/billonmusic
https://www.facebook.com/billonmusic
https://twitter.com/billonmusic
https://www.instagram.com/billonmusic/
http://www.billonmusic.com/