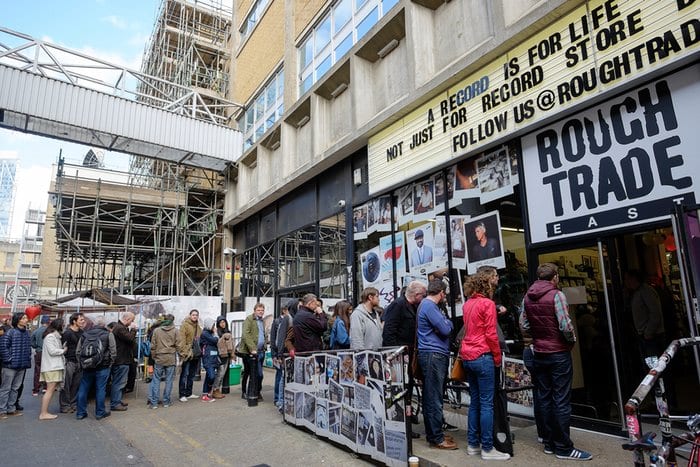 Our Record Store Day 2016 Festival Picks
Our friends at The Zeitgeist Agency are looking forward to getting in queue at the likes of Banquet Records and Rough Trade East to pick up something special for this year's Record Store Day. Check out some of our top picks from the huge selection available this Saturday and be sure to come and catch some of the acts this summer at one of our festivals.
#1 Foals – 'Rain' 7":
Fresh from their amazing sold out show at Wembley Area earlier this year the band are releasing a previously unheard track recorded during sessions for their current album "What Went Down". To mark the Record Store Day occasion, a limited edition 7" single 'Rain' will be released on vinyl. Catch them tearing down the house at Reading & Leeds Festivals in August.

#2 Parkway Drive – 'Horizons' 12":
Releasing their powerful 2007 debut album 'Horizons' on limited edition vinyl for the first time ever. Catch them at Reading & Leeds in August.

#3 The Charlatans – 'Trouble Understanding' 12":
Are exclusively releasing the Norman Cook remix of 'Trouble Understanding' ahead of their hyped appearances at Kendal Calling and Electric Fields this summer, keeping the festival spirit very much alive.

#4 Shura – 'Touch' 12":
In anticipation of her long awaited debut album, Shura launches a very special 12" baby pink coloured release of 'Touch', the fan favourite which gained over 30 million YouTube plays. This release is complimented by some stunning remixes. Catch her at Live At Leeds and LeeFest Presents: The Neverland later this year.

#5 Chase And Status – 'London Bars EP' 12":
RSD will be delivering the only physical release of 2015's 'London Bars EP'. After only ever previously being available as a digital download, this will be an extremely rare and sought after release and we can't wait. Check them in full live mode at a number of festivals over the summer including Sundown Festival where they're sure to close the season in style.

#6 Iggy Pop – 'Fire Engine' 7":
Possibly one of the hottest and most talked about releases for Record Store Day this year belongs to none other than the master of punk Iggy Pop. Recorded back in 1983 the unheard rarity 'Fire Engine' will be available to those lucky enough to seek out a copy. He's set to play a memorable set at Flow Festival in Helsinki this August.

#7 Thompson Twins – 'Set' 2×12":
On flashy red coloured vinyl, the Thompson Twins release a brand new designed 2×12 inch LP for a Record Store Day Exclusive. One side features the full and renowned 'Set' album in its entirety with the other containing four incredible remixes including the classic hit 'In the Name Of Love'. You can see the group's Tom Bailey live this year alongside Nile Rogers and FOLD Festival in the beautiful surroundings of Fulham Palace at a historical show. Do not miss it!

#8 Primal Scream – 'S'Express' 12":
Lovers of Record Store Day and all things vinyl, Primal Scream are releasing an exclusive and very special one off single featuring a cover of S'Express' 'Mantra For A State of Mind' and a brand new instrumental track 'Gravitational Wave'. With their recently released 11th album 'Chaosmosis' a career highlight, they'll be playing a very special set at Scotland's Electric Fields this summer.

#9 Slaves – 'Are You Satisfied' 12":
Modern punk superstars Slaves release their huge debut album for the first time on hot pink vinyl especially for Record Store Day. The release comes with 9 extra bonus tracks and you can see them in typically raucous form at Reading & Leeds Festivals this year.

#10 Roots Manuva – 'Switching Sides' 12":
One of the UK's most essential artists, Roots Manuva celebrates Record Store Day with another incredible cutting edge vinyl. Produced by Switch, 'Switching Sides' features five brand new tracks under his new production banner, 'With You'. LeeFest Presents: The Neverland will be the place to catch a modern British icon in full flight this summer!