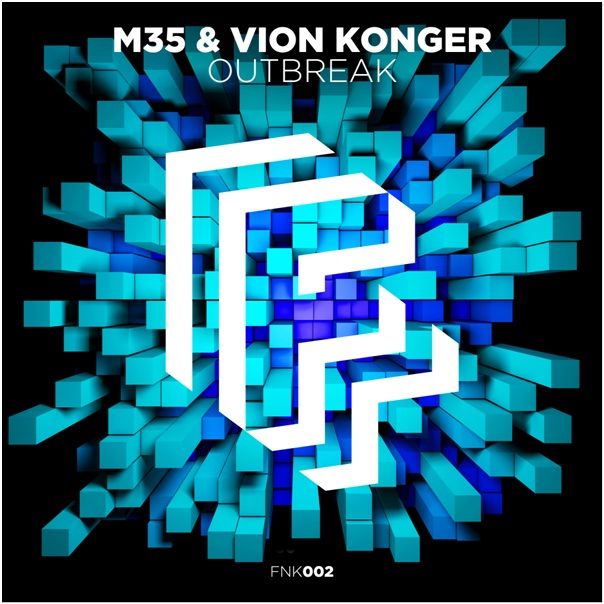 M35 & Vion Konger - Outbreak
Fonk Recordings return with a highly anticipated release of their fresh production 'Outbreak', a collaboration between M35 and Vion Konger, which will be hitting the shelves very soon.
Mes Karapetyan, better known as M35, has been making huge noises since exploding onto the Dance music scene. The L.A. native, has already built up a stellar collection of productions boasting numerous Beatport chart toppers including collaborations with MAKJ such as 'Revolution', which landed at #5 on Beatport's Top 100 Electro House chart, and 'GO', which obtained the #3 spot in the overall Top 100 Chart. Earning support from the scene's more iconic DJs, such as: Hardwell, Axwell, Tiesto and Calvin Harris, M35 has went on to release records on some of the world's premiere labels and remix renowned artists such as: Vicetone and Morgan Page; showcasing what a unique talent the classically trained 24 year old is.
Collaborating with M35 on 'Outbreak', emerging talent Vion Konger has already soared to boundless heights. Despite only being 16 years old, the young Russian won a remix competition hosted by Laidback Luke, subsequently leading to the stellar producer signing a publishing deal with Luke's Next Era Publishing. Gaining support from tastemakers including: Hardwell, David Guetta, Steve Aoki, Blasterjaxx, Dannic, Starkillers and Promise Land, Vion Konger has upcoming releases on many renowned labels, cementing his place as one of the fastest growing talents on the scene.
'Outbreak' is everything you would expect from a Fonk Recordings release. The drops are full of energy, razor sharp synths and groovy drumbeats, certain to get any dance floor shaking. M35 and Vion Konger have done an outstanding job with the breakdown. The lush pads, dreamy chords and euphoric synths fill the track with emotion before the track builds and the drop is unleashed. This is a must have for any DJ and is sure to be one of the more talked about tracks at this year's Winter Music Conference.
When Fonk Recordings' label boss Dannic discovered 'Outbreak', he was quick to sign the gem to the label. Established as a way for Dannic to refine his sound and give upcoming talents a platform to get heard, Fonk Recordings has already established itself as one of the industry's fastest growing and exciting new labels and will see M35 and Vion Konger join experienced names such as HIIO on the imprint's impressive roster. Stay tuned into M35, Vion Konger, Dannic and Fonk Recordings' social media pages for more information about the release!
Available on Beatport
http://pro.beatport.com/release/outbreak/1722236
View on Youtube
https://www.youtube.com/watch?v=u3mh4BkMjxA
M35 Online
http://www.m35music.com
https://www.facebook.com/M35official
https://twitter.com/M35music
https://soundcloud.com/m35
https://www.instagram.com/m35music
Vion Konger Online
https://www.facebook.com/VionKonger
https://twitter.com/VionKonger
https://soundcloud.com/vionkonger
https://www.instagram.com/vionkonger
Fonk Recordings Online
http://fonk-recordings.nl
https://www.facebook.com/fonkrec
https://twitter.com/fonkrec
https://soundcloud.com/fonkrec
https://www.instagram.com/fonkrec