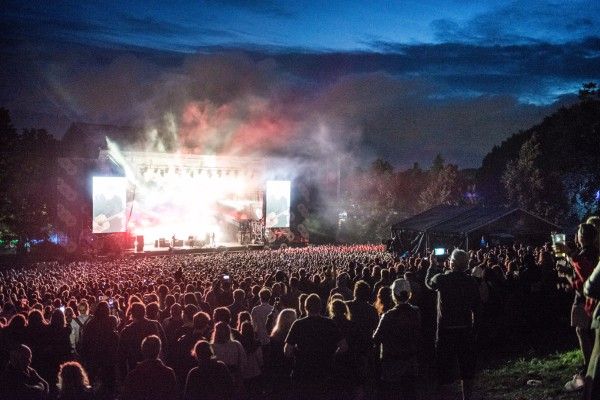 Øya Festival, Oslo 2018 – Final names announced
The park will also host four artists to celebrate the 25th anniversary of Oslo's renowned indie label Smalltown Supersound with Neneh Cherry, Lindstrøm, Dungen andDeathprod.

When Tøyenparken closes for the night, the festival atmosphere moves across Oslo's lively venues for Øyanight, a line-up packed with club nights and gigs. There's something for all tastes, notably Ariel Pink, Metalheadz featuring Ed Rush, Kelly Lee Owens, Digitalism and a Nordic take on Afrobeat from Music Is The Weapon.
Finally, the line-up for festival's traditional opening club day on August 7th has been announced with over 100 artists drawn primarily from Norway and the Nordic nations, including dark rock group The Devil & the All Mighty Blues, sensational pop artists Kristian Torgalsen, and Heartbreak Satellite – the trio made of Ragnhild Jamtveit of Pom Poko, Håkon Kjenstad (of Tuvaband and Panda Panda), and Tobias Pfeil.
From humble beginnings, Øya has cemented its enviable reputation as one of the most critically respected events in the summer music calendar, presenting audiences with tastefully curated, out-of-the-ordinary billings.

Beyond the music, Øya seeks to operate in the most environmentally sound approach possible. The entire event is powered by sustainable electricity, while all of the festival waste is hand-sorted and recycled which means that 70% of it can be reused. The audience also benefits from such an approach: almost all of the food served at Øya is organic and locally sourced from small scale providers, and all caterers are required to deliver a menu that's at least 50% meat-free.

Limited quantities of day tickets for Thursday and Friday are available from Ticketmaster. All week-long tickets and day tickets for Wednesday and Saturday are now sold-out.
FULL LINE UP ØYA NIGHTS:

Ariel Pink (US) + Ivan Ave / Kamaal Williams Mutual Intentions (UK) / Metalheadz feat. Ed Rush (UK) / Kelly Lee Owens (UK) + Lost Girls (NO) / Digitalism (DE) / Avalon Emerson (US) / Yves Tumor (US) / Omni (US) / Kida Kudz (UK) / Music Is The Weapon (SE) / Bisse (DK) + Misty Coast / Smalltown25 Club Night / Reykjavíkurdætur (IS) / Kapten Röd (SE)
Jamaika (DK) / Amyl & The Sniffers (AU) + Kosmik Boogie Tribe / Cherrie (SE) / DJ Boring (AU) / Bjarki (IS) / Fricky (SE) / Coucou Chloe (FR) / Sassy J (CH) / Kobosil (DE) Etapp Kyle (UA) / Samo DJ (SE) / Trummor & Orgel (SE) / Get Ready! feat. DJ Tiny T (UK)

FULL LINE UP FOR ØYA CLUB DAY 7TH AUGUST:

612 / Aktiv Dödshjelp / Alida / Anton Ruud i Terapi / Ask Carol / Attan / AVGVSTVS / Avind / Bae Louie / Barren Womb / Magnus Bechmann / Ben Leiper / Bendik HK / Bisån / Ane Bjerkan / Blomst / brenn. / Brut Boogaloo / The Cameltoes / Closing Eyes / CocktailSlippers / Company Ink / Cruel Intentions / Crying Day Care Choir (SE) / Dark Times / Darling West / Delish / The Devil & The Almighty Blues / Dudes / FOAMMM / William French / Geetar / Haraball / Heartbreak Sattelite / Heave Blood & Die / Helgeland 8-bit Squad / Hey Gloria / John-Olav Hovde / Hysj / Insomniac Bears / Intetskjønn / Invader Ace / Jackie Charles / Jimi Somewhere / JNS / Joggebukse / HM Johnsen / Kickslip / Kid Astray / Kosmik Boogie Tribe / Aleksander Kostopoulos / Label / Laurits Mosseby Orkester / Lazy Queen / Level & Tyson / Listen To Girl / LLfinger / Louien / Lyse Netter / Mall Girl / Margrete / De Marvells / Mats Wawa / Mayflower Madame / Simen Mitlid / The Modern Times / Mokri / Robert Moses And The Harmony Crusaders / Munroe+Knutsen / The Nika Riots / Hilma Nikolaisen / NINV / Norsk Råkk / Oh Yeah Tiger / Oilskin / The Other End / Outer Limit Lotus / Over The Trees / Pasha / Pelicat / Pieces Of Juno / Pikekyss / Ponette / Påls Butikk / Samū / Sara & Arash / Sâver / The Secret Sound Of Dreamwalkers / Selmer / Shan / Shikoswe / Sissy Kraimspri / Skalla / Jarle Skavhellen / S.L.Y.C. / Slaamaskin / Spielbergs / SPN Siew & Toby Wan Kenobi / Spurv / Borgar Storebråten / Svalestup / Sweet Nothing / The Switch / Taking Names / Takomaha / Tempelheks / Temporary / TORG / Kristian Torgalsen / De La Transistor / Travelle / Trist Pike / Tuvaband / TØFL / Utakk / Jonas V / Virginia Hill / Vöödöö / Wolves Like Us / Wonder The Boy / Wudewuse / Sebastian Zalo / Eirik Aas