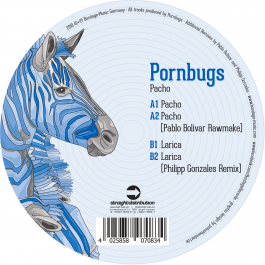 Pornbugs - Pacho
Bondage Music label-founders Pornbugs return to the imprint this September with their 'Pacho' EP, backed with remixes from Pablo Bolivar and Phillipp Gonzales.
Leipzig/Berlin based duo Pornbugs make a welcome return to their own label here with two new original cuts, 'Pacho' opens the package with stripped-back drums, a bulbous bass line and choppy piano chords running alongside a bubbling arpeggio lead and tension building stab sequences. Pablo Bolivar's 'Rawmake' of 'Pacho' follows, edging things into deeper territory with dropped tempo dusty drums, airy pads and an amalgamation of wandering, resonant synth lines.
The second half of the release, pencilled for release as vinyl only features another original from Pornbugs, entitled 'Larica' and featuring a similar aesthetic to the lead with fluttering dubby chords, a refined drum groove and unfolding atmospherics carrying the groove before label regular Phillipp Gonzales turns in his remix to complete the package, taking things in a more raw direction with heavily swung crunchy drums, pulsating filtered stabs and billowing vocal murmurs.
Pornbugs' 'Pacho' EP is out on Bondage Music 14th September (Vinyl) and 1st October (Beatport Exclusive) 2018.
Tracklist
1. Pacho
2. Pacho(PabloBolivarRawmake)
3. Larica – VINYL ONLY
4. Larica(PhillippGonzalesRemix)–VINYLONLY