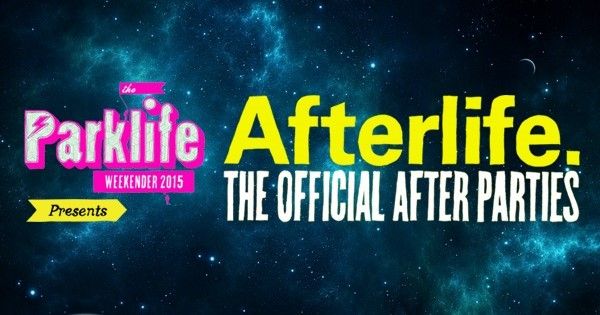 Parklife 2015: Afterlife Parties Announced
Parklife Festival have announced details of their official after party series taking place on Saturday 6th and Sunday 7th June 2015. With an already impressive line-up that includes headliners Disclosure, Rudimental, Ben Howard, Nas, George Ezra, Fatboy Slim, Grace Jones, Wu-Tang Clan, Caribou, Metronomy, Mark Ronson and Jessie Ware, Afterlife will also feature an array of special guests from the festival programme including Jamie Jones, Tiga and Richy Ahmed – as well as a series of extra special, unannounced performances.

Spread across a range of locations in and around Manchester, Sankeys, The Ritz, Sound Control, The Albert Hall, Antwerp Mansion, 265, Koh Tao, Soup Kitchen and Mint Lounge will all host events once the festival draws to a close – with each being held in collaboration with a number of local event promoters.

Saturday 6th June will see seven official after parties take place, with the inimitable Tiga joining forces with Polish outfit Catz n Dogz for a night of infectious house and techno hosted by extended members of the Parklife family, Drop The Mustard. Manchester's very own Ben Pearce is scheduled to headline Lightboxx's after party at The Ritz, whilst Ape & Metropolis are set to welcome a very special, secret line-up at Sound Control that will only be announced on the night of the party – with demand for tickets expected to be incredibly high. Further hosts include Rum & Bass and Miami Vice, with Flow Motion's offering comprised of Manchester collective MVSON, Flow Motion Duo, Connor McLeod and Hamz.

Kicking off Sunday's Afterlife is Paradise – Jamie Jones' infamous brand that will be headlined by the man himself at Manchester's Albert Hall, supported by key residents Richy Ahmed and Patrick Topping. A further appearance from a special guest is also scheduled, whilst the laudable team behind Parklife – The Warehouse Project – will curate an extra special and completely unannounced show at The Ritz, which in previous years sold out in a matter of minutes. Drop The Mustard's second after party at South will welcome hotly tipped London duo Maribou State and Black Butter's cornerstone artist Kidnap Kid, with Hit & Run enlisting Shogun Audio resident Icicle for their takeover, and Berlin-themed techno event Volk and residents Jack Wickham and Levi Stubbs appearing at Koh Tao.

With tickets for Afterlife going on sale at 9am on Friday 22nd May, Parklife Festival will offer up a staggering 34 hours of live music and non-stop dancefloor action across the weekend – making its fifth anniversary their biggest year to date.
Event info:

AFTERLIFE – Parklife Festival 2015

Date: Saturday 6th & 7th June 2015
Location: Various Venues, Manchester
Ticketing info: www.afterlifemcr.com


Social Media:

Twitter: @AFTERLIFE_MCR / #Parklife2015
Facebook: www.facebook.com/afterlifemcr

Afterlife Line-Ups:
Saturday 6th June

Name: Drop The Mustard
Location: Sankeys Manchester, M46JG
Line-Up: TIGA, CATZ N DOGZ, SPECIAL GUEST, CARL BEE, HACKETT, SIAN BENNETT

Name: Ape & Metropolis Present:
Location: Sound Control, M1 5NP
Line-Up: A VERY SPECIAL, UNANNOUNCED SHOW CURATED BY APE & METROPOLIS

Name: Lightboxx
Location: The Ritz, M1 5NQ
Line-Up: BEN PEARCE, SPECIAL GUEST, JUS JORGE, KINYUME

Name: Rum & Bass
Location: Antwerp Mansion, M14 5AG
Line-Up: SPECIAL GUEST, RUM & BASS DJS, BEN JAMES, KINYUME

Name: Miami Vice
Location: 256 – Fallowfield, M14 6LP
Line-Up: SZAJNE, N.A.N.C.Y, Disco Stu, Patrick Powell

Name: Zutekh
Location: Soup Kitchen, M1 1DF
Line-Up: TREVINO, ANTON FIZZ, MEAT FREE, ZUTEKH DJS

Name: Flow Motion Presents
Location: Koh Tao, M16 6XQ
Line-Up: MVSON COLLECTIVE, FLOW MOTION DUO, CONNOR MCLEOD, HAMZ

Sunday 7th June

Name: Paraside
Location: Albert Hall, M2 5QR
Line-up: JAMIE JONES, RICHY AHMED, PATRICK TOPPING, PIRATE COPY, PETE ZORBA + SPECIAL GUESTS

Name: The Warehouse Project Presents
Location: The Ritz, M1 5NQ
Line-Up: A VERY SPECIAL, UNANNOUNCED SHOW CURATED BY THE WAREHOUSE PROJECT

Name: Drop The Mustard Presents
Location: South, M2 6DQ
Line-Up: MARIBOU STATE, KIDNAP KID, SPECIAL GUEST, SAM GRAHAM

Name: Antwerp Mansion Presents
Location: Antwerp Mansion, M14 5AG
Line-Up: SPECIAL GUESTS, PARAGUS, KOALA SOUND

Name: Volk
Location: Koh Tao, M16 6XQ
Line-Up: JACK WICKHAM, LEVI STUBBS, JOSH WALKER, TOM PHILLIPS

Name: Hit & Run
Location: Mint Lounge, M41LE
Line-Up: ICICLE + SKITTLES, SPECIAL GUEST, CHIMPO, RICH REASON, METRODOME, HOSTED BY: SPARKZ, TRUTHOS MUFASA, T-MAN


Parklife Line-Up:

DISCLOSURE, RUDIMENTAL, BEN HOWARD, NAS, GEORGE EZRA, FATBOY SLIM, GRACE JONES, WU TANG CLAN, CARIBOU, METRONOMY, THE ROOTS, MARK RONSON (DJ), JESSIE WARE, JAMES BLAKE, JUNGLE, DUKE DUMONT, JAMIE XX, NICOLAS JAAR, JAMES BAY, EVERYTHING EVERYTHING, LABRINTH, MAC DEMARCO, KAYTRANADA, MODESELEKTOR, TODD TERJE & THE OLSENS, HUDSON MOHAWKE, TEN WALLS, JESS GLYNNE, EARL SWEATSHIRT, HERCULES & LOVE AFFAIR, CHET FAKER, FUSE ODG, VIC MENSA, TALABOMAN, J.E.T.S., TIGA, TENSNAKE, HENRIK SCHWARZ, LAPSLEY, TENSNAKE, ELLA EYRE, TALE OF US, REPRAZENT, BLONDE, PARANOID LONDON
BLONDE, TOURIST, BADBADNOTGOOD, DUB PHIZIX & STRATEGY, OUTFIT, KIKO BUN, BOB MOSES, NOVELIST, BECKY HILL, JIMMY NAPES, SANGO, SIRIUSMO, CURTIS HARDING, TEI SHI, BERNARD & EDITH & MORE TO BE REVEALED

PLUS ALL-STAR DJ LINE-UP, INCLUDING…

RICHIE HAWTIN, JAMIE JONES, ANNIE MAC, MK, NICOLAS JAAR, SETH TROXLER, ANDY C, DIXON & AME, MAYA JANE COLES, THE MARTINEZ BROTHERS, EATS EVERYTHING, SASHA B2B JORIS VOORN, TALE OF US, HANNAH WANTS, DUSKY, ADAM BEYER, HEIDI, MADLIB, OLIVER HELDENS, JACKMASTER, HOT SINCE 82, DAVID RODIGAN, SKREAM, WILKINSON, GEORGE FITZGERALD, BEN UFO & PEARSON SOUND, JOHN TALABOT & AXEL BOMAN, BENJI B, DJ EZ, DANIEL AVERY, RICHY AHMED, JULIO BASHMORE, CATZ 'N' DOGZ, ROUTE 94, PAUL WOOLFORD, PATRICK TOPPING, WAZE & ODYSSEY, OLIVER DOLLAR & JESSE ROSE, BICEP, FRIEND WITHIN, BTRAITS & JUSTIN MARTIN, SHADOWCHILD, JOHN TALABOT, JIMMY EDGAR & MACHINEDRUM, MIDLAND, BONDAX, CRAIG CHARLES FUNK & SOUL, BONDAX , JAGUAR SKILLS, JONAS RATHSMAN, SPECIAL REQUEST, JOSH BUTLER, FCL, WOOKIE & DJ Q, CHRIS LORENZO, RENE LE VICE, SG LEWIS, VENUM SOUND, CULTURE SHOCK, KRYSKO, GREG LORD, BRENDAN LONG, RICH REASON, NORTH BASE, JUICY DJS, WORK IT, JONNY DUB, PIRATE COPY, SIAN BENNETT, NOW WAVE DJS, NICOLA BEAR, HACKETT, DANCE LADY DANCE, WILL ORCHARD