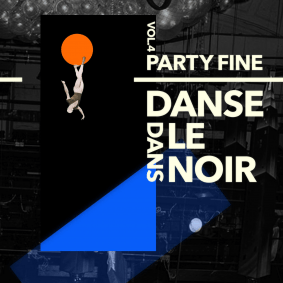 Various Artists - Partyfine vol.4: Danse Dans Le Noir
Yuksek's now six year old label Partyfine kicks off 2019 with a bumper compilation featuring plenty of exclusive tracks from all the label's key associates old and new.
The compilation showcases what the label will release in 2019, with forthcoming EPs by new signees Azur, PoloCorp (half of French duo Polo & Pan), Birdee & French Toast, Uncle O, and exclusive tracks by Obas Menor (half of Rabo & Snob), YouMan, Love Will Say No, Moonlight Matters and more as well as edits and remixes by Purple Disco Machine and Yuksek himself.
Dark disco, deviant disco, neo disco, psycho disco… you can pick up just about any word to describe the sound of this new compilation, but for sure disco is the main influence. Disco is not only for poolsides or cheesy parties, as this label has long been proving and Yuksek now confirms with a wealth of unreleased and exclusive tracks from newcomers and long-standing members of the Partyfine family.
Things open with beautifully slow and majestic sounds from Plaisir De France, then pick up with the exotic 'Hundred And Five' from Azur and low slung funk of Uncle O's 'Mecanica'. A wealth of wonderfully different styles from cosmic to dark, blissed out to steamy and tense all come from Weekend Affair, Moonlight Matters and Maestro.
The standout track by Getaroom, 'Mandrake,' was originally written in the seventies and never finished, but some 40 years later famous French producer Georges Chatelain gave Getaroom the tapes to finish it off. After that, Bas Nenor resets with chugging basslines and Love Will Say No layer up warm house chords and knotted bass, and Claap & Santa end with steamy, female French vocals and slow motion grooves that will get hips swaying and hearts swelling.
This is a fantastic taster of the varied and vital disco excellence that Partyfine will serve up over the next 12 months.
Tracklist:
1. PlaisirdeFrance – Orchestral
2. Azur – Hundred and Five
3. Uncle O – Mecanica
4. Weekend Affair – J'aiChaud
5. MoonlightMatters – Kitt (Yuksek Edit)
6. Birdee & French Toast – Your Body
7. Maestro – Harmonie (Yuksek Remix)
8. Polo Corp – Particules
9. Georges Chatelain & Getaroom! – Mandrake
10. Obas Nenor – Americano Buzz
11. You Man – This is Not Medecine
12. Yuksek – Showbiz (Purple Disco Machine Edit)
13. Love Will Say No – Please, Come to Bed
14. Franco & Bruno – Grazie Edit
15. Claap & Santana – Merci