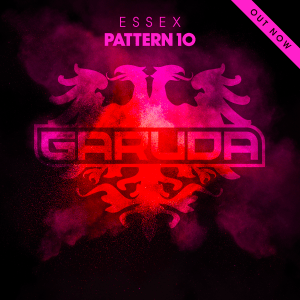 Essex - Pattern 10
Garuda Music's newest label release 'Pattern 10', from newcomer ESSEX, has been a huge success through out the music community. In only 5 days the video has surpassed 11,000 views on the Armada Music YouTube Channel, and has already been deemed Gareth Emery's "Track of the Week" on his radio show (EFL 053) where he showed extra love. The title track, 'Pattern 10,' coming from ESSEX is only the first installment coming from The Essex Project.
'Pattern 10' has been released at a time when the global popularity of modern day Trance Music is at an all time high. Holding no boundaries, ESSEX has created an ultra sexy and sophisticated tune combining heavy basslines, smoothly developed chords, along with riveting build ups and melodies. The groovy yet hard-hitting vibe resonates throughout the track making it difficult not to find yourself captivated by its beauty and held captive by its power.
Garuda label maestro, Gareth Emery, officially debuted 'Pattern 10' during the close out performance of his 24 hour live event, #EFLDAY, which marked the 1 year anniversary of the Electric For Life brand! He has made it clear that he "Absolutely loves [Pattern 10]" and that it is a "Massive favourite in [his] recent sets!"Prior to its release date, the track had garnered huge support from label and industry mates Armin van Buuren (on ASOT 741) and Craig Connelly (Decibel's Radio 028). Since the release, Myon & Shane recently featured 'Pattern 10' on their weekly podcast (International Departures 305) and be expecting some major artist to be featuring this tune in upcoming radio shows and live sets world wide!