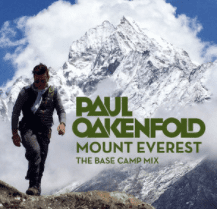 Paul Oakenfold Releases Mount Everest: The Base Camp Mix
Legendary DJ Paul Oakenfold presents Mount Everest – The Base Camp Mix, a 2 x CD album of tracks inspired by his 2017 trek 17,500ft above ground to play "The Highest Party On Earth" at Base Camp, Mount Everest.
Highlights include three Paul Oakenfold track exclusives, two versions of his new track 'Broken'; his recent track Deep Space and an unreleased outing of his classic 'Southern Sun remixed by Matt Darey.
The Base Camp is an electric mix reminiscent of the Goa mix and includes Vangelis 'Rachel's Song' from the original Bladerunner movie, an exclusive new remix of the Black Box classic 'Everybody', Placebo's enigmatic version of Kate Bush's 'Running Up That Hill' plus dance classics like Humate 'Love Stimulation' in its' legendary Paul van Dyk remix form. From chillout to house to tech house to trance..
The album comes alongside a documentary where for the first time Oakenfold shares a glimpse of his out of this world journey.
The Base Camp mix is available at CD, Digital Download or Available to Stream.
LISTEN HERE: https://open.spotify.com/album/5L6PMFprTx841pBTxV6bqZ?si=-cXXCOanR6KkXqc…
BUY LINK: http://smarturl.it/oakenfoldeverest