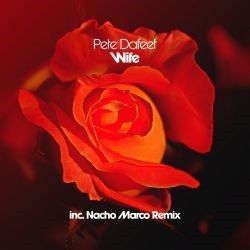 Pete Dafeet – Wife
Original Deep House pioneer, Pete Dafeet unleashes the first single, 'Wife', taken from his highly anticipated debut album 'The Root, The Soul', dropping in June. Forthcoming on his own Lost My Dog Records, 'Wife' is an exultant slab of piano House, loaded with a hook laced with early 90's Balearic Ibizan vibes and screams Summer! Nacho Marco's remix adds steel to the original's splendour as TR-303 and 909 joining forces to drive energy levels skywards. The package also features the album title track 'The Root, The Soul', which comes drizzled with delicious Dafeet synthology and a dreamy vocal that glides over a groovy House beat.
"I recorded 'Wife' in the run up to my wedding in 2013. It's a feel-good anthem and will forever remind me of a blissful, carefree Summer. The release has been a long time coming but it's great to finally get it out there!" – Pete Dafeet
One way or another 2015 will be a momentous year for Pete Dafeet. His label Lost My Dog – started in 2005 with friends Ian Straker and Najan Ward – will celebrate 10 years in business, and will then issue its final release: Pete's debut studio album 'The Root, The Soul'.
'The Root, The Soul' is the fulfilling of Pete's long held ambition to write a long-player. Recorded during a year that saw him engaged and married, it's a living memory of a very happy time – and has already found fans in Chez Damier, Ian Pooley and Charles Webster. The decision to close Lost My Dog after a decade of success was – in truth – a relatively easy one. 10 years is a long time, the lads are scattered across the UK and as with most 30-somethings, priorities have changed. The Root, The Soul will be a fitting epitaph for 10 very happy years.