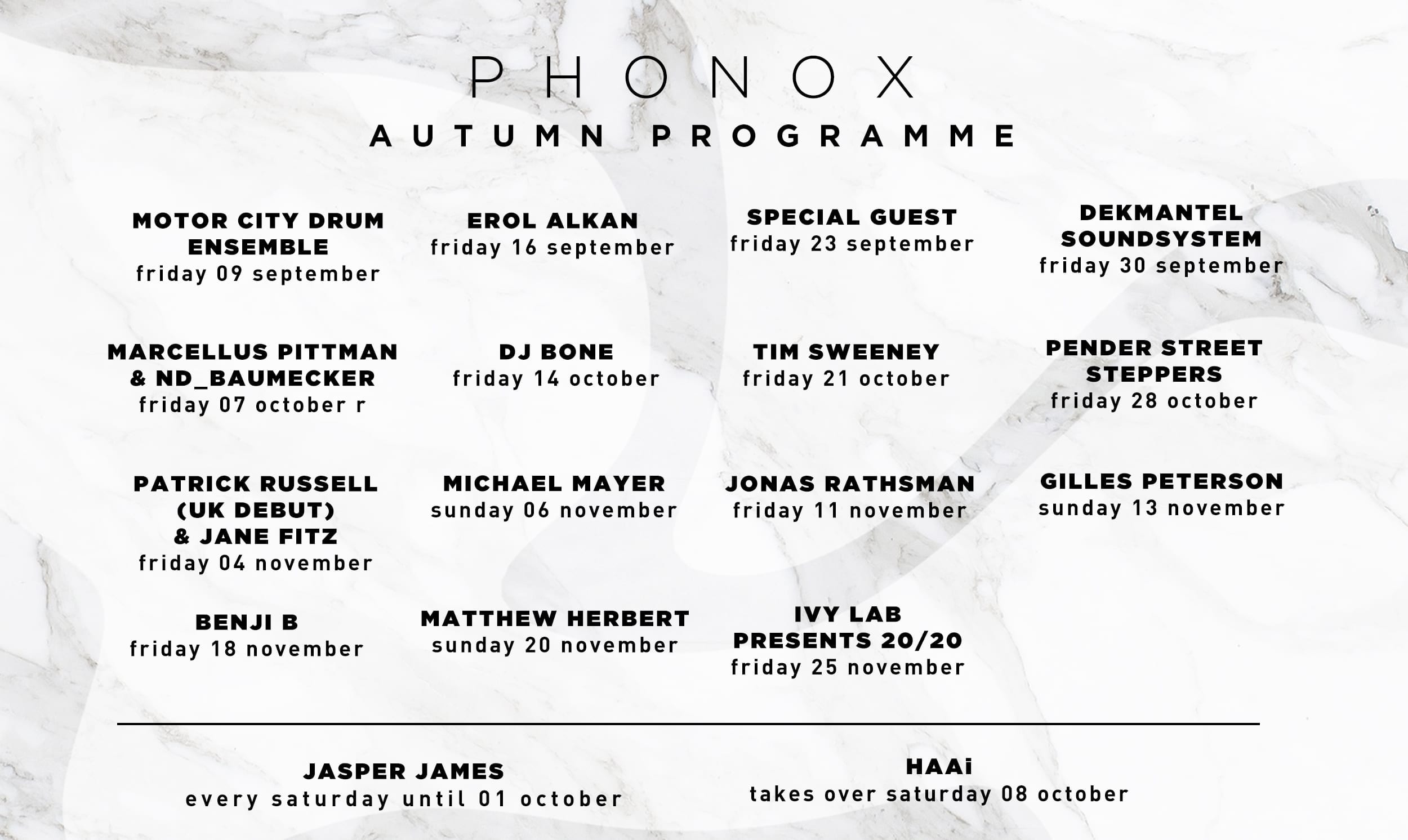 Phonox' New Saturday Night Resident & Autumn Programme
As announced, Jasper James will close his Phonox residency next month following a year of remarkable success. It is with the upmost pleasure that we reveal Jasper's successor and Phonox's new Saturday night resident, HAAi.
Opening her residency on Saturday 8th October, HAAi will play every week for the indefinite future. Though often joined by guests, they'll never be announced – HAAi is front and centre.
Whilst having little profile outside the realm of East London, she's no stranger to a residency. Holding it down at Dalston's Ridley Road Market Bar for the past two years, she's honed her craft at the helm of a heaving dancefloor with extended sets each week.
It is a very conscious decision when enlisting someone for the role of Phonox's resident, that it not be about the size of their profile but what in our eyes, matters most, sheer talent.
Starting as a collector of mostly African and Turkish records, HAAi went on to discover nuisances of dance music which would soon evolve and enhance her sets. Though unique, her ability to make people move is on par with some of the most illustrious of selectors. Her warm-up set ahead of Jacques Greene at the club earlier this year was met with a rapturous and extended round of applause at it's close – not something you see too often.
Head booker Andy Payton: "I first heard about HAAi from Joe Coghill (music manager), who was saying he'd heard this girl play and it was like listening to Optimo. HAAi warmed up at Phonox on 2 consecutive weeks, and both times different promotions managers texted me along the lines of 'Oh my god who is this DJ, she is amazing'. That's when we took notice and starting paying regular visits to Ridley Road to check her out. In terms of DJs earning an opportunity I can't think of a better candidate and can't wait for her to get started."
"I couldn't be more excited to take on this residency and become a part of the Phonox family. Since playing at the club in June with Jacques Greene I've been bursting to play there again. I can't wait to bring a taste of my previous residency at Ridley Road Market Bar in Dalston to Brixton. Although I know they are pretty big shoes to fill, I can't wait to take the reins." – says HAAi
Listen to a recording of HAAi at Dalston Superstore.

Autumn Programme
Alongside our new resident, we open up our Autumn Programme with a roster of talent we are especially proud to offer…
Continuing our longstanding Friday night concept we see a wealth of huge DJs including, Loco Dice, Dekmantel Soundystem, Pender Street Steppers, DJ Bone take on seven hour sets.
Marcellus Pittman & nd_baumecker go b2b on Friday 7th October with a UK debut from Patrick Russell alongside Jane Fitz on Friday 4th November.
Friday 09 September
Motor City Drum Ensemble
Friday 16 September
Erol Alkan
Friday 23 September
Very Special Guest
Friday 30 September
Dekmantel Soundsystem
Friday 07 October
Marcellus Pittman & nd_baumecker
Friday 14 October
DJ Bone
Friday 21 October
Tim Sweeney
Friday 28 October
Pender Street Steppers
Friday 04 November
Patrick Russell (UK debut) & Jane Fitz
Sunday 06 November
Michael Mayer
Friday 11 November
Jonas Rathsman
Sunday 13 November
Gilles Peterson
Friday 18 November
Benji B
Sunday 20 November
Matthew Herbert
Friday 25 November
Ivy Lab presents 20/20
Jasper James every Saturday until 01 October
HAAi takes over Saturday 08 October