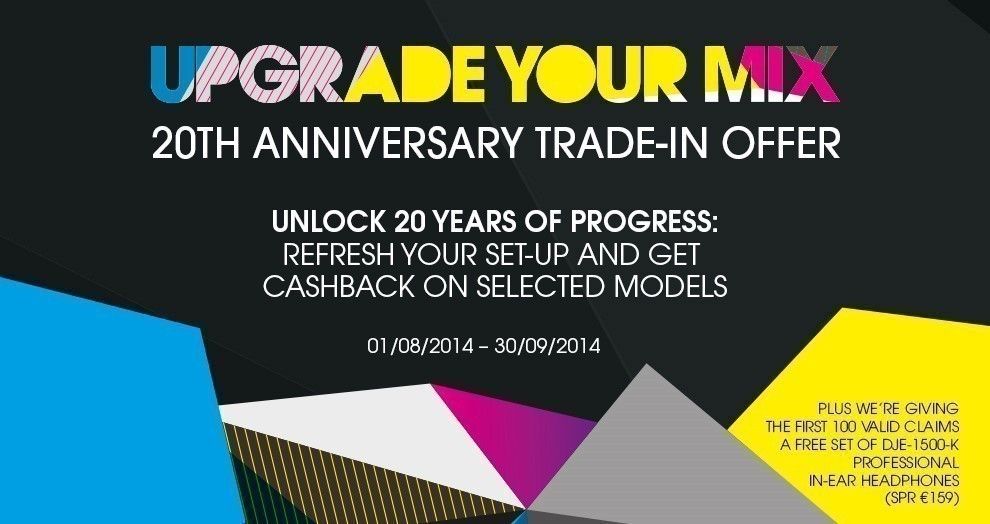 Pioneer DJ Europe marks 20 years of innovation with a celebratory trade-in offer
Pioneer DJ is inviting customers to celebrate its 20th anniversary with a pan-European trade-in offer. Between 1st August and 30th September 2014, customers can trade in their old Pioneer DJ models* at an Authorised Pioneer Dealer and get cashback on some of Pioneer DJ's latest equipment**. Plus, the first 100 valid claimants will receive a free pair of DJE-1500 professional in-ear headphones.

* Participants can trade in any variation and colour of their: CDJ-1000, CDJ-800, CDJ-500, CDJ-400, CDJ-200, CDJ-100S, DJM-800, DJM-600, DJM-500, DJM-400, DJM-300, EFX-1000 and EFX-500.

** And receive cashback on any variation and colour of: CDJ-900NXS, DJM-2000NXS, DJM-900SRT, XDJ-AERO, XDJ-R1, RMX-1000, RMX-500, CDJ-350 and DJM-350.

Pre-registration is required to qualify for the offer. Please see pioneerdj.eu/upgrade for full details and how to apply.

About Pioneer Europe
Pioneer Europe NV is the regional European headquarters of the Pioneer Corporation, a global leader in electronics and audio/video products for the home, car, commerce and industry, particularly in the following core multimedia technologies: digital versatile disc (DVD), in-car navigation and AV systems. Its shares are traded on the Tokyo Stock Exchange.