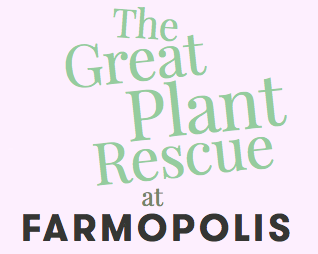 Pioneering Cultural Hub & Floating Oasis Farmopolis Opens On The River Thames
Saving the stars of the Chelsea Flower Show and re-homing them on the banks of the Thames, The Great Plant Rescue at Farmopolis will provide a much needed green oasis in our nation's constantly developing Capital city.
Farmopolis is driven by a unique partnership between Secret Productions – best known for co-organising award winning creative festivals around the world, Wayward – the pioneering art, design and farming practice, and Greenwich Peninsula – London's largest regeneration project.
As the Official Reuse Partner RHS Chelsea Flower Show 2016, The Great Plant Rescue has salvaged tens of thousands of Chelsea's plants to create a truly unique floating garden surrounded by the iconic vistas of the Thames.
Opening to the public on Saturday July 30th, The Great Plant Rescue at Farmopolis will host a dynamic summer programme of live music, experiential supper clubs, literary salons, immersive theatre and creative workshops, transforming the Jetty into a hub of creativity and wellbeing and offer visitors the opportunity to re-home a piece of RHS Chelsea Flower Show history. Whilst tickets are available now for upcoming events, visitors are encouraged to also head down to Farmopolis to simply experience the space for free (a £3 charity donation is suggested).
Jo Vidler, Director of Secret Productions comments: "This is about creating an eco-system, not just the living plants but the partners and people that make it happen. We want to connect the dots between community, events, culture and create a movement where they all feed off each other in a really unique environment."
With sights set on the future, a makers-space and food-incubator, large-scale events and festival spaces, hydroponic farming and sustainable innovations, green spaces and orchards, farm-to-table restaurants and major art commissions, community engagement and event programming year-round across the harvest seasons, this experiment in regeneration promises to be one of the most unique spaces in London.
Heather Ring, Director of Wayward comments:
"We're really excited to be putting down roots to create a genuinely sustainable and reinvigorated community around farming, food and culture – one that will continue to grow and bring the countryside to London's urban environment."
Situated on the Jetty at Greenwich Peninsula The Great Plant Rescue at Farmopolis, will be easily accessible on public transport by Jubilee line, bus, Emirates Airline and by Thames Clipper river services via incredible views of the London Eye, London Bridge and Canary Wharf.