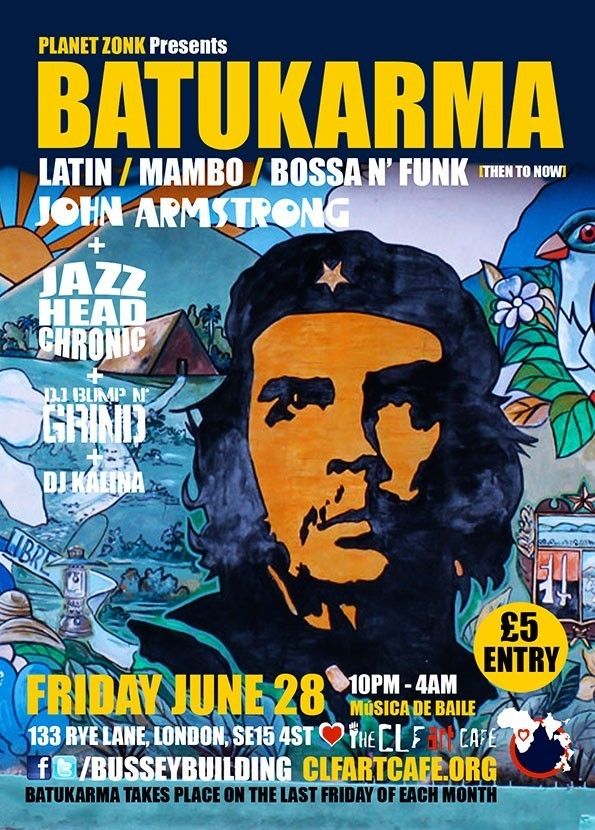 Planet Zonk Presents Batukarma
Batukarma is back and ready to blow you away with yet another amazing Special Guest. 40 year veteran, pioneering DJ and compiler of numerous critically acclaimed Latin-Spired CDs, the legendary DJ John Armstrong dropping in for a dancefloor busting session at the Bussey.
John Armstrong joining Your hosts, Jazzheadchronic (South London Soul Train), DJ Kalina (Bombo Tropical) and DJ Bump N' Grind (Zonk Disco) for a 6hr excursion through all things Mambo, Bossa Nova, Batucada, Afro Cuban + More. Then to now. Tito Puente to Zero DB via Mongo Santamaria and Seiji.
So come feel the fire and the heat of some of the best music on the planet. 100% Funked up Latin Flavoured Soul. Prepare to dance y'all. Ohhhhhhhh yah!
Batukarma runs 10pm – 4am / £5 Advance or On The Door.
Now takes place on the Last Friday of each month [Level 2] at The CLF Art Cafe AKA The Bussey Building.