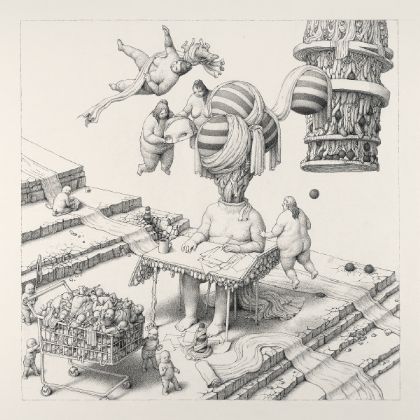 Brian Cid - Pluto EP
The 51st release on microcastle welcomes Brian Cid back to the label for a brand new EP. This rising US artist last appeared on the Canadian imprint a year ago with his well-received 'Belles Du Shaman' EP, where 3 diverse and uniquely organic productions, along with a remix from Eagles & Butterflies, saw the release reach #1 in Beatport's Electronica and Progressive House charts, while placing #4 in their overall Top 100. A subsequent release on Manjumasi, along with a stunning 6-track EP on his own Extinct Records imprint, saw Brian's music played and supported by Adriatique, Lee Burridge, John Digweed, Henry Saiz, Guy J, Hernan Cattaneo and Joris Voorn, amongst a host of respected DJs. His "Theory Of Light" project with Holmar Filipsson from Thugfucker debuted with 2 remixes for Cityfox, while a solo EP is due on the label later this year. Now, making his much anticipated return to microcastle, Brian presents his 3-track artist showcase 'Pluto', alongside a remix from Marvin & Guy.
The release begins with its title track and showcase piece 'Pluto', which finds Brian crafting one of his most distinctive creations to date. Commencing with a deep, astral intro, the piece flows through a myriad of esoteric designs and luminous textures. Organic percussion and meditative rhythms resonate at the core, while one of Brian's most extraordinary grooves anchors the foundation. A cosmic piece and one that Thugfucker have been showcasing in their sets for many months. For Brian, it was a unique production, as he describes candidly here:
"Pluto explores a side of me that doesn't come out very often – a deep, emotional piece that brings up my darkest yet most sensitive memories. It's this state of mind where the title ultimately originates from as it's the furthest and coldest planet of our solar system. I wanted the melodies to make a strong statement – spacey tones that grow in layers, leading to a percussive explosion – landing on a groove without warning. Me accessing a new unexplored sonic world. Memorable sounds that set strong, mysterious vibes and driving energy. This track navigates through a hidden pain within me, one where I'm getting to know myself. That's why, for the longest time, this record has been one of my most precious creations, reserved for only very unique moments." – Brian Cid
The lone interpretation of 'Pluto' is provided by Marvin & Guy, who are making their first appearance on the label. Formed in 2011 as a DJ and production duo, Italians Alessandro Parlatore and Marcello Giordani (aka Marvin & Guy) have been releasing their unique take on house music through a variety of international labels, most notably on Aeon, Correspondant and Hivern Discs. 2017 began with a stellar 4-track EP courtesy of Permanent Vacation, with a bevy of new material set to follow later this year. Now, making their much-anticipated microcastle debut, Marvin & Guy take 'Pluto' into tripped out territory with great results. Aptly titled 'Hypnodance Mix', it's a journey played out over twelve magical minutes, as the duo work mesmerizing lines, intriguing vocal samples and deep chugging grooves, resulting in a sure-fire dancefloor bomb.
The EP's second selection 'Mancha' showcases a more techno inspired side of Brian's studio repertoire. Tough beats, crisp design and a rugged, triplet-style groove get wrapped up in radiant chords and emotive pads for an intense 8-minute journey. This is one of Brian's most recent creations and one with a larger scope in mind, as he describes here:
"Lately I've been in the mood of creating grooves designed for bigger spaces and monumental moments – undeniable rhythms that gain everyone's undivided attention, ones that can express a lot by saying very little. This is 'Mancha' which means 'stain' – one difficult to ignore – big synths and bassline on a rhythmic pattern, accompanied by smooth chords that add tension and emotion to the journey. This record is a symbol of freedom & strength, which is a good reflection of where I am physically and mentally today." – Brian Cid
The release concludes with 'Dimensions', which goes deeper with rolling grooves, acidic rhythms and spaced out pads. From delicate and beautiful to dramatic and paranoid, the evolving storyboard is already a favourite of Crosstown Rebels boss Damian Lazarus; it's also a piece which Brian holds close to his heart, as he explains:
"'Dimensions' tells the story of self exploration, challenges and a new found peace within myself. I created this record while going through strong shifts in life and new adaptations. It became a sonic adventure to an unknown world inside me that I never knew existed. Heavy on melodies – this track has strong drive accentuated by deep percussion and low synths – merging to form complex rhythmic patterns full of movement. Complex yet simple. Simple yet elegant. It's a one of a kind record and a favorite for sure." – Brian Cid
Artist Info:
https://soundcloud.com/briancid
https://twitter.com/BRIANCID
Label Info:
https://twitter.com/microCastle
https://soundcloud.com/microcastle/tracks
https://www.facebook.com/microcastleofficial
https://www.youtube.com/user/microcastlemusic
https://www.beatport.com/label/microcastle/12970%20