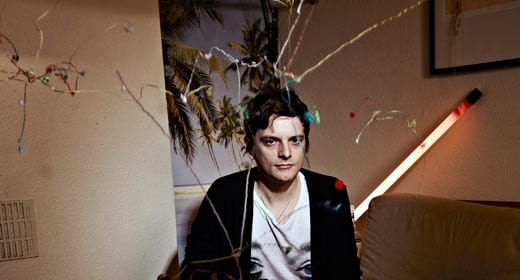 Podcast 027: Maxxi Soundsystem
Exploding onto the scene back in 2010 with the Annie Mac-championed 'Criticize', Sam Watts aka Maxxi Soundsystem has fast become a DJ and production force to be reckoned with.
His most recent triumph was the Defected-released 'One In Three' which he recorded alongside former collaborator Name One, and is another emotive slice of house music from the very top drawer.
His In Their House mix contains that heady blend of dancefloor energy and considered production with which he has made his name, and includes a few unreleased goodies to boot.
It's officially December… feeling festive yet?
Yes – I like this time of year, I bought some lametta yesterday.
How will you be seeing in this particular New Year's Eve?
I'm playing at Fabric on NYE so that should more than decent! Then a little party with some mates for New Year's Day somewhere in London. I guess for DJs NYD is more when you get to 'relax'.
You've previously said that you enjoy working with Name One as he understands that house music should do more than just make you want to dance… why do you think that's an important aspect of your music?
Dancing is absolutely the main thing I want to make people do but I think what both me Name One share is a desire to do that and also make you feel something. I think that's important as the music will stay with you longer and hopefully not be quite as disposable as a lot of stuff out there. Plus it's harder to do which makes it more of a challenge.
Tell us about the mix… where and how was it recorded?
I recorded it in a friend's house in Sao Paulo while I was doing a little tour out in Brazil last month. It was slightly odd to do it out of the comfort zone of the studio where all my music is but still I'm happy with how it turned out. Since the mix was around the release with me and Name One I used some samples and parts from the tracks we've worked on (some unreleased) over the mix itself so it's definitely a studio DJ mix.
Any records in particular on there that you'd like to highlight?
Well there's a brand new track on there from Name One. I wasn't sure whether to include it as in a way it's not finished (which is always dangerous) but am interested to see if people like it now it's 'out there'.
Considering the commercial success that house music has enjoyed this year, do you think there will be any backlash from producers next year in that they might try to head further back into the underground?
Of course. Where there is success there will bandwagon jumping and then there will be backlash. Like death and taxes in life – you can be sure of 'Bandwagonning and Backlash' in dance music. Not sure 'Bandwagonning' is a word but I can't do any better.
Anything else you'd like to tell us about…?
Errr… well if I may plug something – my friend MANIK and I have an EP coming out very soon on Black Butter which was pretty much all done in a single furious session in NYC. Very excited to get it released… keep an eye out, one of the tracks from that is on this mix.
One In Three is out now – buy from Beatport