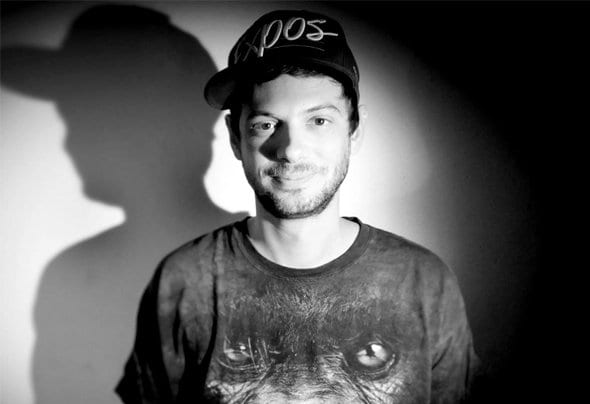 Podcast 145: Sacha Robotti
With a REAL name like Robotti, it may seem obvious that you're set for a life working in a synthesizer factory or in Artificial Intelligence. However, this Italian-German, Belgium bred 3rd culture polyglot with a Russian first name, has a huge talent for music, which surfaced very quickly when he started to play the cello from age 7. In his teens in the 90s, Sacha discovered the rumblings of the underground house and techno scene of his native Brussels, which inspired him so much that he put down the bow and picked up the turntables. Influenced by the greats of this era: Green Velvet, Aphex Twin, Jeff Mills, DJ Funk, Thomas Bangalter, Dave Clarke, he was soon honing and mastering his own DJ skills. Upon graduating with an architecture degree from Edinburgh, he moved to Berlin to get fully submerged in the underbelly of the city's nightlife.
After first self-released vinyls around 2004, Master studies in music with Karl Bartos (formerly Kraftwerk), and an album under the Berlin DJ duo alias Robosonic with his production buddy Cord, Sacha Robotti put his name on the map as a solo producer with his toe-wobbling debut "Tingly Trumpets" in 2010. Focusing on solo work, Sacha then found a home on Klasse, teaming up with label head Luca Lozano for their first release "Bartok".
2012 started as an Olympic year for Mr. Robotti as his track "The Major" feat. DJ Rush dropped on Dirtybird, the label from SF he's loved since its beginning! His track was played by DJs like Seth Troxler, Ellen Allien, Miss Kittin, Joris Voorn, and the whole DB crew. Later that year, Sacha released some epic remixes: Audiojack feat. Kevin Knapp on Gruuv, of Zombie Disco Squad feat. DJ Funk on Made To Play, and of Deo & Z-Man on Opossum. Also, his original "Move EP" with remixes by Tim Green and Michael Tello of PillowTalk, as well "The Big Ol EP" dropped on Klasse (with a remix by the legendary Waxmaster Maurice of Chicago's Dance Mania fame!). Sacha also met up with his Belgian buddy Kill Frenzy to make two signature tracks: "Go To The Mo" for Dirtybird, and "I Like It" which was signed to Shadow Child's label FOOD – together with a remix by B-Ju and a fun Kill Frenzy & Sacha Robotti radio show on BBC 1 Xtra.
2013 made another dream of Sacha's come true, when his collaboration with Claude Vonstroke was released on Dirtybird: a VIP version of "Lay It Down – Re-Smoked", the final track of his latest album "Urban Animal".
In summer 2014, the release of his collab with Look Like "Loca Lola EP" on Dirtybird, his collab with Kevin Knapp "Puppet" on Jesse Perez's label Mr. Nice Guy, as well as a single on Klasse's sublabel Down2House, along with his DJ gigs as far out as Mexico, Sydney, Toronto and all around the US. made Sacha Robotti new friends and fans all over the world.
January 2015 saw Dirtybird celebrating 10 years – Sacha's addition to the birthday compilation, "Thump Bumper" with Kevin Knapp, got voted by Mixmag as one of the 10 tracks that defined Movement Festival Detroit, and enjoying big support from Green Velvet, one of Sacha's teenage heroes. Later this year, Sacha Robotti's collab EP "Shaky" with ZDS on Toy Tonics saw the light and has since been slammed on dancefloors worldwide, particularly by Claptone, as well as remixes for Fidelity Kastrow on Sisyphos' Club label Sisyphon and Rainer Weichhold's classic "Bamboo" on Gold Records.
Since his January 2016 relocation to Los Angeles, Sacha Robotti has been neck-in-neck with the California sunshine for Hottest Act of 2016 (ha, ha). In addition to releasing a slew of fresh cuts on Snatch Records, This Ain't Bristol, Dirtybird Records, Insomniac Records, a collab with Kevin Knapp on Lost Records, and a #1 Beatport single on Suara Music, Sacha Robotti hasn't just been chilling on the beach in Malibu and in the studio crafting hits – in fact, he barely has any time for the former, since he's also been making waves with his infectiously fun and high-energy DJ sets all across the U.S. Along with a thunderous nationwide tour with fellow Dirtybird player Ardalan, Sacha Robotti has also been gracing the stages of some of the most renowned festivals in the country in 2016, including CRSSD Festival, Coachella Valley Music & Arts Festival, Lightning In A Bottle Festival, Electric Daisy Carnival Las Vegas, Burning Man, Dirtybird Campout 2016, with even more exciting performances to be announced.
Although Sacha's sound has evolved throughout the years, you can recognize his signature in everything he creates: meandering between the dirty bass-heavy "booty" plains of electronic dance music and its' futuristic shores; his music is funky, creative, has character, uses a palette of rich sounds and tells a story with layers of depth and emotion. It also has a sonic quality that makes it stand out.
Keep your eyes and ears peeled for this gentleman with a weird little thing for sweaty dance workouts & happy bass-massaged faces.
Booking Requests: [email protected]
MGMT Requests: [email protected]
www.soundcloud.com/sacha-robotti
www.facebook.com/sacha.robotti.music
www.residentadvisor.net/dj/sacharobotti
www.beatport.com/artist/sacha-robotti/129974
www.twitter.com/sacharobotti
www.instagram.com/sacharobotti
snapchat: sacharobotti