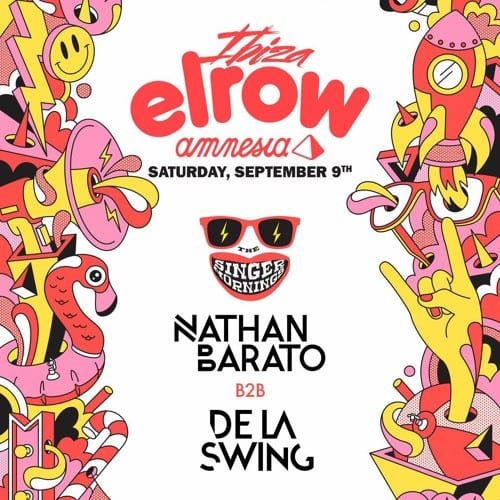 Podcast 197: Nathan Barato B2b De la Swing – Elrow At Amnesia
3 hours recorded live mix on Elrow at Amnesia Ibiza. Saturday, September 9th 2017.
---
Nathan Barato
A Waiter,
A DJ,
A Lover.
With his roots in the Toronto after-hours circuit and a profile that has since seen him smash premiere international platforms across the globe, Nathan Barato's carved out a reputation as not only one of the most playable producers in dance music, but amongst its most prolific DJs as well.
In other words, Nathan Barato isn't just the guy being invited to play all the big parties, he's the guy everyone else on the bill is spinning too. Whether it was Marco Carola first rinsing Nathan's 2012 hit "Hard Werq" to worldwide audiences just months before asking him to join the Music On roster, or Jamie Jones deeming Nathan a new star at the Hot Creations camp while making this year's 'Wobble Talk' EP a mainstay in his superstar sets… the T.O. native has skyrocketed to international prominence as a well-respected and sought after name.
Many credit Nathan's success to his genre diversity. His eclectic sound infuses many styles and has been recognized as one where the likes of 90's garage get sampled against the backdrop of funky techno. As a result, Nathan's music is being released on some of the most prestigious imprints in the industry, including the aforementioned Hot Creations and spinoff Hottrax, as well as Rekids, Cajual, Saved Records, MOOD, and of course, his very own Roots And Wings label.
As Nathan Barato keeps on turning industry eyes and ears in his direction, he continues to get booked at some of the most vaunted events and clubs around the world, from festivals like BPM (Playa Del Carmen, Mexico), Ultra (Miami, USA), and We Are (London, UK), to venues that include Womb (Tokyo, Japan), Fabric (London, UK), WHP (Manchester, UK), Stereo (Montreal, Canada), Coda (Toronto, Canada), Output (New York, USA), Sound (Los Angeles, USA), Club Space (Miami, USA), Barn (Modena, Italy), DC10 (Ibiza, Spain), Amnesia (Ibiza, Spain), and more.
This upcoming summer plans to be another busy one for the in-demand selector, especially in Ibiza, where Nathan's time on the island will be highlighted by a much anticipated residency at Jamie Jones' powerhouse Paradise jam at DC10, 3 gigs at Space's Do Not Sleep gathering, his return to Marco Carola's Music On at Amnesia, and that's just the beginning. You don't want to miss it!
---
De La Swing
Elrow (Bcn-Ibz) / Monegros Desert Festival resident dj
Barcelona
Spain
Domingo Bellot, born in Madrid in the 80's started his musical career at the age of 16. He is influenced by techno as well as Drum&bass. His technical skills, ability to connect with the public and diverse musical style has made him one of the most versatile dj´s in Spain. Over the past 5 years De La Swing has shared the turntables with a class dj´s such as: Marco Carola, Loco Dice , Richy Hawtin, Dubfire, Laurent Garnier, Joseph Capriati, Adam Beyer , Paul Ritch , Pac Osuna , Vitalic, etc .. and has played at festivals like Monegros Desert Festival (Spain), Eastern Electric Festival (London), Kingsday Madness (Holland) & Origin Festival (South Africa) being quickly a well-known and familiar dj name in Spain, France,Italy and Holland
Since 2010 is one of the pillars resident dj´s of ElRow, the after hour that became in a glimpse, one of the best club of Europe and probably of the world. ElRow, based in the ever growing electronic hub of Barcelona, is the brainchild of the organisers of Europe's only desert festival, Monegros, and owners of the acclaimed techno club Florida 135. Attracting stellar line ups and captivating the hearts of the world's greatest DJs. Every Sunday morning more than 5000 clubbers religiously attend ElRow where these 7 residents keep everyone dancing until the last second that the club is open
In the study De la Swing is a solid and fertile mind having produced and remixed for labels like Elrow music, music Florida, Drakos Recordings and Amazing Lab
Its more underground side we can enjoy with your aka "Smoke Signal", participating as a resident in Ker Club (Barcelona) where every Friday and Saturday the most exquisite clubbers attending the most recognized club Barcelona, ​​sharing his talent with artists such as Martinez Brothers, Art Department, Maceo Plex, Maya Jane Coles, Seth Troxler, Scuba, Los Suruba etc …
De la Swing in a continuous evolution of the sound, where the depth, darkness and fun are always present in his sets and throughout which, he shows his creativity and innovation on stage, driving his passion and vibrancy to create a different story every time, while establishing a unique connection with the crowd.