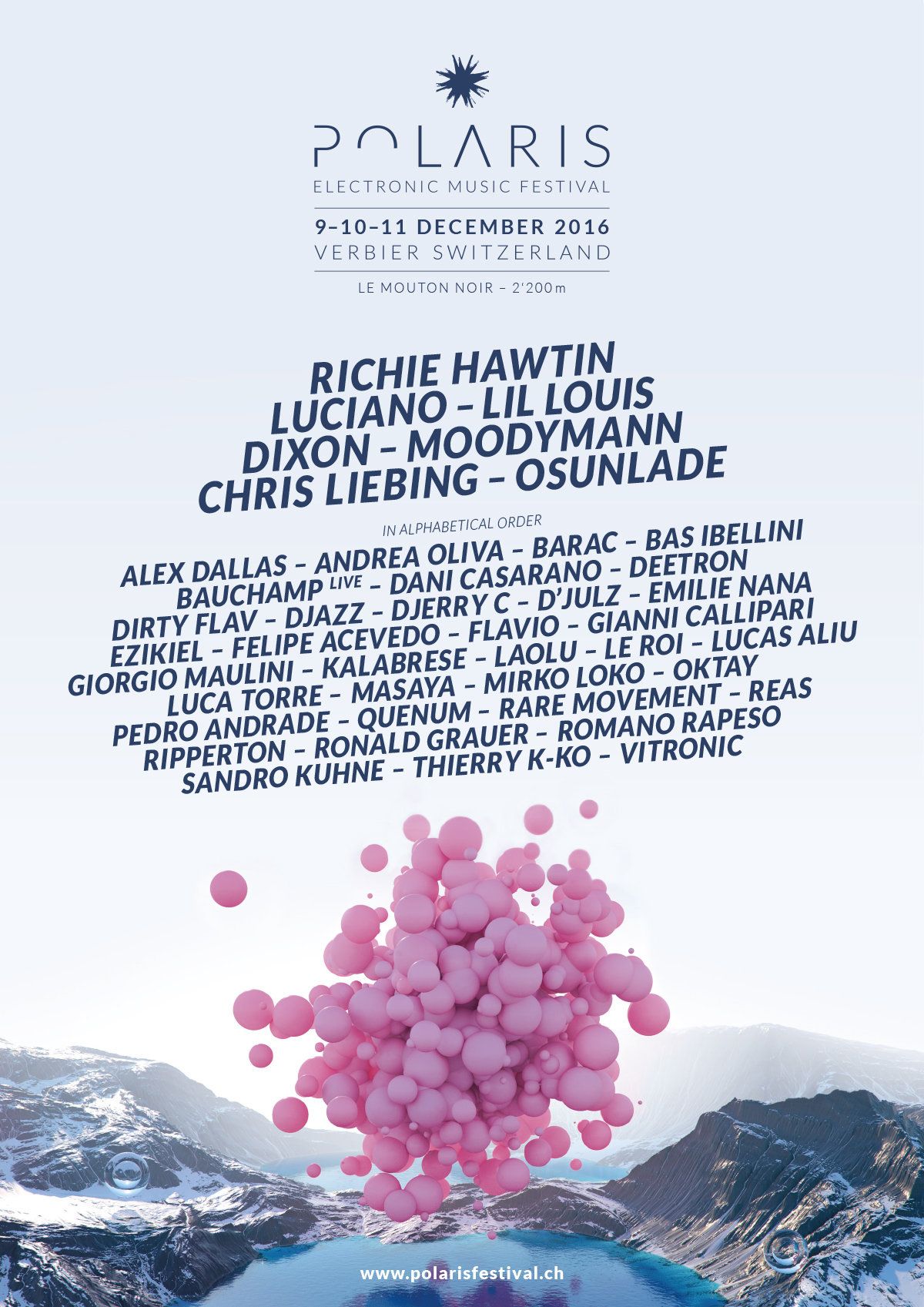 Polaris leads into its second year in Verbier, Switzerland
9 / 10 / 11 December
www.polarisfestival.ch
Richie Hawtin, Luciano, Lil Louis, Dixon, Moodymann, Chris Liebing, Osunlade, Andrea Oliva, D'Julz, Mirko Loko, Deetron, Ripperton, Barac, Bas Ibellini, Alex Dallas, Laolu, Kalabrese, Gianni Callipari and many more…
Located 2200 metres up a mountain, with panoramic views of the Swiss Alps, Polaris returns for its second year, also adding an extra day to the electronic music festival in Verbier, Switzerland.
Held over three days and on five stages, a quality selection of the world's best DJs will play inspired music on the mountain top of Verbier, soundscaping beautiful and breathtaking views of the Swiss alps.
Last year saw some of the world's best electronic talent, including likes of Laurent Garnier, Luciano, Carl Craig, Seth Troxler and more, and this year invites some other top quality DJs to experience, including Richie Hawtin, Luciano, Moodymann, Lil Louis and Dixon.
The ethos of the festival is to bring something authentic and to bring good vibes and good friends together on the mountain.
The main stage is The Mouton Noir, located in the middle of Vebier's ski slopes, with four additional locations on the mountain side.
Full Line-up:
Alex Dallas, Andrea Oliva, Barac, Bas Ibellini, Bauchamp live, Dani Casarano, Deetron, Dirty Flav, Djazz, DJerry C, D'Julz, Emile Nana, Ezikiel, Felipe Acevedo, Flavio, Gianni Callipari, Giorgio Maulini, Kalabrese, Laolu, Le Roi, Lucas Aliu, Luca Torre, Masaya, Mirko Loko, Oktay, Pedro Andrade, Quenum, Rare Movement, Reas, Ripperton, Ronald Grauer, Romano Rapeso, Sandro Kuhne, Thierry K-Ko, Vitronic
Times:
Friday: 14h00 – 04h00 Price CHF 69.
Saturday: 12h00 – 04h00
Sunday: 11h00 – 04h00
Price:
Friday: CHF 69
Saturday: CHF 69
Sunday: CHF 49
3 Days Pass: CHF 169
For flight, accommodation and ticket packages, check: https://www.festlane.com/en/festival/polaris