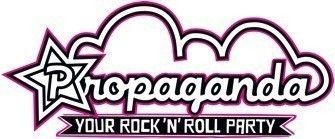 Propaganda bring weekly Saturday night show to XFM
Propaganda, the UK's biggest alternative club night takes to the air with a weekly show on the UK's biggest alternative radio station Xfm, for a partnership made in indie rock heaven. 'Propaganda on Xfm' will air every Saturday night from 10pm – Midnight and will be hosted by Propaganda resident DJ, Gabby Sanderson.
Gabby Sanderson is a presenter, DJ, music journalist and UK voice of The International Radio Festival. She has fronted music shows for TV and radio nationally and internationally for the BBC, MTV, Ibiza Rocks, Sky, The 2012 Olympics, RTE, Warner Music Entertainment, hosting Channel 4's Gaymers Grassroots Gigs and is former I'm with the Band columnist for Ireland's number 1 music magazine Hot Press.
Every week Propaganda founder DJ Dan along with Gabby and his bank of world class DJ's travel the country bringing the rock and roll party to the masses. Gabby is delighted to be representing Propaganda on a station she is such a fan of. "I've grown up listening to Xfm so hosting a Saturday night show on the station is a real privilege. Propaganda is one giant rock 'n' roll party, listeners can expect to hear future floor fillers from the hottest Propaganda DJs, big indie disco numbers, plus guest DJ sets and backstage banter from loads of Xfm bands. It'll be like having a AAA pass to the coolest house party in town."‬
Propaganda founder DJ Dan says of the partnership "I am really excited to be bringing Propaganda's unique rock n' roll party to the Xfm airwaves. Xfm and Propaganda are two of the biggest indie and alternative pioneers in the country, we both have a similar approach to the music we play and we share a passion for promoting indie music, this seems a really natural partnership and I am thrilled to be working together".
Xfm's Managing Editor Chris Baughen said: "This fantastic show is a welcome addition to Xfm's line-up. Propaganda are the perfect partner for us, sharing the same attitude and passion for music".

Over a million music lovers a year visit Propaganda taking place in 22 cities across the UK and Ireland weekly. Propaganda is ever expanding not just in the UK but globally hosting a weekly night in Australia and one in Brazil plus an annual residency in Ibiza. Propaganda marked 2014 with a bang launching its first venue Propaganda's Attic in Leeds. Propaganda has hosted tents at all the UK's major festivals including Reading and Leeds, Glastonbury, Bestival and V Festival. Propaganda hosts live performances and DJ sets from leading lights of the music scene including Ed Sheeran, Mumford and Sons, Two Door Cinema Club, Bombay Bicycle Club, Lily Allen, Rudimental, The Vaccines, Bloc Party and The Libertines.
Tune in to Propaganda on Xfm every Saturday night from 10pm – midnight (from Saturday 15th February . Available in London on 104.9 FM, in Manchester on 97.7 FM, and across the UK on DAB digital radio, at xfm.co.uk and on the app.

In the latest industry results by RAJAR, Xfm attracts an audience of 929,000* listeners across the UK each week.