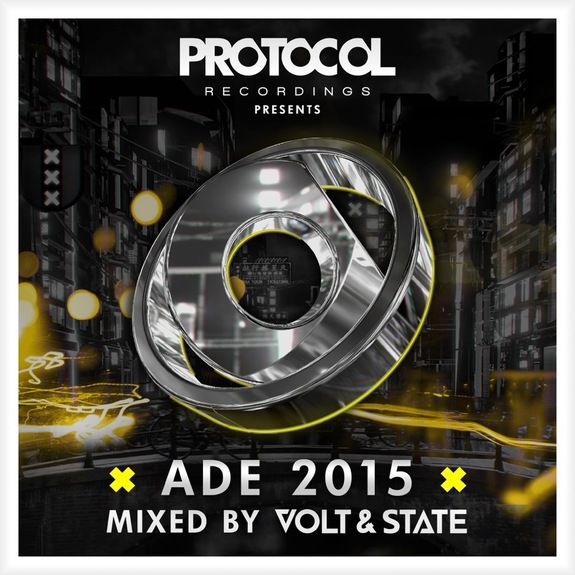 VOLT & STATE - PROTOCOL PRESENTS: ADE 2015
As 2015 nears its end, it's clear to see that Protocol Recordings has had a very successful year. From selling out the famed Mansion Miami nightclub during WMC, Nicky Romero's residency at Omnia Nightclub, the critically acclaimed release of the "Miami 2015" Compilation, to signing brand new talent added to their already prolific roster, Protocol continues to prove that they're in better shape than ever. To further solidify their position as the most innovative record label in the business, Protocol Recordings is back to present the "ADE 2015" compilation, including a host of tracks from some of this year's elite burgeoning talent.
The face of this year's ADE compilation, dynamic Dutch duo Volt & State have been setting the scene ablaze with their astounding productions and electrifying live sets, so it should come as no surprise that good friend and Protocol Recordings head honcho selected them to mix this year's ADE compilation. Giving a tantalizing taste of what's in store during Protocol's annual ADE opening party at Melkweg on October 14th, the pair have whipped up one hour of top-notch tunes featuring the likes of Arno Cost, Thomas Gold, Deniz Koyu, Wildstylez and of course Nicky Romero, to name but a few. Boasting an impressive 17 cuts all carefully handpicked by the duo, 9 of which have been signed exclusively for the compilation, the Volt & State boys have perfectly showcased Protocol's forward-thinking approach to electronic music.
Speaking about the compilation Nicky Romero said, "'I established Protocol as a platform to push new and emerging artists and we've been lucky enough to work with some massive talents over the years. A huge Protocol success story, Volt & State were a natural choice to mix the compilation and the boys have certainly done me proud with this one!' "
Talking about their involvement, Volt & State said, "We are very grateful to Nicky and the Protocol team for giving us this opportunity. It's really cool that we can showcase music that we love in this way and also let other talented producers be featured on a fantastic platform such as Protocol. "
Available to purchase on all digital platforms on October 5th, "ADE 2015" is filled to the brim with exclusives from the likes of Volt & State, Arno Cost, Magnificence, Corey James, Bobby Rock and upcoming tracks from Thomas Gold, Deniz Koyu and Florian Picasso. Having already garnered more than 16,000 plays on SoundCloud in the mere 2 hours since it's uploading, it's clear to see that this compilation is one to raise the bar for both Protocol Recordings and the industry itself.
With all eyes and ears tuned to the legendary Protocol Recordings x ADE party come October, this highly anticipated compilation serves as the perfect foretaste of what to expect from the Protocol camp in 2016.
PROTOCOL PRESENTS: ADE 2015 MIXED BY VOLT & STATE TRACKLIST
01. Volt & State – Haunted (Original Mix)
02. Magnificence & Renegade & Alex Nash – Memories (Original Mix)
03. Wess & Aleksandar Galoski – Rock Me (Original Mix)
04. Deniz Koyu & Amba Shepherd – The Way Out (Original Mix)
05. Volt & State – Sandcastles (Original Mix)
06. Corey James & Will K – Covka (Original Mix)
07. Disco Fries ft Fatman Scoop – Volume (Original Mix)
08. Florian Picasso – Want It Back (Origami) (Original Mix Edit)
09. Thomas Gold & Deniz Koyu – Never Alone (Original Mix Edit)
10. Volt & State vs John Christian – Down (Original Mix)
11. Nicky Romero vs Volt & State – Warriors (Sensation 15' Edit)
12. Bobby Rock ft. Grace Grundy – Find My Own Way Home (Original Mix)
13. Arno Cost – Waiting For You ft. Chris Holsten (Original Mix)
14. USAI – Vapor (Original Mix)
15. Tom Tyger & Corey James – Naboo (Original Mix)
16. Nicky Romero – Lighthouse (Original Mix)
17. MAKJ & Thomas Newson – Black (Wildstylez Remix)