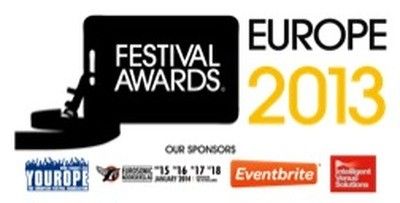 Public Voting begins for European Festival Awards
More than 300 European Festivals representing 32 countries have applied to take part in the 2013 edition of the European Festival Awards, which will return with a gala award show opening Eurosonic Noorderslag in style on Wednesday 15th January 2013 at De Oosterpoort in Groningen.
Presented in association with Yourope and Eurosonic Noorderslag the European Festival Awards are the only pan-European body solely dedicated to recognising the contributions and achievements of the event organisers and performing artists that generate billions of Euros for local economies and brighten up the summer for tens of millions of festival-goers each year.
The Voting Process: This year the winners will be decided by a combination of public votes and the EFA jury – made up of journalists, booking agents, festival organisers – who will have a 25 per cent say in the final outcome of the public voted categories.This is how it works:
The top 10 as judged by the public get 4 points according to their place like this:
1 = 40 points
2 = 36 points
3 = 32 points
4 = 28 points
5 = 24 points
6 = 20 points
7 = 16 points
8 = 12 points
9 = 8 points
10 = 4 points
The jury votes give 1 point per place like this;
1 = 10 points
2 = 9 points
3 = 8 points
etc etc
So, as an example; The festival which was 4th most popular in the public vote has 28 points. It judged to be the best by the jury and gets an additional 10 points, bringing its total to 38 points. Once all the points have been calculated the winner is the one with the most points.
Public voting will commence on October 1 and close on November 1. Voting takes place at: eu.festivalawards.com/vote
Last year's European Festival Awards featured over 250 festivals from 32 different countries, with over 500,000 votes.
Festival Awards MD, James Drury, said: "It's been a really exciting year for festivals across Europe and I'm expecting further growth in the number of festivals participating, on the back of last year's fantastic growth. European promoters have a great healthy sense of competition and it's going to be exciting to find out which events the fans loved the most."
New Health & Safety Innovation Award:
A new award has also been added to this years event – The Health & Safety Innovation Award is presented by the YES Group in cooperation with the ICM&SS.
Many festivals have or are developing innovative ways to deliver both health and safety activities within their crowded spaces. They go to great efforts to deliver new and exciting products and services, which keep the audience ever safer and reduce the risks within the event environment. These innovations are used on the public to educate and change their behaviour and to create a safety culture throughout the event industry. Which innovation was the one felt most worthy?
A panel of independent experts picks out five innovations which are most worthy of the award, these are then scored on which innovation; product or service, has had the most effect in the following one or more categories: making us safer, making us greener-economic benefit-educational benefit.
Nominations for the award are accepted through businesses putting themselves forward, a staff member or a festival-goer can nominate, or the YES group can nominate your festival. To apply, go to eu.festivalawards.com/apply and fill out the Health & Safety Innovation Award application form.
Tickets:
Platinum tickets include a delicious 3 course gourmet meal before the show, a seat on a table, complimentary beer, wine and soft drinks and access to the aftershow party. Tickets sold-out before the event for the last 2 years, so book early to avoid disappointment. To order a whole table, please purchase 10 Platinum tickets. Buy tickets here: eu.festivalawards.com/tickets/