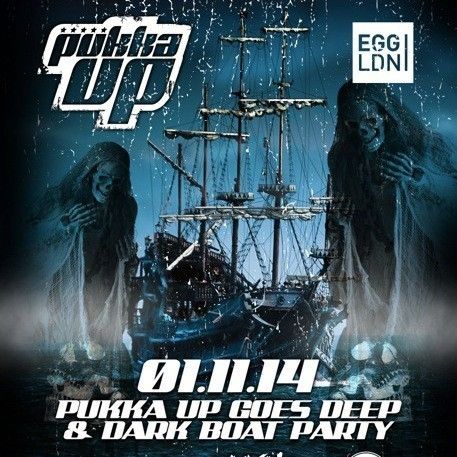 PUKKA UP GOES DEEP AND DARK
As well as throwing parties all over the globe, Pukka Up are back in the UK throughout the chilling winter months, keeping sound systems pumping and bodies moving.
This Halloween Pukka Up goes Deep and Dark with an evil twist for this special one off event. They take to the Thames boasting chilling, deep, dark house music spanning two floors on one of the most exclusive boats the capital has to offer.
Pukka Up will be showcasing two floors of banging house beats, and after over a decade dominating the White Isle, the music selection is certainly in safe hands.
On the top floor Pukka Up will be welcoming back old friends Bodyrox for a very special guest appearance. Well known for their massive hit Yeah Yeah, they will be joined by one of London's up and coming new artists KashSimic who will be announced in the coming weeks.
Headlining downstairs, and taking things one step deeper is Felon, one of London's hottest new acts with tunes played on Radio 1, residencies in some of the capitals biggest venues and their massive hit 'Isla' signed to Ultra Music you can expect big things from these guys. Joining them will be long standing Pukka Up resident Chris Days, between them, they will take everyone on a haunting three hour journey along the River Thames…..
Keeping things dark and deep, Pukka Up then carry on the party at Egg London. Headlining will be one of the producers at the forefront of Techno music, multi award winner Cristian Varela who will be making an exclusive London appearance.
Pukka up will be hosting their own room from 2 – 7am so if you want a slice of the finest Balearic house music interspersed with some of the most prestigious techno London has to offer, make sure you check it out as Pukka Up go Deep and Dark this Halloween.
Due to boat capacity there are only limited tickets for this event available!