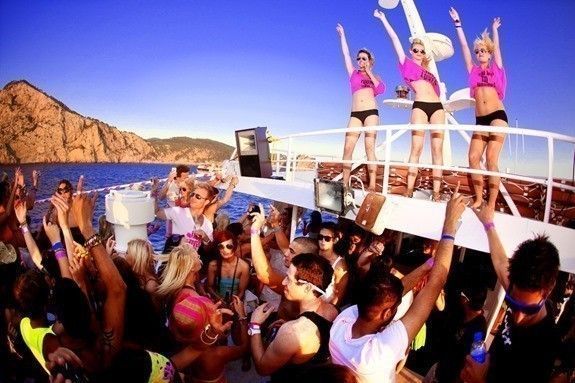 Pukka Up Heads to Majorca, Zante, Crete, Corfu, Cyprus & Bulgaria
The world's biggest boat party, Pukka Up, will return this summer to six locations across the Mediterranean, in association with Thomson Scene (Thomson Holidays). Holiday-goers booking Thomson Scene entertainment packages can opt to board any Pukka Up boat party from May to September in hot-spots Magulaf (Majorca), Laganos (Zante), Kavos (Corfu), Ayia Napa (Cyprus), Malia (Crete) and Sunny Beach (Bulgaria). Tickets are on sale now from the Thomson excursion website (excursions.thomson.co.uk)

Thousands of young fun-seekers are expected to sign up to the boat parties as Pukka Up enters its second year running clubbing holidays, as reinvented by Thomson Scene. Formerly known as 2wentys, Thomson Scene now offers something more sophisticated to its youth market, complete with top hotels and the unmissable Pukka Up boat parties.
Like Pukka Up's sell-out Ibiza boat parties, Thomson Scene holiday makers can expect to get caught up in the unrivalled atmosphere most commonly found along Ibiza's shoreline, and in a soundtrack ranging from deep to anthemic house music, from the Pukka Up international resident DJs.

Each resort Pukka Up sails from will have its own unique style of boat, from a 120 capacity catamaran in Zante, a high-spec boat in Magaluf, to the 400 capacity boat in Bulgaria, which spreads over three decks complete with relaxation area with sofas and sunbeds, and a water slide at the rear of the boat!
Pukka Up is renowned for offering 'more than just a boat party' and its Thomson Scene parties are no different. Included in the price of the ticket is an all-inclusive complimentary bar stocking sangria and beer, plus they'll be plenty of fun and games for the ultimate party on the water including 'thinkyoucandance' competitions and scheduled swim stops to cool off from the Mediterranean sunshine.
Pukka Up is the trusted name to deliver the best overall experience, so those signing up through Thomson Scene can rest assured that they are in the best possible hands.

To mark the end of the season, Pukka Up will return to Scene's Naughty Reunion Party from 13 – 15 November at Butlins in Skegness to host its legendary Pool Party. Expect 52 hours of non-stop naughtiness and the biggest acts and DJs on the planet.
Join in Pukka Up's gospel of glamour, great music and unadulterated good vibes this summer, with Thomson Scene. Visit the Facebook page for all the latest news and updates www.facebook.com/ThomsonScene.co.uk Think Boat Party, Think Scene, Think Pukka Up…
EVENT INFO
Kavos – every Thursday from 28 May
Bulgaria – every Saturday from 30 May
Malia – every Sunday from 31 May
Zante – every Monday from 1 June
Ayia Napa – every Saturday from 6 June
Magaluf – every Monday from 11 June

Packages: excursions.thomson.co.uk

LINKS
www.pukkaup.com
www.facebook.com/pukkaupfanpage
www.twitter.com/pukka_up