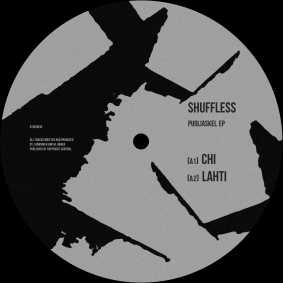 Shuffless - Puoliaskel EP
Following on from their 'Ususmood' EP in February, Finnish duo Shuffless return to Paris based record store and distribution company Synchrophone this May to deliver the enigmatic 'Puoliaskel'.
Taking inspiration from music, nature and the elements that surround them, Jukka Hänninen and Mika Hanka aka Shuffless have quickly garnered the attention of many within house and techno since making their production debut in 2016. Written at the Vislampi Studio, located in Ruutana City, Finland, using a combination of hardware gear from the likes of Roland, Korg and Arturia, here we see the duo reveal their latest work with four diverse and expansive cuts set for release this Spring as they return to Syncrophone's in-house imprint.
Opening up the EP, Hänninen and Hanka fluently introduce 'Chi', a complex and evolving cut that effortlessly fuses deep, rich chords, and delicate, skipping hi-hats, before easing into the flowing groove of 'Lahti' with its jazz-tinged melodies and heady tones guiding the production into lighter territories.
On the flip, 'Nime Ñvailla' introduces a matrix of hazy textures amongst crunchy percussion licks and dubbed out atmospherics as the duo return to deeper, darker realms, before title cut 'Puollaskel' punctuates the package in classy fashion, laying down gritty analog percussion, resounding kicks and subtly programmed nuances to conclude an excellently worked EP.
Shuffless 'Puoliaskel' EP is out on Syncrophone on 14th May 2018.
Tracklist
1. Chi
2. Lahti
3. Nime Ñvailla
4. Puoliaskel