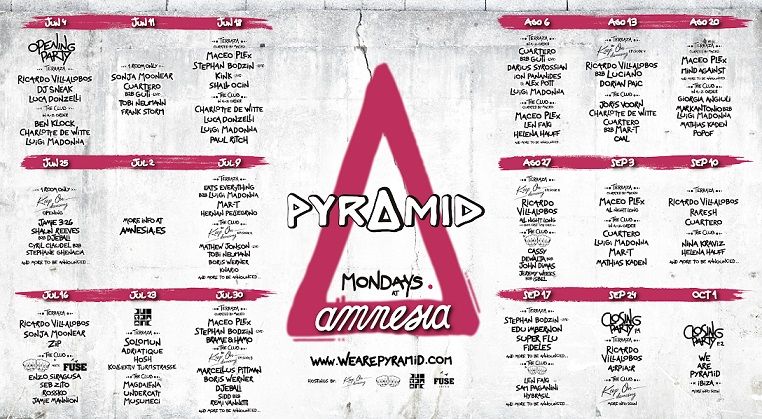 Pyramid @ Amnesia – Opening Party was on point!
With just weeks to go until Ibiza's legendary nightclub, Amnesia, launch their brand new Monday night event series Pyramid (running from 4th June – 1st October), the club are now proud to announce the full line up details for its landmark debut season.
With the promises of seeing the return of old Ibiza vibes and to 'bring back the best', Amnesia (in collaboration with Keep On Dancing, Game Over and Fuse) have pulled out all the stops in creating their impressive new Pyramid concept to deliver a party that has a big emphasis on production, performance and decoration, alongside mouth-watering line ups throughout the summer.
It all kicks off on 4th June with Pyramid's massive opening party, seeing the legendary Amnesia regular Ricardo Villalobos joined by DJ Sneak and Luca Donzelli on the terrace, whilst in the Club Room Berlin's modern techno pioneer Ben Klock performs alongside Amnesia first-timer Charlotte de Witte and Luigi Madonna.
Throughout the 17 weeks, Ricardo Villalobos will headline 6 dates in total on the terrace, including his first ever All Night Long set in Ibiza on 27th August plus a very special B2Bset with Ibiza favourite Luciano on 13th August. Other DJs confirmed include, America's techno visionary Maceo Plex headlining 5 dates (including All Night Long on 3rdSeptember), Belgium's Charlotte de Witte making 3 appearances plus Nina Kraviz, Cassy, a:rpia:r, Raresh, Len Faki, Helena Hauff, Sonja Moonear, Tobi Neumann, Joris Voorn,Darius Syrossian, Jamie 3:26, Cuartero and Mar-T all locked in for exclusive sets along with countless other heavy weights, new talents and surprise guests.
In addition, there will also be an array of stellar live performances, these will come from the likes of Germany's Stephan Bodzin (confirmed for 3 dates), Bulgaria's KiNK on 18thJune, Canada's Mathew Jonson on 9th July and America's Gaiser on 17th September plus additional B2B sessions from the likes of Cuartero X Guti LIVE on 11th June and 6thAugust, Shaun Reeves X Djebali on 25th June, Eats Everything X Luigi Madonna on 9th July and Dewalta X John Dimas on 27th August amongst others.
But that's not all, as Hamburg's illustrious Diynamic imprint will be hosting an unmissable one-off debut party on 23rd July with label boss Solomun headlining the terrace, plus – in true Amnesia style – Pyramid's season will conclude with not just 1 but 2 colossal closing parties on 24th September and 1st October, the full line ups for these dates will soon be announced but all we can say for now is that they're going to be BIG!
Pyramid is set to deliver an unforgettable debut season and welcomes you to dance, feel and live a party that has been so truly missed on the island for many years.
Grab your Pyramid tickets now:
www.amnesia.es/allevents/21/en/pyramid.html
Links:
www.wearepyramid.com
www.amnesia.es
www.amnesia.es/party/21/en/pyramid.html