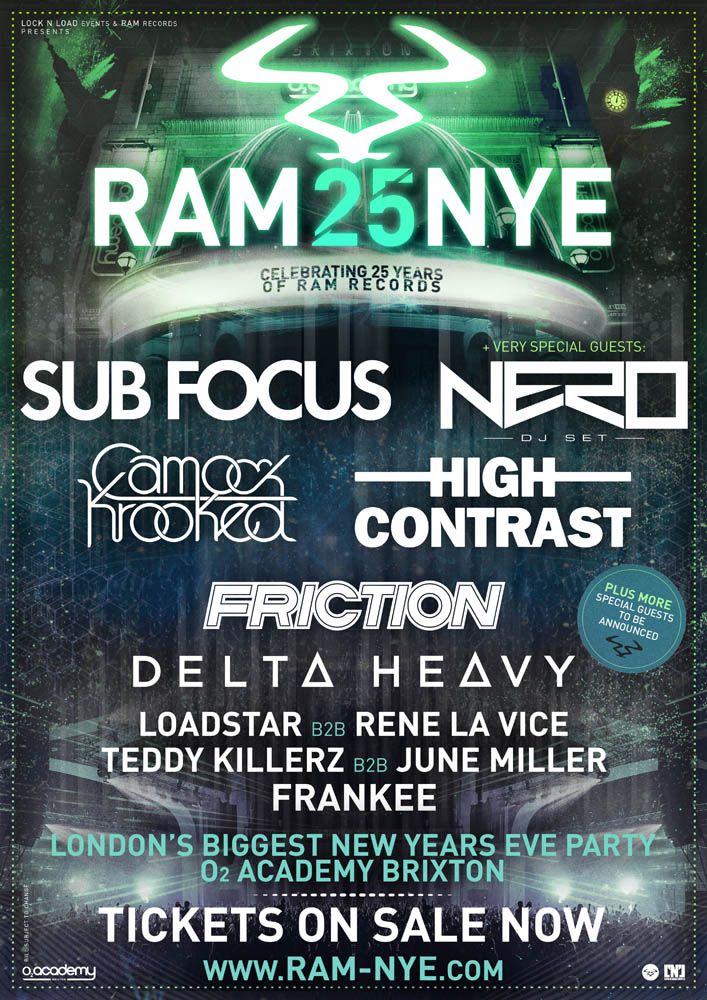 RAM 25 NYE
Ram Records has announced the first phase line up for RAM NYE, celebrating 25 years at the forefront of drum & bass and electronic music.
The event at 02 Academy Brixton on New Year's Eve Saturday 31st December, will be Ram's biggest yet and features a stellar cast of bass artists including Sub Focus, High Contrast, Camo & Krooked, Friction, Delta Heavy, Loadstar B2B Rene La Vice, Teddykillerz B2B June Miller, Frankee, and very special guests Nero (DJ Set).
Ram Records, created by drum & bass pioneer Andy C together with Ant Miles in 1992, has been responsible for supporting the recording careers of Chase and Status, Noisia, Sub Focus, Wilkinson and Bad Company UK (DJ Fresh) amongst many others, as well as Andy C's own productions under his own name and as Origin Unknown. The label has enjoyed a long association with club events and forged strong ties with London's Fabric and Manchester's Warehouse, hosting successful parties at both as well as hosting standalone Ram nights globally.
Appearing at RAM 25 NYE will be High Contrast, fresh from his debut live show at Together Halloween at 02 Academy Brixton. He is set to release his eagerly awaited new artist album and single in 2017 following the release of 'Remind Me', which was heavily supported by BBC Radio 1.
One of the most prolific British electronic music producers, Sub Focus, is back in London following his Ibiza residency at Together, Amnesia and appearances at SW4 and Glastonbury festivals, and Together Halloween.
Nero have grown into one of the biggest electronic acts on the planet in the past few years. Harnessing their roots in drum & bass, the Grammy-winning act is the perfect special guest for this celebration.
They'll be supported by drum & bass duo, Camo & Krooked. Fresh from the European tour, the Austrian duo has been at the forefront of drum & bass since they burst onto the scene 6 years ago. They release their fourth studio album 'Mosaik' for Ram in 2017.
Brighton raised, multi award winning Friction is one of the most revered and recognized names in bass music. Whilst DJing across the world every weekend, spearheading drum & bass on Radio 1, and heading up the juggernaut record label Shogun Audio, Friction has always kept his feet firmly on the ground.
Delta Heavy released their debut album 'Paradise Lost' on Ram Records in 2016. Their sound combines club bangers and vocal tracks with a cutting edge twist.
Loadstar is undoubtedly one of Ram Records' most exciting talents. The Bristol duo bring a fresh spin to the traditional drum & bass sound with their tracks and remixes for artists such as Rudimental, Ed Sheeran and Charlie XCX. They have also produced artists Hadouken!, Dot Rotten and P Money. They will play back 2 back with DJ, producer and filmmaker, Rene La Vice. Rene is a consummate artist, embracing creativity wherever he finds it and channeling his inspirations into 5-minute works of brilliance. Brilliance that has found a home in the playlists of the likes of MistaJam, B Traits, and fellow D&B peers like Goldie, Sigma, and Friction and, of course, Ram Records boss Andy C.
Russia's rising stars of drum & bass, Teddykillerz, are a trio that have grown in stature in a huge way while building up one of the most loyal followings in the scene. They play back to back with the fanbase-heavy June Miller in what's set to be one of the most anticipated sets of the night!
Ram resident Frankee is destined for great things. His latest tracks on Ram 'Downtown' featuring Simon Franks and 'Power' have put the DJ on the musical map.
O2 Academy Brixton has played host to the greatest artists of modern time with impressive venue welcoming hundreds of thousands of revelers through their door each year! The main room is equipped with a state of the art sound system with production levels literally going through the roof. There is simply no better place to host the biggest New Years Eve party that the capital will see this year.
Sub Focus, Very Special Guests: Nero (Dj Set), High Contrast, Camo & Krooked, Friction, Delta Heavy, Loadstar B2b Rene La Vice, Teddykillerz B2b June Miller, Frankee
Plus Many More To Be Announced.
8pm – 5am
General Sale Tickets Now On Sale (37.50+Bf) http://ramnye2016.eventgenius.co.uk