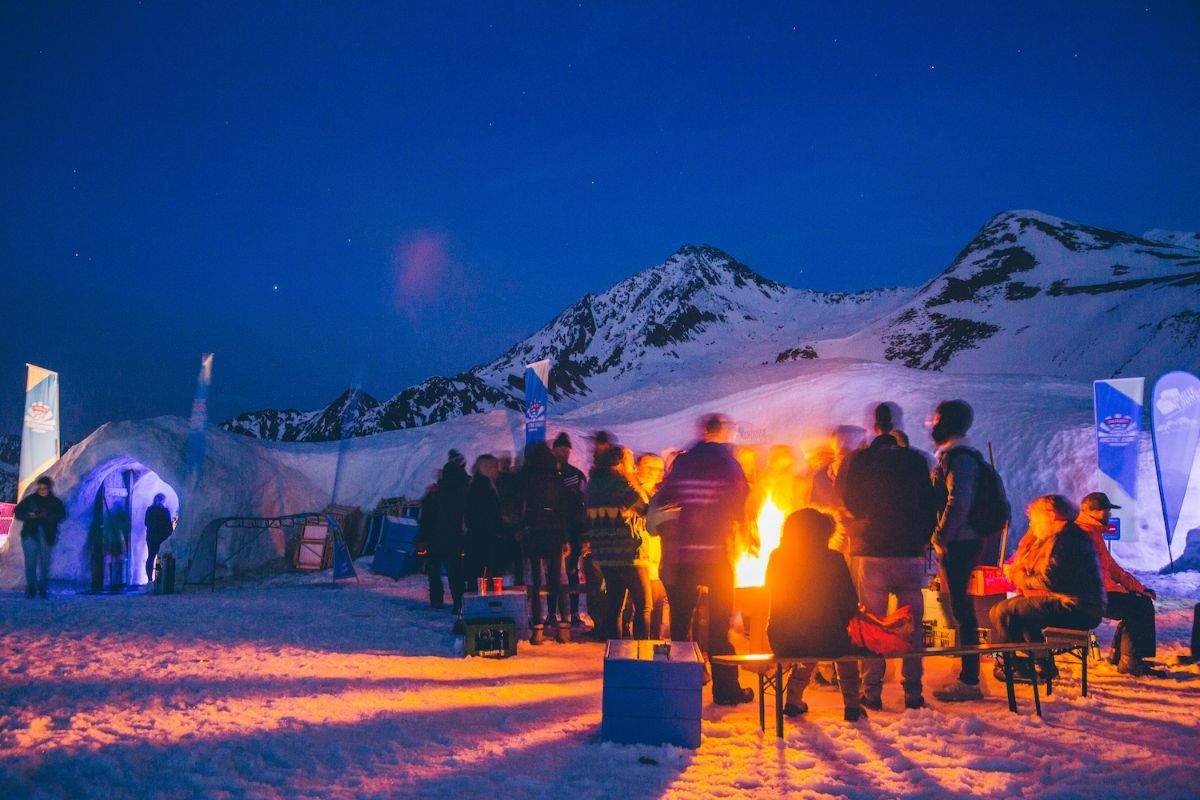 Raving In An Igloo? Maribou State, Hannah Wants, Wilkinson + More To Play The Smirnoff Arctic Disco At Snowbombing 2019
It simply wouldn't be Snowbombing without their famous Smirnoff Arctic Discos – returning in 2019 to celebrate The World's Greatest Show On Snow's 20th Anniversary with a star-studded lineup of incredible names all taking to the decks for a party not seen anywhere else on the planet.
Quite literally owning the titles as some of the coolest parties on the planet, theSmirnoff Arctic Disco will once again play host to extremely exclusive celebrations – with a mix of stunning selectors stepping up to the plate on the mountains of Mayrhofen.
Taking place on top of the Ahorn mountain, decorated with incredible panoramas, the 2019 Smirnoff Arctic Disco will bring unprecedented nights of raving in one of the world's most breathtaking venues. Complete with two ultra-cool dance areas, three carefully crafted bars sculpted entirely from ice and snow, and decked out with luxurious fur rugs, the super exclusive spectacle will cater to intimate crowds of 300 lucky Snowbombers, all in an igloo at 6000ft.
Kicking off Snowbombing's 20th Anniversary celebration in style on Sunday 7th April is a double-whammy of SB Legends – as pop-up expert Doorly and the full-throttle Eats Everything take over the igloo with two unmissable sets to lay the groundwork of what's to come. Monday 8th April sees an eclectic masterclass in the Smirnoff Arctic Disco as Solardo and Mele bring the heat with a bill of blinding hits and ultimate party-starters for a Snowbombing moment not to be repeated. A master of these unique parties, Wilkinsonreturns to deliver a show-stopping set amongst the icy walls in a way only Wilkinson can – joined by Manchester's own rave troop North Base.
Fresh from delivering one of the standout electronic albums of 2018, Snowbombing 2019 will be pulling out all the stops as Maribou State get behind the decks for a spellbinding set atop the Ahorn mountain, where they'll be joined by another Snowbombing icon – James Zabiela. As Snowbombing's 20th Anniversary celebrations draw to a close, it falls to the Smirnoff Arctic Disco to wrap things up with an unmissable last party, marked by an unstoppable appearance from Hannah Wants bound to see festival-goers queuing in envy looking to peep a way in. With Jamie Roy on hand too, it ensures that the 2019 Smirnoff Arctic Disco is one for the ages, delivering countless memories to mark Snowbombing's 20th Anniversary in style.
Offering a once in a lifetime experience to sip on a rich concoction of cocktails while listening to the world's best DJs atop Ahorn mountain, tickets for this unforgettable arctic affair are on sale TODAY for VIPS and from Friday March 1st for regular ticket holders. Eager Snowbombers are encouraged to book as soon as possible due to igloo's exclusive capacity.
The sensational programme making a mark in the Smirnoff Arctic Disco join a world-class lineup of unmissable favourites and game-changing superstars all heading to Snowbombing 2019 for the ultimate birthday celebration. Lead byStormzy (marking his first live appearance of 2019 with a very special #MerkyTakeover), rave icons The Prodigy and the pioneer of dance culture Fatboy Slim, it promises to be a once-in-a-lifetime party like no other. Including the likes of Andy C, Bicep (DJ), Fredo, Groove Armada (DJ), Wilkinson, Hannah Wants, Denis Sulta, Monki, Camelphat, Mostack, Hunee, Artwork, Skream, Eats Everything, George FitzGerald, Maribou State (DJ), Solardo, Sub Focus, High Contrast, Mall Grab, Shy FX, Jaykae and fun-soaked moments from Sink The Pink, The Cuban Brothers, Mr Motivator, Pat Sharp's Fun Haus and more – there isn't a lineup that can compare to this! Grab your tickets, grab your dancing shoes – Snowbombing 2019 is waiting.
Stunning slopes? A huge lineup of phenomenal names from some of the most exciting artists on the planet? An unrivalled atmosphere of thousands gathering through the streets of Mayrhofen? It can only be Snowbombing – The World's Greatest Show On Snow.
CONNECT WITH SNOWBOMBING
http://www.snowbombing.com
https://www.facebook.com/snowbombing
https://twitter.com/Snowbombing
http://instagram.com/snowbombingofficial
http://www.youtube.com/snowbombing
https://soundcloud.com/snowbombing-festival