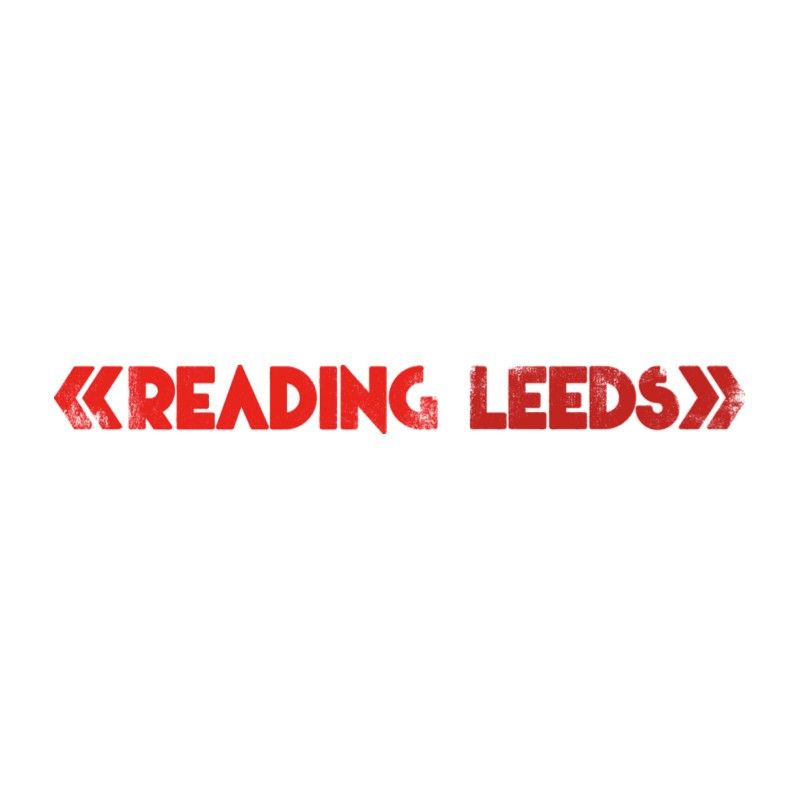 Reading & Leeds Announce Even More Incredible Names
With just 50 days to go until the Festival gates open, even more amazing acts are now revealed for Reading & Leeds 2014.

This year's Festivals will see over two hundred artists take to the stage at Richfield Avenue and Bramham Park over the August Bank Holiday weekend, with an incredible bill topped by headliners Queens Of The Stone Age, Paramore, Arctic Monkeys and Blink-182.
New additions to the line up Red Fang and The Wytches will join the bill on the NME/Radio 1 Stage, featuring headliners Courteeners, Bombay Bicycle Club and Disclosure (Live).
Secondcity, Zinc, Milky Chance, We Were Evergreen, Nightbox and The Tea Street Band join the BBC Radio 1 Dance Stage line up, which includes closing sets from Netsky (Live), Pendulum (DJ set) and Flume.
On the Lock Up, Empress AD, Misty Miller and Blacklist Royals join a bill featuring the very best in punk and rock, including stage headliners Jimmy Eat World and Gogol Bordello.
Festival Republic Stage headliners Palma Violets, Band Of Skulls and Augustines are joined by great new additions Childhood, Sweethead, Dolomite Minor, The Bohicas, The Royal Concept, X Ambassadors, Flyte and Twisted Wheel.
The BBC Radio 1 Xtra Stage returns for its second year in 2014, offering the best of hip hop, urban and grime, with headline acts Giggs, Pusha T, Danny Brown and Joey Bada$$, joined today by Sinead Harnett, Sasha Keable, Mirror Signal, Bad Rabbits, Star.One and Tinashe.
With so many incredible acts in one place over one weekend and an unbeatable atmosphere, Reading & Leeds Festivals are the highlight of the summer for music fans! All Reading Festival tickets have already sold out, however those who've missed out still have the chance to catch the same incredible line up at Bramham Park. Leeds Festival goers are urged to buy their tickets from official ticket agents as soon as possible to avoid disappointment!
READING FRIDAY 22ND AUGUST / LEEDS SATURDAY 23RD AUGUST
Just confirmed to join co-headliners Queens Of The Stone Age and Paramore are Red Fang, Secondcity, We Were Evergreen, Nightbox, Misty Miller, Childhood, Sweethead, Sinead Harnett, Mirror Signal and Star.One
NME/RADIO 1 STAGE
Portland, Oregon's Red Fang have spent almost a decade crafting a name for themselves as one of the world's best metal bands. Powerful riffs and catchy hooks are the order of the day and their Reading & Leeds debut will be unmissable.

BBC RADIO 1 DANCE STAGE
Secondcity is the stage name of American-born, British DJ and producer Rowan. Fast proving himself as one of the premier talents within the UK's current house music resurgence, with 'I Wanna Feel' shooting straight to UK Number 1, his set on the BBC Radio 1 Dance Stage is not to be missed.
Toronto based Irish dance-punks Nightbox return to Reading & Leeds for the first time since 2011. With a MSTRFT produced debut EP, their electro-pop sound has earned them support slots over the years with the likes of Death From Above 1979, Lights and Ellie Goulding.
Parisian electro-pop trio We Were Evergreen will be making their Reading & Leeds debut on the BBC Radio 1 Dance Stage with their saccharine-sweet pop melodies and danceable hooks sure to prove them a Festival favourite.

LOCK UP
Since recording her debut album at just 15 South London's Misty Miller has evolved into one of the UK's most exciting young singer-songwriters. With comparisons being drawn to the likes of Laura Marling, the depth of Miller's writing displays a maturity and attitude beyond her years.

FESTIVAL REPUBLIC STAGE
Childhood are truly one of the ones to watch on the ever-resurgent UK guitar music scene. Playing alongside label mates Palma Violets, they will be performing songs from their debut album 'Lacuna', which is released this August.
Boasting Queens Of The Stone Age guitarist Troy Van Leeuwen amongst their ranks alongside members of Handsome and the Mark Lanegan Band, Sweethead will be bringing their alternative rock to the Festival Republic stage for a set not to be missed.

BBC RADIO 1XTRA STAGE
Having collaborated with the likes of Rudimental and MNEK and fellow Reading & Leeds act Disclosure, Sinead Harnett's Eats Everything produced debut solo single 'Got Me' is sure to propel her into stardom.
20 year old singer, songwriter and producer Mirror Signal's music takes jazz, soul and electronic influences into consideration and puts them through his own unique filter. This year marks his Reading & Leeds debut.
Sibling production and DJ duo and BBC Radio 1Xtra presenters Star.One are known for their fast paced DJ sets and original productions that blur the lines between Garage, Hip Hop, Grime and Jungle. Their debut mixtape ELEMENTS is highly anticipated featuring the likes of P Money, D Double E, G Frsh and Doctor. Their set is hosted by Ping Pong.
READING SATURDAY 23RD AUGUST / LEEDS SUNDAY 24TH AUGUST
Just confirmed to join Arctic Monkeys are
Milky Chance, The Tea Street Band, Empress AD and X Ambassadors
BBC RADIO 1 DANCE STACE
Electronic pop-rock duo Milky Chance's debut full length 'Sadnecessary' is a perfect slice of heavily rhythmic, experimental pop that really defies categorization. Astounding vocals and impressive electronics mean that upcoming single 'Stolen Dance' is already a huge radio hit.
Consisting of members of the now defunct the Maybes, The Tea Street Band are a whole different animal to the indecisively named previous incarnation. Sticking in a traditional guitar-band format, The Tea Street Band pedal euphoric Ibiza tinged dance music to great effect.

THE PIT
British prog-rockers Empress AD have made a huge impression since their inception in 2011; now signed to the prestigious Roadrunner Records and with an album on the way, expect nothing short of one of the weekend's heaviest sets.

FESTIVAL REPULBLIC STAGE
Championed by Imagine Dragons singer Dan Reynolds, Brooklyn's X Ambassadors' layered indie rock meets R 'n' B has seen them on the road with the likes of Jimmy Eat World, The Lumineers and Panic At The Disco and now brings them to the Festival Republic Stage at Reading & Leeds 2014.

READING SUNDAY 24TH AUGUST / LEEDS FRIDAY 22ND AUGUST
Just confirmed to join Blink-182 are
The Wytches, Zinc, Backlist Royals, Dolomite Minor, The Bohicas,
The Royal Concept, Flyte, Twisted Wheel, Sasha Keable,
Bad Rabbits and Tinashe
NME/RADIO 1 STAGE
Brighton-based psych-revivalist trio The Wytches are increasingly turning heads and with good reason. Their self described 'surf doom' whips and pulls through dark psychedelia and impassioned grunge and places them as one of the UK's most exciting bands.

BBC RADIO 1 DANCE STAGE
Since bursting onto the drum and bass scene with 1995's smash single 'Super Sharp Shooter', Zinc has remained one of the most respected and successful names in dance music. Ever-evolving and having turned his hand to deep and funky house, his set is sure to be a highlight of the BBC Radio 1 Dance Stage.

THE LOCK UP STAGE
Blacklist Royals write punk with a distinct rock 'n' roll charm. Drawing influences across multiple decades, their anthemic recent album 'Die Young With Me' coupled with their die-hard spirit and DIY attitude has gained them comparisons to the likes of The Gaslight Anthem.

FESTIVAL REPUBLIC STAGE
Returning to Reading & Leeds are the excellent Dolomite Minor, whose raw, grunge inspired noise and incredible stage presence mark them as a real up and coming talent.
Domino Records signees The Bohicas will be bringing their snakey brand of post-punk-art-rock, as found on their recent self-titled EP, to Reading & Leeds for the first time.
Founded in 2012, Sweden's The Royal Concept craft wide-eyed, danceable electro rock as found on recent single 'On Our Way'.
Storming into the public consciousness this year with their fantastic debut single proper 'We Are The Rain', Flyte's jerky, new wave influenced indie provides the perfect Festival soundtrack.
Hailing from Manchester, Twisted Wheel have become a mainstay on the UK touring circuit with their excellent, mod and punk influenced indie.

BBC RADIO 1XTRA STAGE
South London singer-songwriter and Disclosure collaborator Sasha Keable will be heading to Reading & Leeds with her soulful mix of pop, dance and R 'n' B.
Having last been seen on tour with Don Broco, Boston genre-defiers Bad Rabbits bring their energetic and eclectic mix of funk, rock and R&B to the Festivals for what is sure to be a party.
At only 21 and with collaborators including fellow Reading & Leeds lineup artist Schoolboy Q queuing up to work with her, American songstress Tinashe's eagerly awaited debut album 'Aquarius' is set to be one of this year's highlights.

TICKET INFORMATION
Weekend tickets (Leeds only) £205.00 plus £8.00 booking fee ● Day tickets Friday, Saturday and Sunday (all Leeds only) £92.50 plus £7.00 booking fee ● Early entry permits (Leeds only remaining) £15.00 ● Campervan permits £60.00 ● Reading car parking £5.00 ● Weekend ticket prices include camping
Online/Telephone – Tickets are strictly limited to a maximum of four per person/address/payment card for those booking by telephone or online. Credit Card line: 0871 231 0821 Or online at: www.festivalrepublic.com www.readingfestival.com www.leedsfestival.com or See Tickets
In Person – Leeds tickets can be bought at face value, in person when paid for in cash at outlets including Leeds Visitor Centre.
Please note that picture ID/proof of address will be required at the time of booking. Tickets are subject to availability. Limit of two per household/person for personal callers. For a full list of national outlets please visit: here for Reading and here for Leeds
Children 12 and under are admitted free but MUST be accompanied by a ticket holding adult. Please note there is no separate children's area at this event.