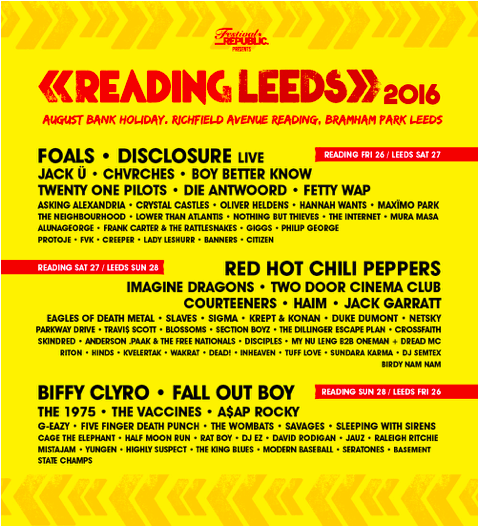 Reading & Leeds Announces Festival First With Final Two Headliners + Over 45 More Acts!
Joining a packed weekend of international heavyweights, Reading & Leeds are delighted to announce their final UK Festival Exclusive co-headliners of 2016; Biffy Clyro and Fall Out Boy. Unstoppable forces in alternative rock on both sides of the Atlantic, both will take to the stage to co-headline an emphatic evening of heavy riffs and melodies.
Catalysts for an entire generation, alt rock kingpins Fall Out Boy have sound tracked the teenage dreams of fans around the globe. Their catalogue of unmistakable anthems laid the blueprint for a genre of their own, standing the band as one of the most influential acts of the 21st century. Their 2013 return to Reading & Leeds triggered one of the biggest crowds in festival history, so expect euphoria, nostalgia and pandemonium as Fall Out Boy headline Reading & Leeds 2016.
Speaking about their massive co-headlining spot, Fall Out Boy said:
"It's pretty surreal to hear we are going to be co-headlining Reading and Leeds. R&L was our first real festival experience outside of the U.S. and since the start we have buckled in and had an insane and memorable experience every time we have played. This is it, the big one for us and we are excited to be a part of it."
The phenomenal Biffy Clyro stand as true Reading & Leeds originals, rising through the ranks, their full-throttle rock has propelled them to the top of festival bills around the world. With a new album in the works, and a nation of fans eagerly awaiting their next step, Biffy Clyro are destined to bring their explosive headline credentials for a truly monumental performance at the top of the bill.
Biffy commented: "We're baaaaack!! We are honoured to be asked to close Reading and Leeds this summer. We had one of the best nights of our lives last time and we're going to do all we can to make it even bigger and better in 2016. You ain't seen nothing yet motherfuckers!!"
Melvin Benn, commented: "This year really is a big one for Reading and Leeds. Five headliners across three days – it's a first for us and the UK Festival scene. We're always looking to give Reading and Leeds fans something new and this year isn't going to disappoint. Biffy Clyro and Fall Out Boy are going to be incredible."
Biffy Clyro and Fall Out Boy join an unparalleled line up of headliners for Reading & Leeds 2016, boasting headline performances destined to last long in the history books from Foals, Disclosure and the Red Hot Chili Peppers. With 5 Headliners over 3 Days, Reading & Leeds is the go-to destination for countless, mammoth festival moments.
On top of these sensational headliners, a raft of new names have been confirmed to appear across the bank holiday weekend. Synth-pop revelations Chvrches have taken the world by storm over the past 3 years, with two critically-acclaimed studio albums and a captivating live presence. Fresh from the worldwide success of last year's "Every Open Eye", their appearance at Reading & Leeds will leave a lasting effect on a legion of devoted fans.
The Vaccines graduation to the major leagues of British indie has been staggering, releasing three mammoth LPs in 5 years, and securing their reputation as one of the most vital names of recent times. With eclectic cuts from "English Graffiti" and old favourites abound, their set is one destined to elicit jubilant summertime scenes in a UK Festival Exclusive performance at Reading & Leeds 2016.
Uncompromising and consistently pushing boundaries, A$AP Rocky is a global force to be reckoned with, across two acclaimed collection of intoxicating records that both landed at number 1 on the US charts and drew universal acclaim from critics around the globe. A style icon and a generational influencer, his UK Festival Exclusive appearance at Reading & Leeds 2016 sees the crowning of the next king of hip-hop.
After a massive year that culminated in a sold out appearance at London's Roundhouse, Lower Than Atlantis will be bringing their radio-ready hit parade to Reading & Leeds in a UK Festival Exclusive for yet another momentous milestone for Watford's finest. They'll be joined by the latest and greatest in the rock world with the primal tones of Sleeping With Sirens, Welsh reggae-rock titans Skindred, punk legend Frank Carter & The Rattlesnakes, heavy American icons Five Finger Death Punch and State Champs.
Lower Than Atlantis leader Mike Duce said:
"I'm pretty sure I've said this before but it's because I mean it! It's such an honour to be asked to play R&L, let alone the main stage! And so high up the bill! This means business. It's really time to step up our game!"
Speaking about their Main Stage appearance this year, Skindred frontman Benji Webbe said:
"You will see a lot of bands at Reading & Leeds Festival but there's nothing that will come close to the energy that Skindred will deliver and the vibes that will be rocking through the festival when we hit the stage! A performance not to be missed, we come in peace but we will leave you in pieces."
Sleeping With Sirens said about their UK Festival Exclusive performance:
"Sleeping With Sirens couldn't be more excited for our return to Reading and Leeds Festival! 'If you can't hang then'..
Californian sisters HAIM have grown into mesmeric darlings of the indie-pop world since the global success of debut album "Days Are Gone". As anticipation grows for their unannounced second studio effort, Este, Danielle and Alana will be transforming Reading & Leeds into their own sun-drenched paradise in another UK Festival Exclusive.
The name on everyone's lips Jack Garratt will hit Reading & Leeds 2016 with his untouchable electro-rock grooves, fresh from claiming the BBC Sound Of 2016 and BRITS Critics Choice Award that has marked him out as the one to watch this year.
The Wombats unmistakable electro-pop hooks have sound tracked the nation for nearly 10 years and fresh from their biggest live shows of their career in 2015, the Liverpudlian trio will be returning for an unmissable performance.
Speaking of their performance, The Wombats said:
''We are beyond excited to get back to Reading & Leeds Festivals! If I'm correct this will be our fourth time around but without a doubt last year was our favourite. It doesn't get much better than an R&L crowd!"
Exclusively returning to the Reading & Leeds fields are South African rave phenomenon Die Antwoord lighting the stage across the weekend with their unpredictable and chaotic live show.
Kentucky psych-mixers Cage The Elephant will be touching down with a full-barraged assault on the senses, whilst Reading's own indie dreamers Sundara Karma take to the biggest stages of their career.
Tectonic beats and bass-heavy vibrations are abound, with performances across the weekend from chart-hitters Sigma, dance don Netsky, "White Noise" gliders AlunaGeorge and highly tipped electronic svengali Mura Masa. Grime pillars Krept & Konan will cement their ascent with a high-energy turn at this year's festivals, with underground king Giggs also due to appear.
Duo Sigma commented:
"We can't wait to bring the new live show to Reading and Leeds for the first time – see you down the front!"
Netsky said:
"So excited to be coming back to the UK for Reading & Leeds this summer, the crowds always blow me away at these ones, and I can't wait to bring the live band back again this year once my new album is out. See you in August!"
The Neighbourhood have also been announced, alongside punk purveyors Savages, 'BBC Sound Of' indie-mixers Blossoms, recently reunited Suffolk hardcore outfit Basement, Canadian anthem-sourcers Half Moon Run and the fresh dynamic rock of Highly Suspect, who all make for unmissable performances at this year's festivals.
Basement said:
"We're all really excited to be playing Reading and Leeds festival again this year. It's a huge honour to be asked back and we can't wait to play the NME stage for the first time."
Highly Suspect had this to say on their upcoming appearance at Reading & Leeds 2016:
"Coming to the U.K. was some of the best shit that ever happened to us. Can't believe we get to come back again so soon and play at such an incredible festival. Pumped."
Reading & Leeds rich history in highlighting the sub genres and game-changers of the alternative world will continue in 2016, with calculating metallers The Dillinger Escape Plan returning to the festival 14 years after one of the most talked about appearances in festival history in a UK Festival Exclusive. Another UK Festival Exclusive sits with the unstoppable behemoth that is Asking Alexandria making their Reading & Leeds debut with a headline spectacle for the ages. The returning punks The King Blues will also be bringing their politically-charged sermons on the modern nation to the Reading & Leeds crowds.
Itch from The King Blues says:
"We're so excited to be back amongst the freaks and the troublemakers on the punk stage we've played so many times. This is truly going to be the highlight of my summer"
Bringing an equally fierce live reputation is Creeper, the most talked about new band in the UK, whose sets have become community gatherings with their electric blend of goth and punk rock, making them ones not to be missed. Also announced is the glam-rock stomp of FVK, Rage Against The Machine's Tim Commerford unleashing his fierce new outfit Wakrat, Philadelphian rockers Modern Baseball, rising punks Dead!, Norwegian six-piece Kvelertak and dark rock glazers Citizen.
FVK co-frontman Kier Kemp commented:
"Well then here's another one for the bucket list! Some of our fondest festival memories are from Reading Festival, and to think we'll be gracing those stages this year is unreal. I guess all I can say is thanks to everyone that's got us here. Yay!"
Creeper said:
"We are incredibly excited to be playing Reading and Leeds festival this year. Members of our band have been attending these festivals since we were kids, it is an incredible honour to have been asked to play and we promise a very special show."
Tim Commerford of Wakrat said:
"I can't believe that WAKRAT will be playing Reading and Leeds this year. It's a blessing to play and introduce my new passion to a part of the world that has been so good to me and has some of the most incredible fans and we hope to win more over."
Rising punks DEAD! said:
"R&L has become a rite of passage for bands building something and taking it that bit further. We're excited to take that step. See you down the front X"
Reading & Leeds emphatic array of the best in hip-hop continues with the addition of US hit machine Travi$ Scott. The eccentric, genre-blender released his acclaimed debut LP 'Rodeo" at the end of 2015, only extending his reputation as the most in-demand name in modern hip-hop. He'll be joined across the weekend with headline sets from G-Eazy whose acclaimed appearance on Grace's "You Don't Own Me" sent his stardom to another level. Both of these huge names stand as UK Festival Exclusives, making Reading & Leeds the only place to be for the hottest names in modern hip-hop.
Further additions include Anderson .Paak & The Free Nationals who set to deliver an unmissable masterclass in modern jazz and soul whilst reggae wordsmith Protoje, South London's Section Boyz, gritty actor turned musician Raleigh Ritchie, the undeniable rhymes of Lady Leshurr, label disc-jockey DJ Semtex and Yungen are all set to tear apart the stage at this year's festivals.
Protoje said about his addition to the lineup:
"The UK is one of my favorite places in the world to play music so it's always a pleasure to come there and play. The crowds there always show up with an energy that is unlike anywhere else in the world. Looking forward to the response at Reading and Leeds Fest."
Indie veterans and Newcastle's favourite sons Maxïmo Park will be opening their catalogue of art-rock soundscapes that defined a generation of guitar bands. Expect the hits and more from dynamic frontman Paul Smith.In another UK Festival Exclusive, Seratones join the line up, bringing their infectious, swinging rock to Reading & Leeds for an unprecedented evening of Southern charm.
Taking to the stage across the weekend, will be the shining solo moods of Banners, the riotous snarl of rockers INHEAVEN and the fuzzed grunge goodness of Glaswegian dreamers Tuff Love.
Joining co-headliners Disclosure in the dance music world at Reading & Leeds 2016 is a mixture of pioneering legends and the hottest names in underground dance. Duke Dumont will be dropping an undeniable masterclass in modern pop whilst David Rodigan MBE 1Xtra's Mistajam, BRIT Award nominees Disciples, "Alone No More" hitmaker Philip George, French DJ supremos Birdy Nam Nam, LA spinner Jauz, "Rinse & Repeat" hitmaker Riton and a decadent bass breakdown with My Nu Leng B2B Oneman + Dread MC (Reading) and Oneman B2B My Nu Leng + Dread MC (Leeds) as all take to the decks for unique and bass-shaking performances over the weekend, proving the home of modern dance is Reading & Leeds.
Philip George said:
"When you're a kid, Reading and Leeds were two festivals you really dream of playing at – and this summer I am buzzing that I get to make that dream come true I remember seeing all the lineups coming out for Reading/Leeds and they are always quality so it's mint that I'm playing it this summer. I'm really looking forward to it"
Including the unprecedented 5 Headliners Over 3 Days in Red Hot Chili Peppers, Foals, Disclosure and today's announcement of Biffy Clyro and Fall Out Boy, previously announced acts including pop kings The 1975, dance supremos Jack U, Las Vegas chart heroes Imagine Dragons, US hip/hop enigma Fetty Wap, Grime collective Boy Better Know, Courteeners, Twenty One Pilots, Two Door Cinema Club and many, many more!
Unmissable and unmistakable, Reading & Leeds Festivals 2016 stands as the lineup of the summer.