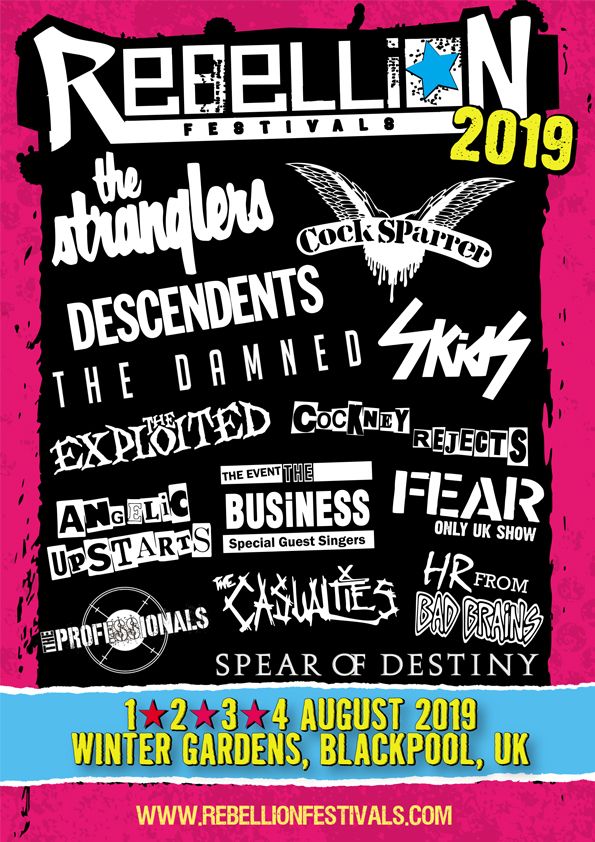 Rebellion Festival 2019 is coming August 1st – 4th at the Winter Gardens, Blackpool
We can debate endlessly about who, how and when punk rock started, but one thing is certain…it began with a shout of 1234! The starting gun and battle charge, the cry of 1234! has forever signalled the jolt of energy that keeps punk rock vital and alive, with the legendary Rebellion Festival keeping the torch burning brightest of all.

Returning again this summer over four days from the 1st to the 4th of August at the Winter Gardens in Blackpool, Rebellion Festival, respected the world over for bringing together the best new and iconic punk and alternative bands every year, has already confirmed a line-up for 2019 that is as strong and eclectic as ever.

In terms of fabled rock bands, Rebellion Festival 2019 has got it covered and are extremely proud to be able to welcome Guildford rock legends The Stranglers, who headline the Empress Ballroom on the Friday night, appearing at the festival for the very first time, for what is bound to be an electrifying set.

Following their 2016 debut at the festival, Californian pop-punk innovators The Descendents return to headline on Thursday night, whilst Cock Sparrer get back to Blackpool after a three-year break to headline Saturday, following last year's acclaimed release of 'Forever', their first new studio album in ten years.

This leaves Scottish rockers The Skids, who absolutely smashed Rebellion when they played in 2017, and first-wave punk heroes The Damned, fresh from scoring their first Top 10 album ever in 2018 with 'Evil Spirits', to close the festival in style!

Elsewhere, across the multiple stages and four days, a feast of alternative, punk and hardcore bands, both new and established, from every corner of the globe, are flocking to the festival. Highlights include obnoxious LA punks Fear, appearing in the UK for the very first time since their formation in 1977, Portland hardcore heroes Poison Idea, returning to the play the UK one last time. H.R. from hugely influential Washington DC Rastafarian punks Bad Brains is confirmed to play a solo set, whilst DOA, The Dwarves, The Freeze, Dr Know, The Casualties and more will keep US hardcore fans energised.

These join a smorgasbord of punk rock talent from these shores, including Angelic Upstarts, UK Subs, Ruts DC, Spear Of Destiny, Penetration, Conflict, The Professionals, Cockney Rejects, TV Smith & The Bored Teenagers Play The Adverts, Subhumans, Vice Squad and many more. These combined with the best in new up and coming alternative bands such asQueen Zee, Maid Of Ace, Pears, Bar Stool Preachers, Pizzatramp, and Hands Off Gretel, look set to make Rebellion Festival 2019 one of the best yet!

Are you ready? 1224!

Day and weekend tickets available here:
http://www.rebellionfestivals.com/tickets
Head to www.rebellionfestivals.com for more information.