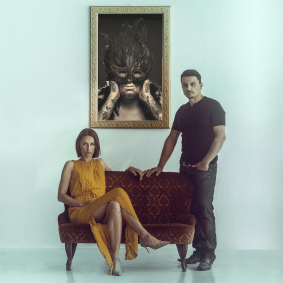 R.E.C. - Recovery EP
Disco Piñata welcomes a trio of Norwegian talents in the form of Ralph Myerz, Eddie da Bass and Carina Faye for their next impactful house EP.
Bergen's Ralph Myers is a certified platinum and award-winning producer and DJ and here works with hometown friends Eddie da Bass and Carina Faye to cook up a brilliant bunch of fully formed new cuts.
Opening up the EP is 'Directions' (R.E.C. 5am Eternal ReWork), which is a dreamy deep house track with soft underlapping drums, warm pads and a delicate vocal that's surrounded by beautiful keys, it's a truly celestial tune. 'Slippin' meanwhile is a more driven house cut, it also has cosmic intentions thanks to the great keys and melodies, but also a supple bassline that will get people on their toes.
The excellent R.E.C. x DJ Sneak – 'Funky Rhythm' (R.E.C. 5am Eternal ReWork) takes you on an eight-minute adventure into atmospheric, party starting house with a spoken word vocal, mellifluous chords and heart-warming feelings that all ooze class. 'Let Me Show You' feat. Kat Capone then gets back to zoned out, super deep moods with blissful ambient pads and floating drums all suspending you in the groove as a fresh pop vocal adds another layer of emotion.
'Recovery' is the next excellent original and one that really casts a spell over the course of sixteen minutes of gentle acid lines, wallowing drums and meandering lead synths that detach you from the real world and get you lost in sound. Things close on another epic tune with 'The Nod' bringing fresh drums and melodies to a modern house beat. Chopped up vocal ad libs add soul and warmth and you can see this one really elevating the club with its colourful neon glow.
These are six inventive tracks from Ralph Myerz and friends that all have real heart and depth.
Tracklist:
1. R.E.C. x Ane Brun – Directions (R.E.C. 5am Eternal ReWork)
2. R.E.C. – Sippin'
3. R.E.C. x DJ Sneak – Funky Rhythm (R.E.C. 5am Eternal ReWork)
4. R.E.C. – Let Me Show You (feat. Kat Capone)
5. R.E.C. – Recovery
6. R.E.C. – The Nod