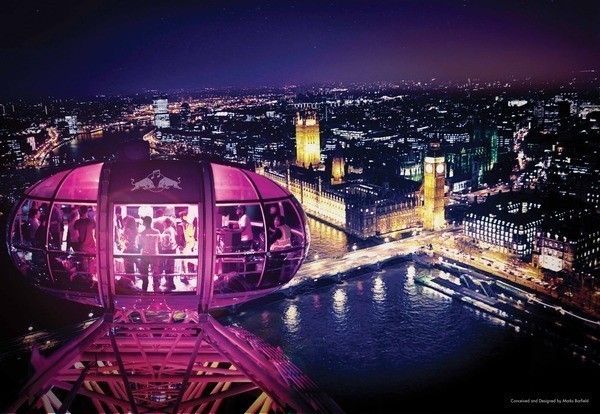 Red Bull launches Revolutions in Sound
Following the 15th Edition of the Red Bull Music Academy in New York earlier this year, Red Bull brings the anniversary festivities back to British soil, launching an extended season celebrating the prolific history and evolution of UK Club Culture. Over a four-month programme set to involve a series of partnerships and innovative technology, Red Bull salutes the nocturnal souls who built the UK's beacons of nightlife.
The program will culminate on November 14th with Red Bull Revolutions in Sound, a one-night takeover of The EDF Energy London Eye bringing thirty of the most legendary UK club nights of past and present together for one landmark night. Having made its debut in 2011 with the likes of Andrew Weatherall, Professor Green, Goldie and Skream, Revolutions in Sound returns paying homage to seminal players of UK nightlife culture. From humble beginnings, these are the clubs that brought like-minds together, and where filled floors became scenes, that in turn became global movements. Offering alternatives to the slumber of conformist clubbing and everyday nights, these clubs not only forged their own place in history but also inspired the next wave of protagonists. Be it dingy corners, slick basements, or cavernous superclubs, these bastions of hedonism instigated revolutions with sounds of their own.
Club brands such as Danny Rampling's Acid House incubator Shoom, Steve Strange's New Romantic haunt The Blitz Club, electro juggernaut Bugged Out!, London's boundary-breaking Fabric, Gilles Peterson and Patrick Forge's Talkin' Loud and Saying Something and Glasgow's Sub Club are among the first capsule hosts to be announced. They're joined by D'n'B stable Metalheadz, Bristol's Motion, London Warehouse Events, Sheffield's Jive Turkey, and West London hip hop institution Yo Yo. Many more to be announced with ticket application details in late September. Marking the reach of club culture in 2013, concept TV show Channel 4 House Party also takes a capsule hinting at the possibilities of club culture's future.
As those in attendance dance through history in the skies, others can dive into the action online via the comprehensive coverage. A world first in live-streaming, all thirty capsules will be broadcast in real-time via 4oD in the UK as part of an exclusive partnership with Channel 4, while concurrent streams will be available on YouTube meaning fans across the globe can participate in the unique celebration.
To mark the launch of the programme, Red Bull Music Academy unveils a new partnership with music tech start-up GigDropper. A location-based discovery platform for music and sounds, the GigDropper tie-up will see real world hotspots host exclusive spoken word snippets and memories from some of clubland's leading personalities that are triggered on fans' devices on walking past a relevant site. Acting as portals of discovery, unassuming locations across the UK will become windows to the past, taking fans on a journey into club cultures of yesteryear and joining the dots to today's scene. From dance-offs at Wigan Casino to Dalston discos via Leeds Warehouse Parties and clandestine Soho antics, the partnership is set to reveal a few threads of club culture's ever-changing tapestry. Click here for more info.
A proud supporter of digital innovation, Red Bull Music Academy is teaming up with Google+ to present a living archive of club culture to be unveiled in late September. A Google-designed wiki for clubbers past and present, the online hub will invite DJs, clubs and fans to chart their dancefloor meanderings and musical awakenings to create an interactive and ever-evolving database of clubbing.