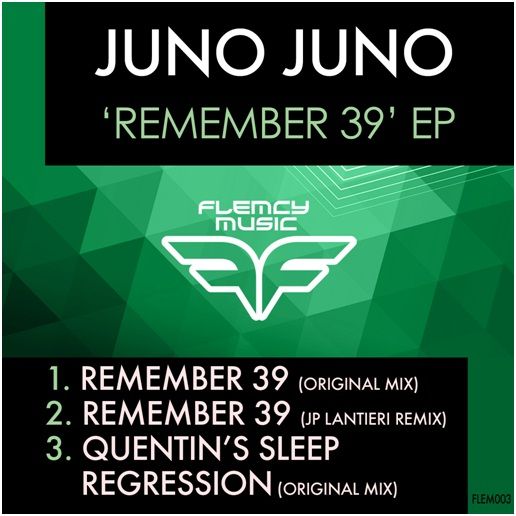 JunoJuno - Remember 39 EP
Hitting the shelves on the 21st of December, 2015, 'Remember 39 EP' is JunuJuno's latest creation, set to continue his successful 25 year run. Having been at the top of his game for so long, JunoJuno seems to have no intention of halting his climb to the very top of the Dance music food-chain and 'Remember 39 EP' is certainly adding weight to his brimming resume.
Along the years, John Paul Lee, better known as JunoJuno has established himself as one of the finest artist in Asia, landing a spot as a producer and remixer for Warner Music Asia and EMI, whilst also working with some of the continent's elite names. At the same time, JunoJuno is also making a name for himself on the DJing scene, playing alongside Top 100 DJs whilst touring worldwide and eventually settling in the UK.
'Remember 39 EP' is JunoJuno's freshest three-track package, showcasing his unique House and Techno inspirations. First up, JunoJuno presents the lead single 'Remember 39', dabbling into Deep House and melodic Techno flavours, whilst providing the basis for JP Lantieri's Techno infused remix, characterised by an unmistakable bass-line. Last but not least, JunoJuno closes off this EP with a mesmerising track by the name of 'Quentin's Sleep Regression', a percussive anthem dedicated to his 9th month old son's sleepless nights. 'Remember 39 EP' is surely looking to provide a stylish ending to 2015, piling up extensive acclaim and support from stellar artists like: Christos M, Suffused, Flash Brothers, DJ Sossa, Jason Owen and many more.
JunoJuno's newest project 'Remember 39 EP' is the third release for fast moving label Flemcy Music. Whilst already putting their name behind heavyweight releases like: 'Stellar EP' and 'Mystik EP', Flemcy Music are now continuing their string of top-notch productions with JunoJuno's work. Flemcy Music is rapidly becoming a trend-setter within the Deep, Progressive and Techno realms and JunoJuno is certainly an outstanding addition to their family, providing a broad experience and a refined musical vision.
Check Out 'Remember 39 EP' on Soundcloud
soundcloud.com/flemcymusic/sets/remember-39-ep-by-juno-juno-flem003
Available on Beatport
pro.beatport.com/release/remember-39/1655533
JunoJuno Online
www.facebook.com/junodeeply
soundcloud.com/junodeeply
Flemcy Music Online
flemcymusic.com
www.facebook.com/flemcymusic
twitter.com/flemcymusic
soundcloud.com/flemcymusic