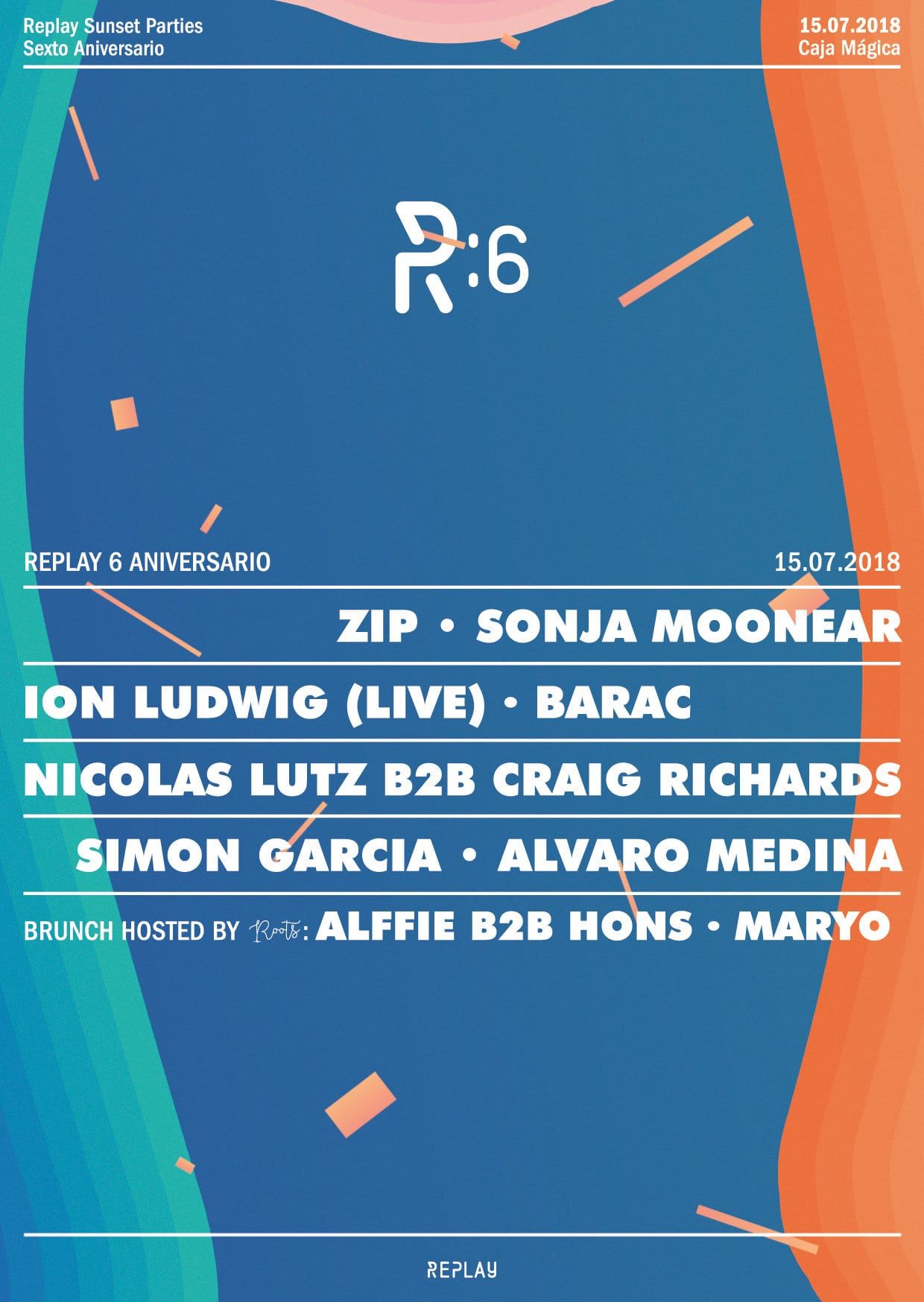 Replay 6th Anniversary: Full line up and new details about the Venue
After few weeks of suspense, REPLAY SUNSET PARTIES have revealed the full line up for its 6th-anniversary party, with Sonja Moonear's addition, and new details about spaces distribution inside its new venue: CAJA MAGICA.
Less than a month remaining for the beginning of a new season for Madrid project, taking place 15th of July, REPLAY SUNSET PARTIES is proud to host its first event in CAJA MAGICA, a huge avant-garde design venue at the edge of Manzanares river specially done for hosting big musical & sports events.
Special Guest Sonja Moonear and Full Line Up
It has been three long weeks in which the public has been gossiping around about who was going to be the Special Guest Artist for REPLAY 6th Anniversary. They have finally announced that Sonja Moonear was the ace under the sleeve of the biggest Open Air party Madrid will host during this Summer. Sonja Moonear is not a stranger for European clubbers. The Swiss DJ is one of the rising artists of the new minimal scene and is part of some of the biggest lineups of electronic festivals and parties, traveling the world from east to west carrying with her her most precious gems: her vinyls.
Full line up for the party has been made public finally having Thomas Franzmann aka ZIP, Barac, Sonja Moonear, Ion Ludwig (live), and Nicolas Lutz b2b Craig Richards as a main djs. They will be followed by Replay resident DJs, local heroes Simon Garcia and Alvaro Medina. An outstanding line up that puts Madrid at the forefront of European electronic scene and in the spotlight of clubbers from all over Europe, let's keep doing so!
New details from the Venue: Madrid Caja Mágica
Set in the Linear Park of the Manzanares River and designed by French architect Dominique Perrault, this multidisciplinary space encompasses two main areas, Indoor and Outdoor where sporting, cultural, and recreational activities are held. Madrid Caja Mágica has three clay courts with retractable roofs, so they can be used throughout the year. Made out of steel, wood and glass, it is one of the capital's major architectural reference points, with a stunningly versatile and functional design. Replay will be held in the outdoor space near the lake and the river.
Soundsystem will be operated by d&b audiotechnik, a company that will provide the Open Air party with high-quality loudspeaker systems and sound reinforcement in public places. d&b has become recognized as one of the leading companies in this market by combining technological developments, system integration principles, quality of construction and exceptional standards of service and support. Loudspeaker systems created by d&b are used globally in mobile and installation scenarios for events such as live concerts, musicals and festivals gracing everything from the tiniest conference rooms to the largest stadiums.
Stroll around the 2 areas of the site (indoor & outdoor), indulge yourself with one of the many gastronomic delights of REPLAY (all kinds of food trucks & Madrid street food restaurants) or have a break in one of the many rest areas that will be placed around the indoor area.
The final countdown has begun and REPLAY SUNSET PARTIES already has everything prepared!
Advance tickets from 20€ on Resident Advisor.