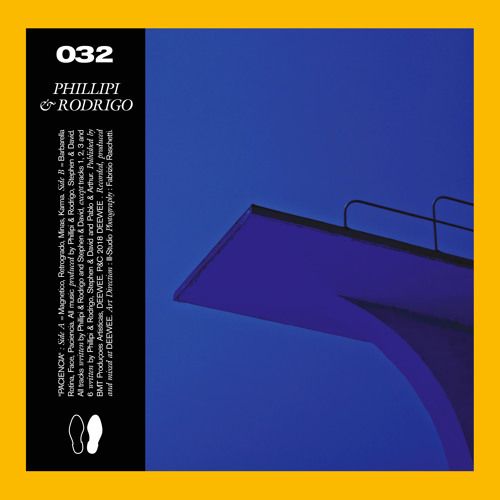 Phillipi & Rodrigo - Retrogrado
Out now, 'Retrogrado' is the new single from Phillipi & Rodrigo's forthcoming debut album, 'Paciencia'. Recorded, produced and mixed at Studio DEEWEE in Gent, the 9-track album features songs about the cosmos, relationships, nostalgia and signs of the Zodiac, and is available from 22 February on all formats.
The organ-heavy psychedelic pop of 'Retrogrado' is accompanied by a video promo featuring Brazilian transgender activist and artist, Pepita. The track has had early support from Paco Osuna, Auntie Flo, Sean Johnston, and more.
Phillipi & Rodrigo said:
"Retrogrado is the track where our influences are easier to distinguish than in the others. We did our best to try make a cohesive pop song in the vein of Stereolab with a Krautrock beat and cosmic lyrics."
Video director, Ruda Cabral said:
"Personally I see the track as an ode to the non-binary relation we all have with hard science and religion, or magic and placebos. I have no idea if P&R were leaning in that direction but that is how I interpreted their song. I was drunk on Hilma af Klint and the 60s Spiritualist art and decoration that moved to Brasilia when our capital was built."
Phillipi & Rodrigo's previous 'Paciencia' single, released in November, and backed with a DEEWEEDUB, picked up plaudits from Lauren Laverne on BBC6 Music, Dazed & Confused, Mixmag, DJ Mag, Rinse France, Acid Stag, and a host of DJs including Âme, Mano Le Tough, Disclosure, Applescal, Elliot Adamson, nd_baumecker, Tiga, Joe Goddard, Citizenn, DJ T., Black Coffee, Carl Craig, and more. All vinyl copies sold out within 2 weeks.
Both Phillipi & Rodrigo have noted backgrounds (including producing Brazil's pop sensation Pabllo Vittar) and have had their fair share of hits (and parts to play in them), but the pair began this project so they could explore different sounds. Influences range from The KLF's book, 'The Manual', The Residents' 'Commercial' album, Joao Donato's 'Quem é Quem' and other Brazilian music. And, while they're not part of any discernable scene, they cite friends such as Balako and Joutro Mundo as being on a similar vibe.
Described by David and Stephen as sounding "like Stereolab in 2019 singing in Portuguese while a Batucada band performs at a Brazilian beach techno party", 'Paciencia' (album) begins with 'Magnetico', a languid, dubby start, that opens proceedings before the upbeat, organ-heavy psychedelic pop of 'Retrogrado' (the new single). The melancholic 'Minas' (complete with beautiful piano, strings, and birdsong), is the first straight dance cut on the album, a torch song, sung, like the rest of the album, in Portuguese.
Previous singles, 'Mantra', (their second release alongside 'New Beach' on DEEWEE017), and the equally acclaimed 'Karma' (released with 'Gueto De Gent' as DEEWEE010) are also included. 'Barberella' and 'Rotina' show the depth and width to Phillipi & Rodrigo's sound, before the album shifts gear with the slow techno groove of 'Face', and 'Paciencia' (single) closes the album with 5 minutes of hypnotic brilliance.