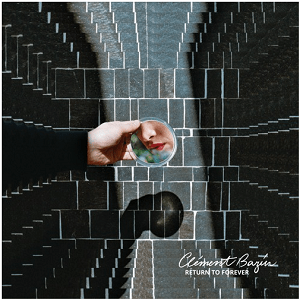 Clement Bazin - Return To Forever EP
Rising electronic music star Clement Bazin introduces his spellbinding upcoming EP, 'Return to Forever', due for release on 10th June via the innovative Nowadays Records. With recent releases from Nowadays including material from Jumo, BRNFKD and Sekouia, it's easy to see why the label is quickly developing a reputation for being at the very cutting edge of French dance music.

Having released acclaimed EPs in both 2012 and 2013, Parisian Bazin spent nearly three years travelling the world as an instrumentalist for international videographer, graphic designer, musician and all round high Renaissance man, Woodkid. Whilst touring with Woodkid, Bazin used what little spare time was available to him to teach steel drums at the Conservatoire de Paris and in the Yonne.

His new seven-track EP simultaneously juxtaposes the tropical and the urban, contrasting summery steel pans with street snares. Alluding to Clement's background whilst concurrently showcasing his innovation with a range of sounds, he touches on influences from the California beat scene to UK Garage.

Opening track and first single 'With You,' featuring the first of several classic R&B samples on the EP, sets Laetitia Dana's tender vocals against Bazin's trademark steel drums and syncopated rhythms, and is already approaching 1 million streams on Spotify. One of the EP's two instrumental tracks, 'TGTHR', then follows: inspired by Bazin's efforts to "translate a daydream into music, as the one you meet when you let your thoughts run away", its celestial synths give a subtle nod to LA's experimental hip hop scene.

The artist's R&B inspirations are evident once again in 'Just Wanna Know', which features a dialogue of vocal samples between 'What happened to our love?' and 'Baby I'mma do right,' bringing a more melancholy tone to the EP. The vocals echo the high pitched female tones found in UK Garage – yet they don't fit firmly into any genre, drawing a parallel with producers like Jacques Greene. Closing track 'Almost Time' sees a shift reminiscent of Woodkid's work, featuring folky vocals sung by Bazin himself and recalling a cabin somewhere deep in the forest, characteristically combined with his omnipresent searing steel pans to create both discord and harmony.

An artist for whom mood is paramount in his music, the driving force of Clement Bazin's 'Return to Forever' is the sheer emotion that the record draws out, creating an audio experience that is sure to resonate long after listening.