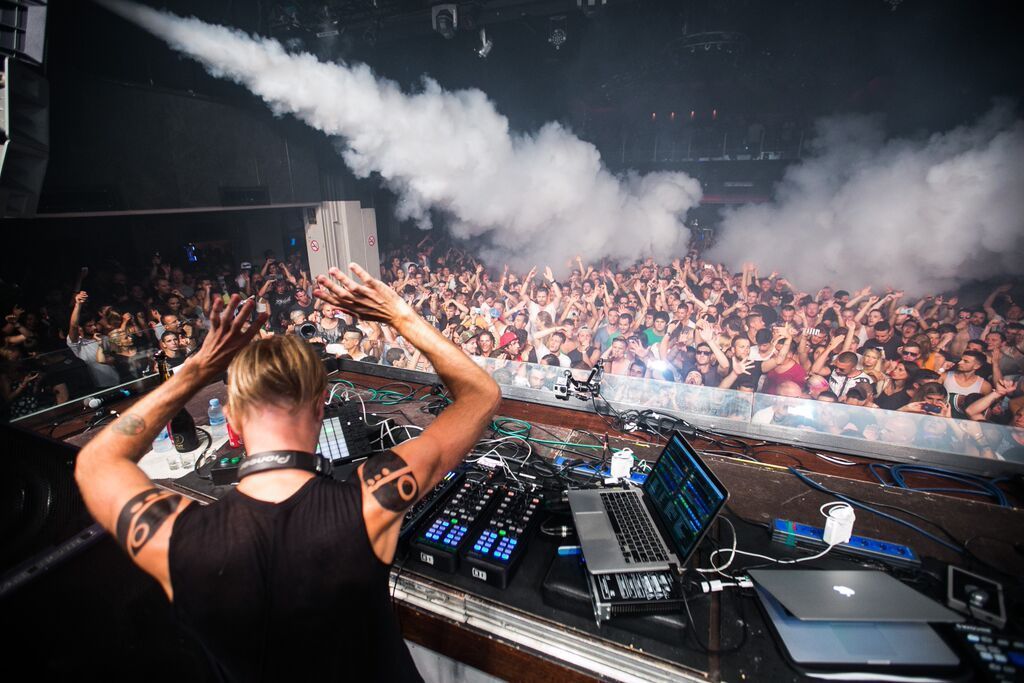 Richie Hawtin announces first acts for ENTER. Ibiza 2015
Richie Hawtin's award-winning event concept ENTER. returns to Space Ibiza this summer for 12 weeks of music, sake, technology and experience. As the team prepare to begin their fourth successive season on Ibiza, Hawtin today unveils the acts set to perform in the event's main room, ENTER.Main
In addition to welcoming back familiar faces and ENTER. favourites Adam Beyer, Chris Liebing, Christian Smith, Dubfire, Marc Houle, Marcel Dettmann, Recondite and of course Richie Hawtin himself, there will also be some thrilling debut ENTER. performances from acts including Blind Observatory, Dantiez Saunderson, Janina, Len Faki and Rødhåd. Minus label mates Gaiser, Julian Jeweil, Matador and Whyt Noyz also star, alongside ENTER. residents Fabio Florido and TM404.
The full roster of ENTER.IBIZA 2015 residents are revealed today as Bella Sarris, Fabio Florido, Hito, Matador, Matthew Hawtin and TM404. Over the next few days, the acts that will be joining them in the remaining four rooms, ENTER.Terrace, ENTER.Sake, ENTER.Mind and ENTER.CNTRL, will be revealed on ENTER. social media, followed by a full season announcement on 8 June.
Richie Hawtin says:
"For our fourth season, we've worked very hard to distinguish each week of ENTER.Ibiza as a unique event, inviting all of our guests to play only once in each area, challenging all of them to think about each of their sets individually and excite all of us in our expectations of special weekly experiences. Expanding on this season's visual campaign of naturally occurring "DOTS" found on Ibiza, each of our five areas have been completely transformed with deeper creative attention, ensuring the perfect environment for each of their musical atmospheres and creating our most cohesive ENTER.Experience to date.
Each week your experience starts early at 9pm in our new, wood inspired Sake bar, filled with warm friendly vibes, exclusive B2B sessions and, of course, a brand new selection of ENTER.Sakes and sublime cocktails. ENTER.Main has been stripped down to its cavern-like essentials, devoid of dancers and the coloured light-show you'll find so often on Ibiza, perfectly encapsulating the intensity of modern-day Techno. In contrast, ENTER.Terrace's warm sand tones remind us of the beauty and wonder of summer nights on Ibiza filled with hypnotic House music. The depths of the ENTER.Mind room continue, inspired by the mysterious places and energy on Ibiza that are still mostly unknown to the first time visitor, much like the music that you'll find in this cave of exploration. And on the open-air terrace you'll find our interactive ENTER.CNTRL area filled with ways to interact and have a first hand experience with making the music you hear!
With each area's contrasting and enveloping environment we invite everyone to EXPLORE. & DISCOVER. and challenge each of you once again to TAKE THE NEXT STEP."
ENTER. takes place every Thursday from 2 July -17 September 2015 at Space Ibiza. Advance tickets, priced at €50, are on sale now at Space Ibiza and Resident Advisor. For more info visit enterexperience.com
ENTER.IBIZA 2015 LINE-UP – ENTER.MAIN
ADAM BEYER. BLIND OBSERVATORY. CHRIS LIEBING. CHRISTIAN SMITH. DANTIEZ SAUNDERSON. DUBFIRE. FABIO FLORIDO. GAISER. JANINA. JULIAN JEWEIL. LEN FAKI. MARC HOULE. MARCEL DETTMANN. MATADOR. RECONDITE. RICHIE HAWTIN. RØDHÅD. SVEN VÄTH. TM404. WHYT NOYZ + MORE ACTS TBA
ENTER. 2015 RESIDENTS
BELLA SARRIS. FABIO FLORIDO. HITO. MATADOR. MATTHEW HAWTIN. TM404
TICKETS
€5 discount for anyone with the ENTER. black dot logo on their body
Before 2200h 15€ (10 w dot)
Before 2300h 30€ (25 w dot)
Before 0000h 40€ (35 w dot)
After 0000h 60€ (55 w dot)
Advance Tickets priced at €50 available from Space Ibiza and Resident Advisor
OPENING HOURS
ENTER.Sake 21.00h – 6.30h
ENTER.Terrace 23.30h – 6.00h
ENTER.Mind 23.30h – 5.00h
ENTER.CNTRL 00.30h – 6.00h
ENTER.Main 00.00h – 6.30h
LOCATION
Space Ibiza, Playa d'en Bossa, s/n 07817 Sant Josep de sa Talaia, Ibiza.
T: +34 971 39 67 93