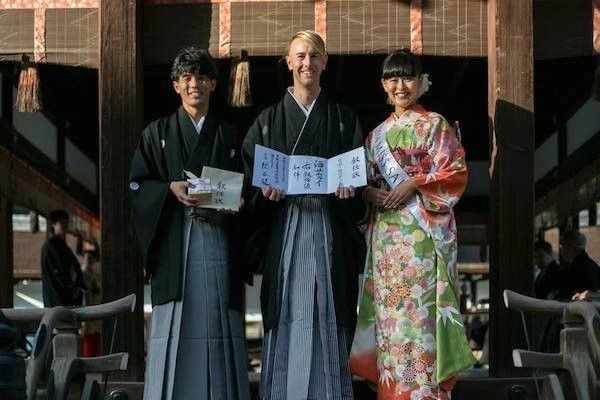 Richie Hawtin awarded prestigious "Sake Samurai" title
Electronic music pioneer and ENTER.SAKE founder Richie Hawtin, has been named a 2014 "Sake Samurai" by the Sake Samurai Association, a council for the Japan Sake Brewers Association. The prestigious 'Samurai' title was awarded to Hawtin at the annual Sake Samurai Awards for his outstanding contribution to the understanding, appreciation and promotion of sake through his ENTER.SAKE project. The ceremony was held earlier this month at Shimogamo Shrine in Kyoto, one of the oldest shrines in Japan.
Hawtin first launched ENTER.SAKE in 2012 at his award-winning club concept ENTER. in Ibiza. What started as a wish to share his passion for Sake and Japanese culture with friends after twenty years of travelling, working, and tasting sake in Japan, led to the launch of Ibiza's first true sake bar experience and the creation of Hawtin's own boutique ENTER.Sake collection. The idea of the project first came to Hawtin as a reaction to discovering more about the decline of the domestic Japanese Sake industry. Noting a lot of similarities in the Sake industry and the independent Electronic Music scene, Hawtin wondered if there was some way for him to help revitalize the Sake industry and introduce his fans and colleagues into the world of Japanese Sake & culture.
Says Hawtin, "The Sake industry was filled with small family-run breweries each following their own distinct style with careful & creative thought about each step of the production, much like how our favourite labels dedicate themselves to a certain sound and unique aesthetics. At the same moment I learned how the domestic Japanese Sake industry was actually in decline with so many young people moving their tastes to Beer, Wine, Cocktails and other spirits, forcing many breweries, some with hundreds of years of history, to close their doors forever. This sparked my imagination of somehow combining my love (and knowledge) of the Electronic Music scene and the world of Japanese Sake in a way to help (in my own way) revitalize the Sake industry and introduce my fans and colleagues into the world of Japanese Sake & culture."
Working in collaboration with the Kyota-based Sookuu brewery, Hawtin brought the exclusive ENTER.Sookuu "Black", "Silver" & "Gold" Sake to Ibiza along with hand-selected sparkling varieties from Japan's legendary Dassai Brewing. The Sake Samurai award comes in the same year that ENTER.SAKE also made its US debut, with an exclusive launch at New York restaurant TAO Downtown, the first time ever that Hawtin's Sake and Shochu brand, created with the Matsumoto Sake Brewery in Kyoto, has been made available outside of Ibiza.
The Sake Samurai Association was established in 2004 to protect both sake and Japanese traditions at home and to promote them internationally. Since 2006, the association has awarded annual "Samurai" titles to individuals committed to upholding the following three tenets: love both Sake and the beautiful culture of Japan, strive to gain a deeper understanding of sake culture and work on behalf of its further development and spread the word about Japanese sake around the world with pride and passion.
"To be honoured by the Sake community for my work spreading the taste of Japanese Sake to the international market is humbling & another positive step for my dream of combining Music, Sake & Technology into an immersive Experience. As we continue to develop our ENTER. events on Ibiza and expand our ENTER.Sake brand throughout Europe & North America, I hope that we can continue expand the market place for Japanese Sake and bring new vitality back to the Japanese Sake Industry. Whether it's a "taste' or a "sound", I hope to continue my support for artisans around the world who follow their own pathway to create something unique and different." – Richie Hawtin
entersake.com
sakesamurai.co.uk