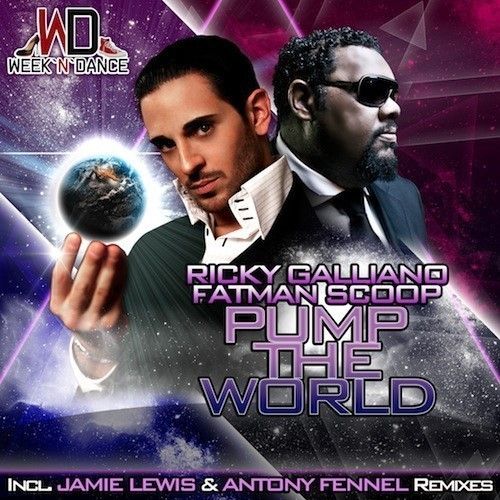 Ricky Galliano feat. Fatman Scoop – Pump The World
'Pump The World' marks the birth of the new dance label, Week'N'Dance! Firing all cylinders, Week'N'Dance make a grand entrance with 2 giant talents of the electronic dance music world – Swiss producer Ricky Galliano and Grammy Award winning US vocalist Fatman Scoop. 'Pump The World' is charged with positive party energy and a catchy vocal hook that's armed with a message calling for Joy and unity throughout the world. The package also features a version from Italian producer Antony Fennel, who delivers a monstrous slice of peak time dancefloor action, pulsing with exhillarating breakdowns. Purple Music boss Jamie Lewis, whips up a powerful electro disco storm with sexy 'Moroderesque' style synths and grooving beats as Fatman beckons us all to "PUUUUMP IT UUUUP!!!"
Ricky Galliano and his producer David Roy thought about the perfect video for 'Pump the World', with their goal to involve high level personality Mr David Ebner – the effects director of many successful films like including 'Pirates Of The Caribbean', 'Avatar', 'Sin City' and 'Alice In Wonderland'. David Ebner accepted their offer and has created a real gift to the song thanks to his amazing talents, directing the whole video!
Ricky Galliano discovered his passion for music at the early age of 6 when he attended song school participating in several shows. In 1994, he heard a trance song for the first time, 'Nuclear Sun', that inspired him to start writing music himself and also began to discover luminaries such as Masters At Work, Dj Spen, Erick Morillo, Roger Sanchez, David Morales, among others. At the age of 13 in 1996, Ricky began peforming in clubs as a vocalist in Switzerland, also honing his craft as a DJ in several big clubs around 1998. After a decade playing as both a dj and performing as vocalist, Ricky created his first studio production, immersing himself in this new chosen career. As a very intimate friend of the Jackson family, Ricky's first production was a collaborative effort with Rocco and Danny Marques, who together covered Michael Jackson's – 'Billie Jean'. which was released on Purple Music just a few days before the artist passed away. The release was one of the most licensed and successful covers in Europe in recent years, appearing on many compilations worldwide.
Vocalist Fatman Scoop carries both a huge pressence and a giant personality with his unique performances. The successful American singer boasts an impressive repertoire of collaborations with stars like David Guetta, Bob Sinclar, Pitbull, Justin Timberlake and Mariah Carey, to name just a few, who have all benefited from his special, unique and inimitable voice.
Antony Fennel, (aka Deep Solution), is a young Italian DJ and producer who at young age has already had his musical works on famous labels such as Purple Music, Purple Tracks, Atal, Kings Of Groove, Cut House, Taste The Music, Soda Records, Gotta Keep Faith, Dirty Soul Recordings Ocean Trax and many more.
Purple Music (EST 1997) is owned and run by Jamie Lewis (Cem Berter) and his wife Manuela De Pasquale. Thanks to the mighty talents of this creative music industry couple, Purple Music now boasts a catalogue of over 450 titles including productions from icon superstar PRINCE, Cerrone, Joelyn Brown, Bob Sinclar, Sandy Rivera, India, Inaya Day, Michelle Weeks and many more! 2013 marks the launch of their brand new sister label Week'N'Dance, the brainchild of Manuela De Pasquale, one of dance music's hardest working ladies! Manuela began working in the music industry in 1990 at Fulltime Records in Milan, and has since boasted a career in working 360 degress: promotion, sale, events, marketing, artist management and publishing, among other tasks. As well as beng the co founder of Purple Music and handling many of its business affairs, Manuela has also worked with stars such as Latoya Jackson, Jovanotti and Nikka Costa and many more. Week'N'Dance's is a new personal adventure for Manuela, focusing on high quality dance music releases from big names that resonate a very different sound to their Purple Music counterpart. With lots of exciting new releases in the pipeline including their next single from Yolanda Be Cool feat Spilty Milk, Week'N'Dance are going to be a musical force to be reckoned with!