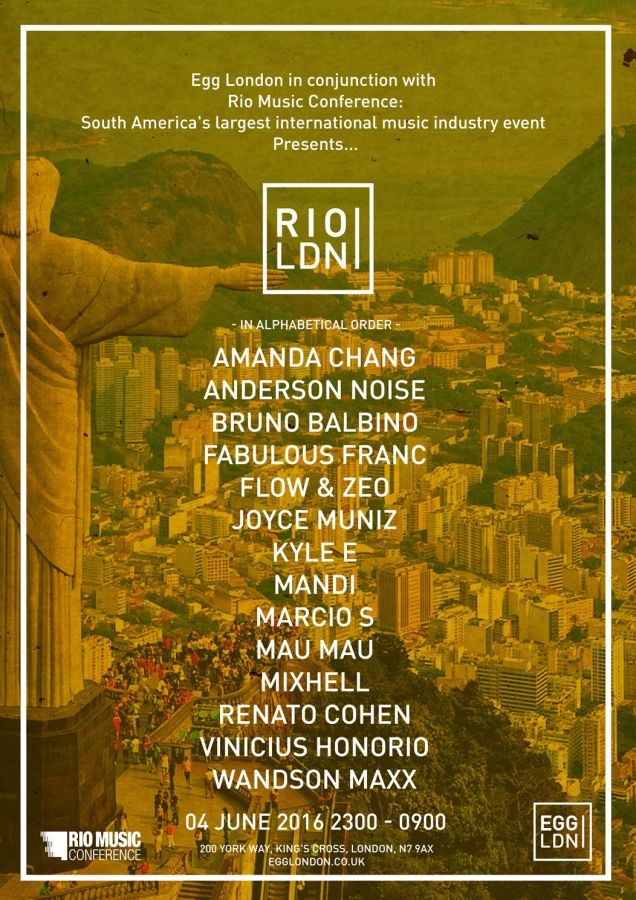 RIO LDN: Mau Mau, Anderson Noise, Joyce Muniz, Renato Cohen,
Saturday 04th June 2016
23:00 – 9:00
Egg London in conjuction with Rio Music Conference: South America's largest international music industry event presents..
In alphabetical order:
Amanda Chang
Anderson Noise
Dj Mau Mau
Fabulous Franc
Flow & Zeo
Joyce Muniz
Kyle E
Mandi Hafez
Marcio S
Mixhell
Renato Cohen
Vinicius Honorio
Wandson Maxx
Ground Floor hosted by Bunker 194
Renato Lopes
Paula Chalup
Bruno Balbino
Brenno
With Rio hosting the Olympics this year, Brazil's city of colour and endless sun will soon be the focus of the world. Rio Music Conference (RMC) has been garnering the same attention for Brazil's electronic music since 2009, its annual edition the biggest gathering for the electronic music and nightlife industry in Latin America.
On June 4th RMC teams up with Egg for a party that collects the best of this talent, bringing together scene legends and rising new talent for a flavour of Rio's non-stop party vibe.
Advance tickets from £10 | Student Members £10 | More on the door