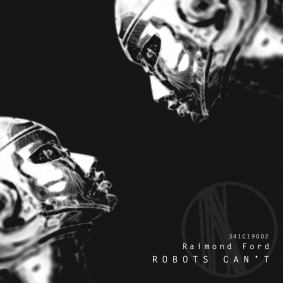 Raimond Ford - Robots Can't EP
Raimond Ford is back after 20 years of absence from the scene with a fantastic new musical story to tell across ten tracks of avant-garde deep techno.
Together with the D-EX collective and Racket Knight, Raimond Ford has been one of the most successful techno alter egos of Luca Tavaglione aka djlukas, a Swiss artist from the nineties who played all the major raves of that era. Under his various aliases he has released on Planet Rhythm Rec TouchTone/AudioRec, Spectra Records and many others, with legends like Carl Cox often dropping his tunes.
His Robot Can't EP explores the notion that robots will probably replace human beings in certain activities or functions and "tries to describe the personal feelings of the artists when one day he woke up in a surreal world between darkness and light, running against the unknown with little fragments of memory captured through the eyes of a robot."
An atmospheric ambient opener sets the scene before 'Robots Can't (Part. 2)' brings rolling deep techno drums complete with mechanical synths. 'Delirium (Moore's Deep Mix)' then keeps you in suspense with an edgy bassline and patient, mid-tempo beats that characterise a dehumanised world. 'Magical & Strange' is an excellent eerie synth interlude that adds to the cinematic feel and 'Astral Angel' is a steady journey through the cosmos that leaves you gazing at the deft sound design.
The spaced out, meditative mood continues through slick and serene cut 'Large Room' and then after another gorgeously futuristic passage of ambient, 'Obscura' builds the pressure with driving minimalism and things close down on the sombre moods of 'Philosophical Tenet' which soundscapes a world governed by robots and will get its own single release.
This is an accomplished and absorbing EP of forward thinking techno.
Tracklist:
1. Robots Can't (Part. 1)
2. Robots Can't (Part. 2)
3. Delirium (Moore's Deep Mix)
4. Magical & Strange
5. Astral Angel
6. Large Room
7. Locked Doors
8. Obscura
9. Vrillon Is Back
10. Philosophical Tenet