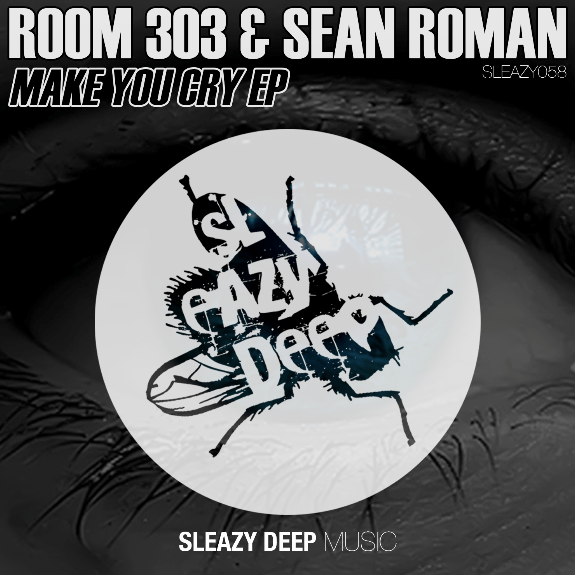 ROOM 303 – MAKE YOU CRY
Toronto's own Room 303 kicks off 2015 with his latest "Make You Cry" EP, to be released on UK's Sleazy Deep Records January 19, 2015. More of a mini album, this EP features 6 sultry Deep House productions highlighting 4 originals and 2 remixes alike. With his last release hitting it big on the charts with Nathan Barato and "Everytime I See You"(Hot Creations), Room 303 showcases a taste of what's to come in 2015.
Make You Cry – Room 303 (Original Mix) – The first out of 6 on the EP, starts off with echoing sounds of children playing in the distance, with an intro of a deep permeating bassline, paired with beautiful percussions and a hypnotizing trumpet. Vocals slowly creep in, as Room 303 illuminates this track with his very own lullaby of Deep House euphoria. Swirling effects close out the track leaving listeners anticipating for more. Look At Me – Room 303 (Original Mix) – Immediately staring off with a sensual groove, Look At Me is a storyline about when you're at a nightclub and see someone you're instantly attracted too – you want them to look your way, to lock eyes, and make it happen.
Close The Door – Room 303 & Sean Roman (Original Mix) – The Guitar and Sweet vocals kick off Close The Door, as the bassline quickly intrudes, and fluttering effects shine through. Also featuring Sean Roman – Toronto born, and now Berlin based DJ/Producer, this collaboration speaks for itself. Just Like That – Room 303 & Sean Roman (Original Mix) – Once again with Sean Roman, the 2 producers created what is a nostalgic track with elements of lovely melodies and vocals. Deep house at its finest. The final part of the EP features 2 remixes by Terence Kissner and Sean Roman of Room 303's original production of Make You Cry. Room 303 – Make You Cry (Terence Kissner's Eat Your Heart Remix) – Torontonian Terence Kissner whips up Make You Cry into his own Eat Your Heart Remix. Taking it up a notch, Terence Kissner's remix makes for an after party favourite. Room 303 – Make You Cry (Sean Roman Remix) – Sean Roman works out his talent with a deeper, darker ominous feel of a remix – which almost wants to make you cry, for the love of Deep House.
The BPM Festival in Playa Del Carmen, Mexico is around the corner, and Room 303 will be playing along side Pavel Gorin in their duo Night Vision. Room 303 will also be releasing Since "You've Been Gone" EP come March 2015.