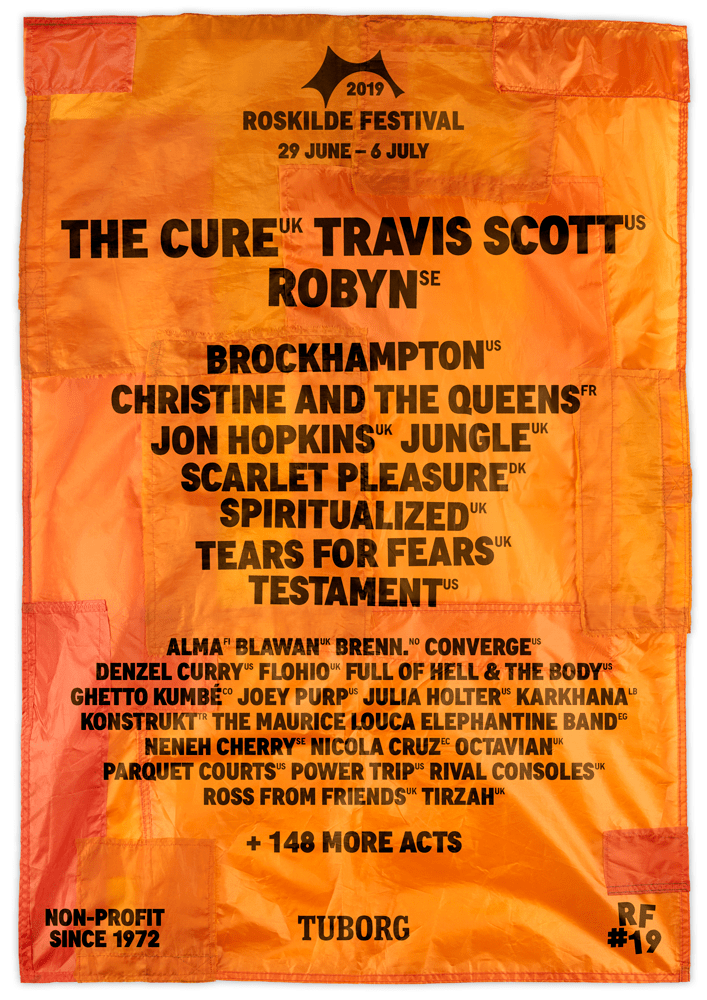 Roskilde Festival 2019 adds more acts!
Robyn has recently been added the line-up for Northern Europe's biggest festival, and another 18 acts are now ready to join her. From legends to newcomers, from boyband hip-hop to mean metal, the new additions reflect the diversity of Roskilde Festival.
The new faces of pop
Christine and the Queens is one of the most remarkable artists in pop today, creating music that transcends gender, international borders and musical categories. Her debut album Chaleur Humaine became the biggest-selling debut album in the UK back in 2016, and new album Chris has topped the charts in her native France as well as the UK Independent Albums chart.
Self-declared boyband hip-hoppers Brockhampton are also familiar with the top of the charts: their new album debuted as no. 1 on the Billboard 200 Album Chart. The collective is destined to make hip-hop fun again, uniting hip-hop and pop as one of the best live acts in America.
British party-starters
Readying their new album, UK legends Tears For Fears are ready for their first ever Roskilde Festival show. Fans can expect hits such as Shout, Everybody Wants to Rule the World, Change, Head Over Heels, Mad World and Woman in Chains.
Jungle are no strangers to Roskilde Festival, having played – in their own words – one of their most important ever shows at the non-profit festival back in 2015. Fellow Brit Flohio will light things up with her mash-up, mixing grime with industrial techno, clubby hip-hop and much more. The 25-year-old rapper is one of several future hip-hop stars to be announced for Roskilde Festival, with Octavian, Denzel Curry and Joey Purp also gearing up for their first shows at the festival.
Delicate icons and no-nonsense thrashers
Following their critically acclaimed new album, Spiritualized are back at Roskilde Festival to spellbind a new generation of listeners ready to float in space. Neneh Cherry is arguably one of the most diverse artists in pop music today, which is just one of the reasons why she has inspired fellow Swede Robyn's career.
Those looking for more guitars, shaking amplifiers and shredding can happily punish themselves with hardcore legends Converge. If the need for a full-frontal attack is even greater, Texan thrashers Power Trip is the real deal.
Head of Programme Anders Wahrén says:
"Pop music can make people come together, and with Christine and the Queens we have one of the most important popstars and role models out there. Her shows are not only amazing concerts, they arestatements for anyone who feels like she or he doesn't fit in. In a very different way, Brockhampton alsodeliver a strong sense of community. I just saw them at a festival in Los Angeles, and authorities had to close down the show because so many people wanted to see the show!"
32 artists have now been announced for Roskilde Festival 2019, including The Cure, Robyn, Travis Scott, Julia Holter, Blawan and Tirzah. A total of 180 acts will play across 8 stages at Roskilde 2019, which lasts for eight days between Saturday 29 June to Saturday 6 July. Find out more and book tickets at Roskilde-festival.dk.
New acts announced today:
BROCKHAMPTON (US)
CHRISTINE AND THE QUEENS (FR)
JON HOPKINS (UK)
JUNGLE (UK)
SPIRITUALIZED (UK)
TEARS FOR FEARS (UK)
CONVERGE (US)
DENZEL CURRY (US)
FLOHIO (UK)
JOEY PURP (US)
KARKHANA (EG)
KONSTRUKT (TR)
MAURICE LOUCA ENSEMBLE (EG)
NENEH CHERRY (SE)
OCTAVIAN (UK)
POWER TRIP (US)
ROSS FROM FRIENDS (UK)
BRENN. (NO)
Acts already announced (A-Z):
ALMA (FI)
BLAWAN (UK)
FULL OF HELL & THE BODY (US) DOUBLE SHOW
GHETTO KUMBÉ (CO)
JULIA HOLTER (US)
NICOLA CRUZ (EC)
PARQUET COURTS (US)
RIVAL CONSOLES (UK)
ROBYN (SE)
SCARLET PLEASURE (DK)
TESTAMENT (US)
THE CURE (UK)
TIRZAH (UK)
TRAVIS SCOTT (US)
Tickets to Roskilde Festival are on sale on roskilde-festival.dk.
Full festival tickets are DKK 2100 (including free access to camping).
More artists will be announced soon.
A total of 180 acts will play the festival's eight stages.
See more on roskilde-festival.dk
About Roskilde Festival:
Roskilde Festival is 100% non-profit. All profits are donated to social and cultural charities by the Roskilde Festival Charity Society. The festival is right next to the Danish capital of Copenhagen and easily connected by train, bus and flight (Copenhagen Airport).
With more than 180 music acts in the line-up performing on eight stages and over 130,000 passionate music lovers gathered for a full week, Roskilde Festival is among the most unique music festival experiences in the world. A position the festival has held since the early 1970s.
The full festival journey in Roskilde is an eight-day exploration of music, artistic expression, delicious food, sustainability, love, community and party.