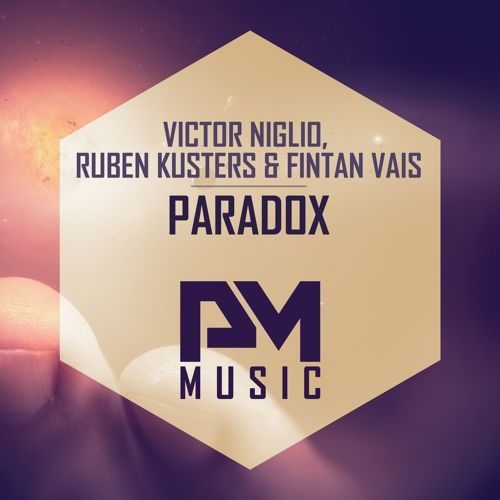 Ruben Kusters, Fintan Vais & Victor Niglio – Paradox
Three international creative minds have joined forces to unleash their talent onto a new project by the name of 'Paradox'. Released this month – the single is a joint effort between Ruben Kusters, Fintan Vais and Victor Niglio and has been turning heads within the EDM world. With all three contributors having rich resumes for themselves, this project was perfectly devised to challenge top chart positions in the months ahead.
Dutch based Ruben Kusters can already boast the support of: Sandro Silva, Mightyfools, D.O.D., Hervé Pagez, Moska and Laidback Luke who has also signed him to his Next Era Publishing and Ones to Watch Records. Ruben Kusters can also count on numerous releases on heavyweight labels such as: PM Music, Peak Hour Music, Andorfine Records, Pop Rox Muzik, House Place Records and Intraxx Records amongst many others.
Joining Ruben Kusters is Fintas Vais, another Ones to Watch Records and Next Era Publishing signee. The 19 year old Finnish talent has also landed deals with: Pop Rox Muzik and PM Recordings whilst enjoying the support of Wolfpack, Blasterjaxx, Hasse De Moor, Junkie Kid, Darude, Tom Swoon, Lenno, Alvaro, D.O.D, Juyen Sebulba, Jimmy Clash, Saint Liz, Jordan Ferrer and Victor Niglio who came in to complete this fantastic production trio.
A seasoned artist with releases on elite labels such as Diplo's Mad Decent and Steve Aoki's Dim Mak, Victor Niglio has gathered a huge worldwide fan base along the years. Renowned for his collaborations with Borgore and multiple productions on other top imprints like: Sweet Shop Records, SPRS, Black Hole Recordings, PM Music, Grindin Records, Good Game, Indie Pop and Ones to Watch, the Philadelphia native DJ and producer is the perfect addition to this all-star team.
With Wiwek and Baggi already showing their love for this single, 'Paradox' is setting the pace to become the next big festival anthem. A unique blend of electronic genres like Electro House and Trap together with tradition Arabic music, 'Paradox' is surely distinguishing itself from the usual offerings. Raging synth melodies, pumping grooves and hard bass drops are the foundations of this tune, to which an array of effects and embellishments are added throughout the length of the song. The producers have truly managed to find a great balance between EDM and world music, making it unique enough to be enjoyed by those who posses refined ears and also adequately bursting with energy to get festival crowds pumping. The song sectioning allows for different moods to take over; mellower verses lead to powerful ascension which reach their peak with colossal bass-filled drops, whilst native North African rhythms alternate with modern electronic beats. This production has certainly reached the shelves at the right time, now that the festival season is around the corner.
'Paradox' is now another gem in PM Recordings' flourishing catalogue. Home to sub-labels such as: PM Deep, Danja Beatz and Kingbird Recordings, the Dutch giant has had multiple Top 100 hits and has managed to get a thumbs up from many A-list DJs around the globe. Artists like: Timmy Trumpet, Borgore, Don Cartel, Lil Wayne, Flo Rida, Disco Fries, Aloe Blacc, Lucky Charmes, Wiwek, Mohombi, Mike Candys, Biggi, Ruben Vitalis, DJ Jean and Etostone have all been privileged enough to make it onto PM Recordings' roster and now Ruben Kusters, Fintas Vais and Victor Niglio have also made the cut. Without a doubt, having such an outstanding trio of magnificent producers putting their efforts into one project could only have resulted in the wonderful single that 'Paradox' has turned out to be.