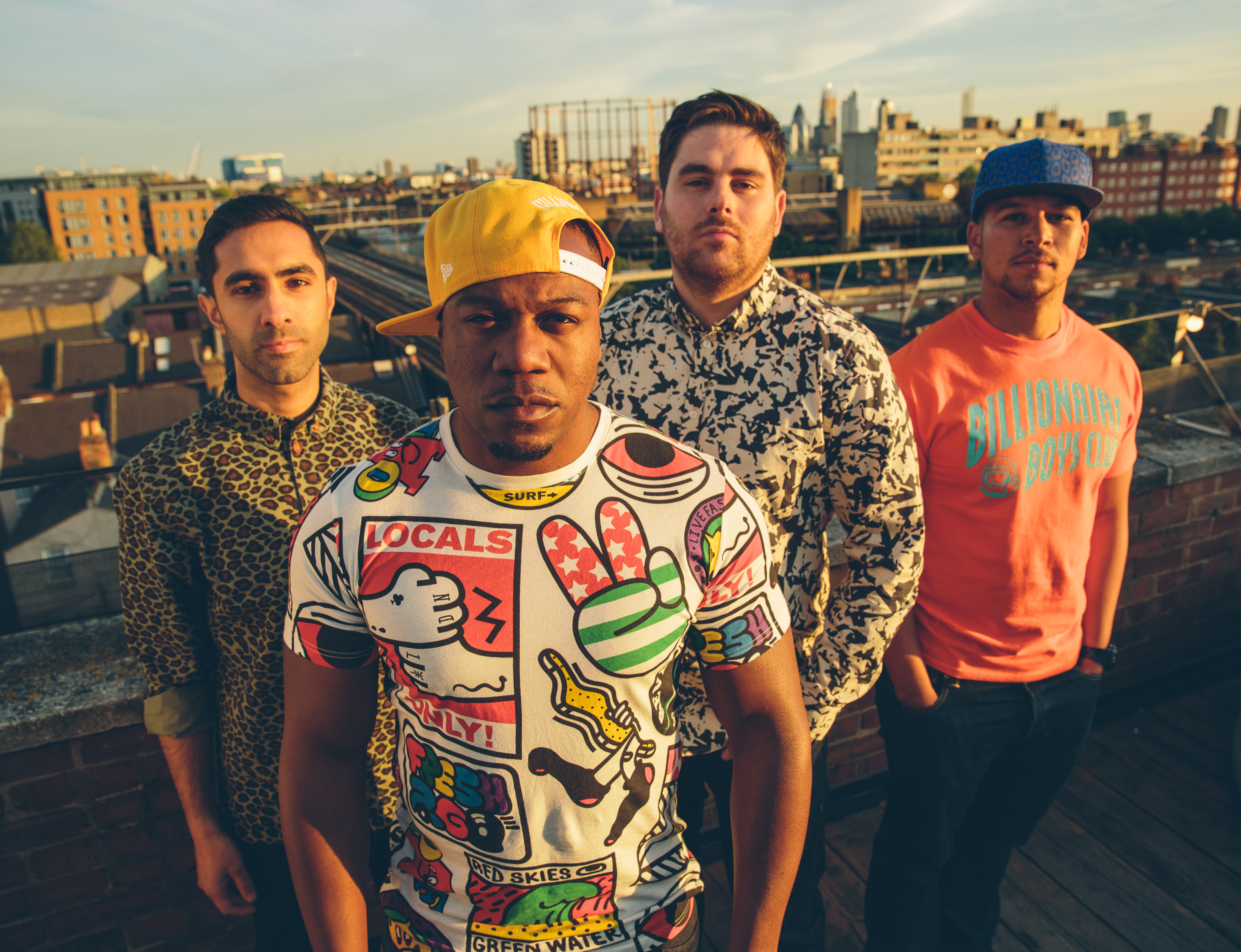 Rudimental announced as SouthWestFour headliner!
SW4 Saturday. The beaming highlight of London's bubbling electronic landscape and a key date in its sacred clubbing calendar. Returning to our revered home of Clapham Common for a thirteenth year in a row, Day One of 2016's two-day spectacular will take place on Saturday 27th August of the Bank Holiday Weekend. Boasting some of the most prolific performances to ever grace the capital since its birth back in 2004, this year will see London's premier inner city dance festival shake things up. Showcasing an astonishing selection of drum and bass, house and garage artists, SW4 brings you yet another world-beating line-up.
It goes without saying that this year's Saturday headliners need no introduction. Their multi-award winning, chart-topping success has made them one of the most in demand acts on the planet. This has seen us fight off fierce competition to bring them for South West London. In what will undoubtedly be one of the most rip-roaring, energetic, high-octane displays SW4 has ever seen.
INTRODUCING YOUR SW4 SATURDAY HEADLINER…
[EXCLUSIVE LONDON FESTIVAL 2016 PERFORMANCE]
Joining us on Saturday 27th August is one of the most exciting, energetic bands to emerge from the UK in recent times. Returning four years after one of their first breakthrough performances at SW4 in 2012, SW4 is immensely excited to announce that Rudimental [Live] will complete their rapid rise to the top by closing our main stage in 2016.
After enjoying a roller coaster ride to the summit of electronic music ever since thanks to a string of UK #1 singles. Piers, Amir, Kesi and Leon return to us at the pinnacle of their career. With prestigious awards and nominations too many to mention, including the Mercury Prize, Brit, Mobo and MTV Video awards as well as multiple Platinum accolades thanks to record-breaking sales, it's clear that superior presence across the music scene UK charts has been well documented, with their drum and bass club-ready anthems dominating airwaves and dancefloors alike.
Following their debut back in 2012, the year saw them capture the imagination of millions worldwide though the release of their breakthrough track 'Feel The love' ft John Newman which was quickly followed by 'Waiting All Night' ft Ella Eyre (2013), 'Right Here' ft Foxes (2013) and 'Lay It On Me' ft Ed Sheeran (2015) to name just a few. Boasting one of the most celebrated back-catalogues in in recent times including two UK #1 albums 'Home' and 'We The Generation', Rudimental's biggest performance of 2016 is one you cannot afford to miss.
ALSO ANNOUNCED FOR SW4 SATURDAY…
DJ EZ • MK • NETSKY [LIVE] • GORGON CITY • AMINE EDGE & DANCE • BONDAX [LIVE] • NOISIA • FLUX PAVILLION [LIVE] • FRICTION • MISTAJAM • KIDNAP KID • CAMELPHAT
Responsible for single-handily shutting down a stage after one of the craziest performances ever seen at the festival in 2015, DJ EZ is back by hugely popular demand and returns in 2016 for his main stage debut. Widely regarded as one of the most technically gifted DJs to ever walk the planet thanks to his unrivalled turntable wizardry, his return is huge. As the undisputed godfather of UK Garage, DJ EZ has formed an alliance of dedicated followers from all four corners with his trademark techniques inspiring thousands worldwide. Saluted by the entire industry as one of the most creative mixers to grace a pair of decks, his mind-blowing chopping and cutting has made him a true favourite amongst the SW4 faithful. With an upcoming sold out date at the colossal Brixton Academy, it's clear to see that DJ EZ is one of the hottest talents currently out there. We're very excited to welcome him back to SW4.
Responsible for producing some of the biggest tracks in house tracks from the early 90's to the present day, South West Four welcomes one of the most influential figures of the past two decades; Marc Kinchen aka MK. Returning following hugely popular performance in 201, MK's infectious sound has influenced a new generation of electronic music lovers with his and feel-good vibes. With the Area 10 boss showing no sign of slowing down and retaining his crown as the first prince of house music, we're pleased to see him return on Saturday 27th August.
Very few artists have risen through the ranks of electronic music quite like our next addition. Hailing from Belguim and firmly marked as one of Europe's top talents, Netsky [Live] has confirmed South West Four as his only London festival performance of 2016. After bringing his live show to Clapham Common in 2014, the drum and bass favourite returns this summer armed with a fresh selection of uplifting, melancholic melodies and dancefloor ready beats. Joining us for his first UK festival performance since that unforgettable display, there's no better time to see the Hospital Records sensation unleash his talents in an ultra-rare live appearance.
Following on from their remarkable SW4 debut in 2014 and exceptional back-to-back battle with Pete Tong in 2015, this year see's Gorgon City return for the third year on the spin to host a stage at a UK festival for the very first time. Titled 'Welcome To Gorgon City', the stage's debut will welcome a wide range personally invited guests to join them in this significant milestone in their soaring career. Backed up by an upcoming EP on Crosstown Rebels and a summer residency at Together at Amnesia Ibiza, there's no doubt that they're coming back to SW4 with a bang.
Currently parading their superbly crafted live show across the US and Canada, our next act is one we're huge fans of. After keeping close tabs and monitoring their breakthrough success in recent years, there's not been a better time to invite Bondax back to SW4 for their exclusive live show. 2015 saw the duo execute a stunning touring schedule with a string of headline shows and prestigious festival appearances leading to an anticipated return to SW4. Showcasing a terrific back-catalogue of diverse, eclectic sounds, we cannot wait bring you this very special duo.
Mastering an uncompromisingly original and emotional sound, the Dutch trio of Nik Roos, Martin Sonderen and Thijs de Vileger are renowned for their unparalleled technical skill and instantly recognisable methods. Crowned as one of drum and bass' most decorated exports, we're pleased to announce that Noisia will join us this summer for an electrifying assault of the senses. NYE 2015 saw them tear the roof off RAM at Brixton Academy to almost 5,000 revellers and with their recent fabric takeover being marked as one of the best, an upcoming festival performance at SW4 was always on the cards. Soon to be none of the greats, do not miss them.
Demonstrating a polymath-like ability to involve himself in all aspects of electronic music, Circus Records founder Flux Pavilion has chosen South West Four as the exclusive date for his first ever fully live performance. Celebrated as one of bass music's most important performers, Flux arrives at the top of his game. September saw the release of the outstanding 'Tesla', a standout album once again highlighting his prolific status. All roads now lead to Clapham Common with a sea of fans waiting for his summer arrival.
Favoured for the chaotic carnage, anarchy and disorder witnessed in his previous Clapham Common displays, it's easy to understand why we've invited one of the most revered names in the game back for more of his bone-shaking beats. Loaded with an extensive armoury of drum and bass classics on every label imaginable including RAM, Hospitality and Metalheadz, Shogun Audio boss Friction has also exclusively confirmed for this August. With a highly respected weekly radio show on BBC Radio 1 and 1Xtra, plus an insane set of technical skills, it's clear that Friction resides as one of the most exciting figures in the scene.
Instantly recognised as one of the key the voices of the UK dance scene, BBC Radio 1 and 1Xtra's MistaJam joins us again for another frenzied session of his forward-thinking selections. As the go-to man for undiscovered dancefloor gems, the DJ, producer, label owner and presenter is one of the industry's most respected figures. Consistently delivering a much needed escape of electronic brilliance through his weekly radio shows, we're excited to see what's in store from his arrival at SW4.
Having found a home at Rudimental's Black Butter Records, Kidnap Kid prides himself as one of today's most exquisite tastemakers. An impressive diary marked with dates at Sankey's Ibiza, BPM and a current tour of Australasia and the US echoes this. Production wise he stands tall above the rest with his latest weapon 'Moments' recently premiered by Pete Tong on BBC Radio 1. SW4 is pleased to welcome back one of our favourite DJs.
Earmarked as one of 2016's biggest breakthrough acts, we're immensely excited about to bring to SW4 the mysterious production duo CamelPhat. Heavily supported by the likes of Pete Tong, Annie Mac, Carl Cox, MK and more thanks to anthems such as 'Constellations', 'Paths' and 'The Act', it's obvious to see why they're considered as one as electronic music's most promising talents. February has seen them release 'Trip' on Toolroom and with their London festival debut at SW4 on the horizon, it's exciting times for this hot new act.
SW4 SATURDAY PRE-SALE TICKETS RELEASED WEDNESDAY 24TH FEBRUARY AT 9AM.
FINAL CHANCE TO REGISTER FOR SATURDAY PRE-SALE TICKETS: WWW.SOUTHWESTFOUR.COM
SW4 SUNDAY & WEEKEND TICKETS ON SALE NOW VIA: WWW.SOUTHWESTFOUR.COM/TICKETS
SW4 SATURDAY LINEUP SO FAR…
Rudimental [Live] DJ EZ · MK
Plus in alphabetical order:
Amine Edge & Dance
Bondax [Live] CamelPhat
Flux Pavilion [Live] Friction
Gorgon City
Kidnap Kid
MistaJam
Netsky [Live] Noisia
+ MANY MORE TO BE ANNOUNCED ACROSS 4 STAGES HOSTED BY TOGETHER, RAM, WELCOME TO GORGON CITY AND SW4 LIVE
SW4 SUNDAY LINEUP ANNOUNCED SO FAR…
The Chemical Brothers [Live] Above & Beyond
Paul Kalkbrenner
Plus in alphabetical order:
Booka Shade [Live] Cirez D
Hunter/Game [Live] Joseph Capriati
Recondite [Live] Sasha
Sven Vath
+ MANY MORE TO BE ANNOUNCED ACROSS 4 STAGES