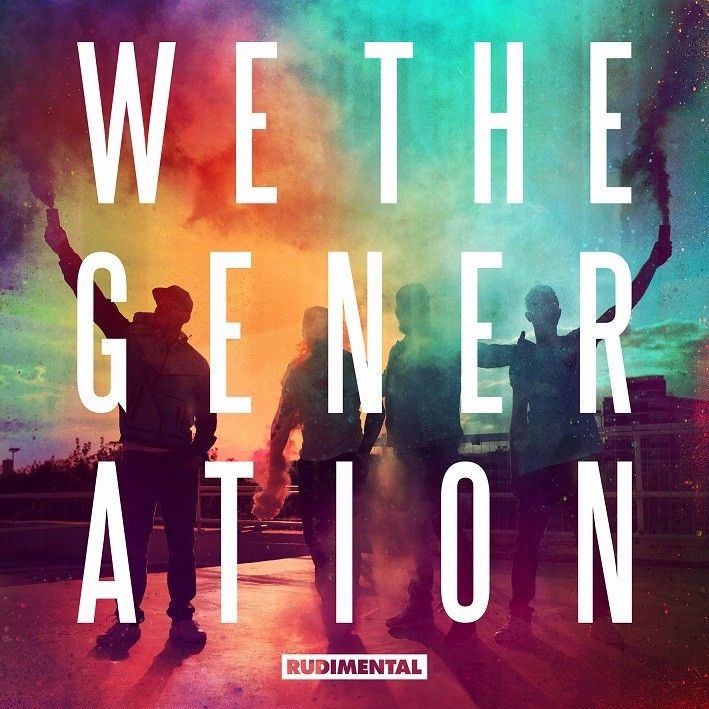 Rudimental - Rudimental – We The Generation
Since unveiling their brand new single Never Let You Go a couple of weeks ago to great acclaim, global-platinum selling four piece RUDIMENTAL have announced their eagerly awaited sophomore album titled WE THE GENERATION, set for release on 18 September through Major Toms/Asylum Records.
We The Generation marks a progressive Rudimental, a genre-defying collective that will continue to change the face of dance music not just within the UK music scene but globally. Never Let You Go updates the much-loved style fans have come to expect from these musical pioneers; a huge drum and bass euphoric anthem that will undoubtedly be a global summer smash. Listen here now:
The 14-track album follows their 2013 critically-acclaimed debut Home, which also made them one of the only British bands to breakthrough on their debut that year. Home earned them a Mercury Prize nomination and landed the band their first BRIT Award for British Single for Waiting All Night ft. Ella Eyre (a singer that up until then was a virtual unknown and who is back for round two on this record!) Rudimental have become renowned for discovering and nurturing the hottest new up and coming talent and We The Generation continues this. On this record we see them championing incredible new young UK singers such as Mahalia on title track 'We The Generation', Anne-Marie (who has signed to the bands brand new record label Major Toms) and Will Heard. Of course, there are also a few household names such as Lianne La Havas who wanted to get in on the act. Rudimental's extended family is one of the most dynamic musical collectives out there with every vocalist naturally immersing themselves in the melting pot. There are special moments in abundance on We The Generation, one particular moment comes in the form of 'New Day Coming', a standout future-soul classic in waiting that features vocals by the late Bobby Womack – one of the last tracks he recorded vocals for before he passed away. They have once again struck musical gold: sound-clashing live instruments, progressive beats and soulful voices. This is what sets Rudimental light years ahead of their contemporaries.
To mark this as an even more monumental moment for the band, they have announced their very own record label, aptly named Major Toms after their Hackney HQ, out of which the band was born. Their first signing to the label is up and coming UK singer, Anne-Marie who has been an invaluable part of the Rudimental family in their live set up, having toured with them for the last couple of years.
Rewinding to the beginning of this amazing journey in 2012, 'Feel The Love' had taken its place firmly at the No. 1 spot, selling over 90,000 copies in its first week. They were the name on everyone's lips…Who were these four guys from Hackney? How did they craft a song so huge it was an instant hit and one that resonated with all sorts of music fans from all walks of life, but also which maintained such a sense of musicality – a rare and exceptional combination these days. And that's the thing about Rudimental; they are a collective with a strong musical heart. With influences ranging from Sly and the Family Stone to Bobby Womack, George Clinton and Steely Dan, We The Generation exemplifies that message and musicality.
Their talents exceed most hit-makers out there; theirs is a sound that is limitless. Collectively they have gone on to sell over 5 million singles worldwide, a true testament to how important and relevant this band is. The upbeat and euphoric feeling that is their trademark permeates everything, whether it's a huge drum and bass lead track like 'Never Let You Go' or a classy house track like 'Rumour Mill' (a track the band describe as 'Spoons Part Two') – positivity is the key.
Rudimental have never been just a drum and bass or electronic act, there's always been precision and skill behind everything they do. This has been demonstrated in their award-winning videos that have now racked up an impressive 238.7 million views across their YouTube channel. But their live set up is where they come into their own, taking these huge songs and translating them on stage and making every single person in the audience feel like they are part of something – no easy feat. Their live achievements to date are something pretty spectacular, from headlining three nights at Brixton Academy in October 2014 (selling out within a week) to supporting Ed Sheeran on his recent US arena tour and a monumental performance at Glastonbury last year on The Pyramid Stage. But it doesn't stop there – this year alone they are confirmed to headline The Other Stage at Glastonbury, Lovebox, plus their very own Wild Life Festival on 6 June, amongst festival appearances around the world. Furthermore they have been invited back to support Ed Sheeran at his upcoming Wembley Stadium show on 11 July.
As you can tell from the band's Facebook and Twitter, their fans are always central to the Rudimental journey. So, today the band have asked them to join the revolution and be part of their generation – to create their own bespoke versions of the new album cover. Fans can upload an image at http://rudimental.co.uk and create their own personal artwork for We The Generation, share it online and be in with the chance of winning their own personalised version of the vinyl album, signed by the band.
Rudimental are a band to bet on. We The Generation will be the album you can rely on to soundtrack the summer, be a huge global success and propel them into international stardom. There is no ceiling to this band, they keep growing and striving for more and rightly so. They are about to take the 'Made In Hackney' stamp and make it global.
We The Generation Track Listing
1 I Will For Love (feat. Will Heard)
2 Never Let You Go (feat. Foy Vance)
3 We The Generation (feat. Mahalia)
4 Love Ain't Just A Word
5 Rumour Mill (feat. Anne-Marie & Will Heard)
6 Common Emotion (feat. MNEK)
7 Go Far (feat. Will Heard)
8 Foreign World (feat. Anne-Marie)
9 Too Cool (feat. Ella Eyre)
10 Bloodstream
11 All That Love
12 Needn't Speak (feat. Lianne La Havas)
13 Lay It All On Me
14 New Day (feat. Bobby Womack)
DELUXE
15 Treading On Water (feat. Sinead Harnett & Will Heard)
16 Run (feat. Will Heard)
17 Breath (feat. Lianne La Havas)
18 System (feat. Max Romeo, Earl 16 & Spee)
For all upcoming live dates please visit: www.rudimental.co.uk