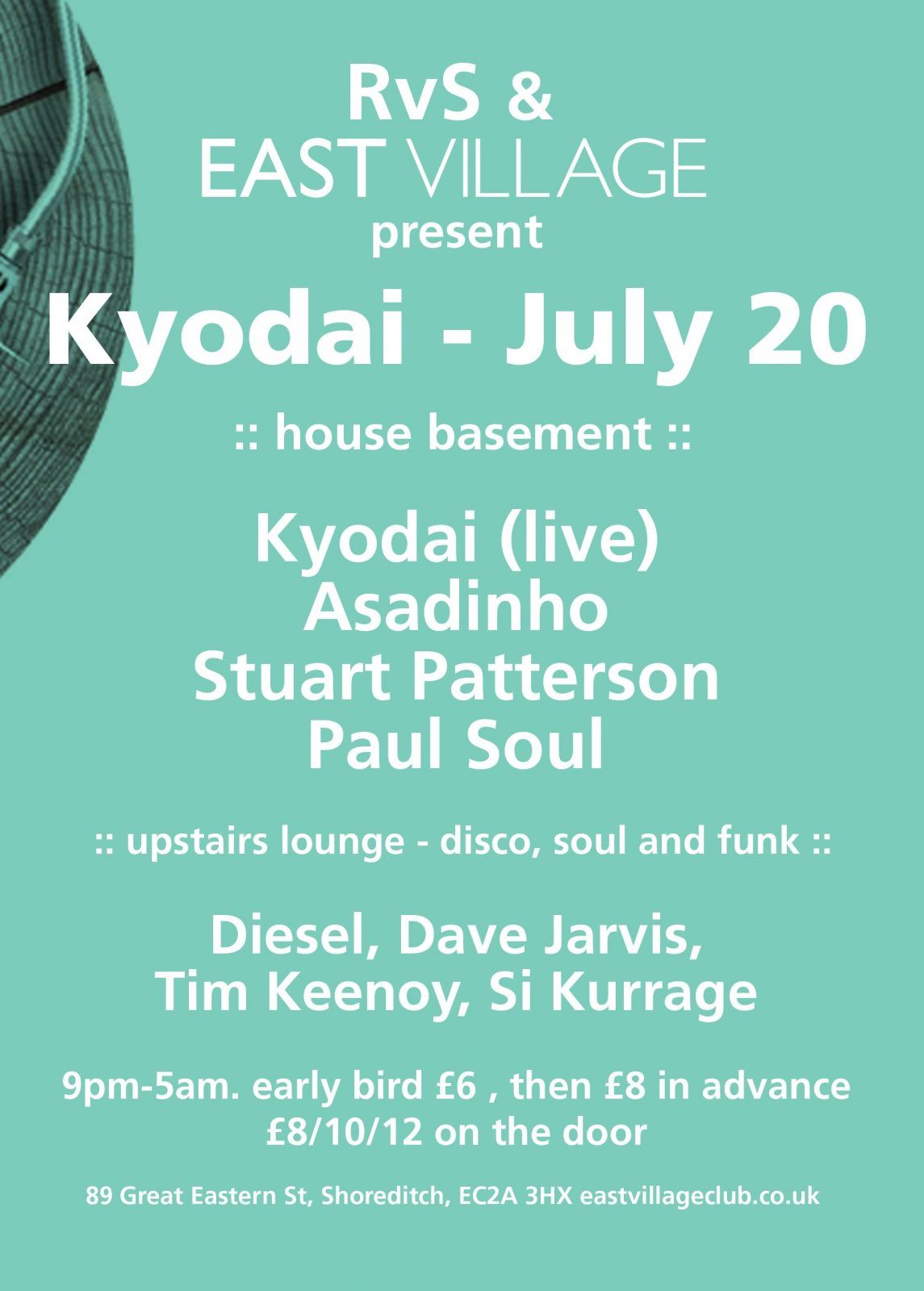 RvS & East Village present…Kyodai
RvS and East Village are very proud to present their special guests Kyodai on Saturday 20th July with support from Asadinho, Paul Soul and inhouse resident Stuart Patterson.
BASEMENT: A massive line up taking over the basement and offering seriously good underground house music. The brilliant Spanish duo, with the Japanese name, Kyodai, fly in from Berlin to headline alongside RvS's own Asadinho and Paul Soul while Stuart Patterson represents East Village.
LOUNGE: Upstairs doesn't pull any punches either as the disco, soul and funk is provided by Diesel, Dave Jarvis, Tim Keenoy and Si Kurrage.
KYODAI
KYODAI means brothers in Japanese and that's about as good a clue as you're getting as to who these two producers are, suffice to say they regularly release under a variety of different names for labels such as Compost, Odori and Lovemonk. For their work under different monikers the sibling producer duo gained respect from musical heavy weights like Masters At Works, Gilles Peterson and Jimpster. Now with their new project KYODAI they have had a strong run of releases starting with their debut on Freerange Records in 2011. This EP 'Mi Rumba' must have impressed a lot of people such as Kerri Chandler and Nicolas Matar (Cielo) as they went on to release their follow up EP 'Breaking' for mad mats' and Tooli's blossoming Local Talk label. This one reached the charts on Juno Download's Biggest Deep House Tracks Of 2012 as well as the Gilles Peterson's 'An All Winners Show'. Further releases in 2012 were 'Never Know' (Pokerflat), 'Sex Affair' (Room Control) and 'La Luz' (Freerange) to name a few. Stay tuned as they have a lot of new stuff in the pipeline for 2013 including their debut album coming out soon on Local Talk.