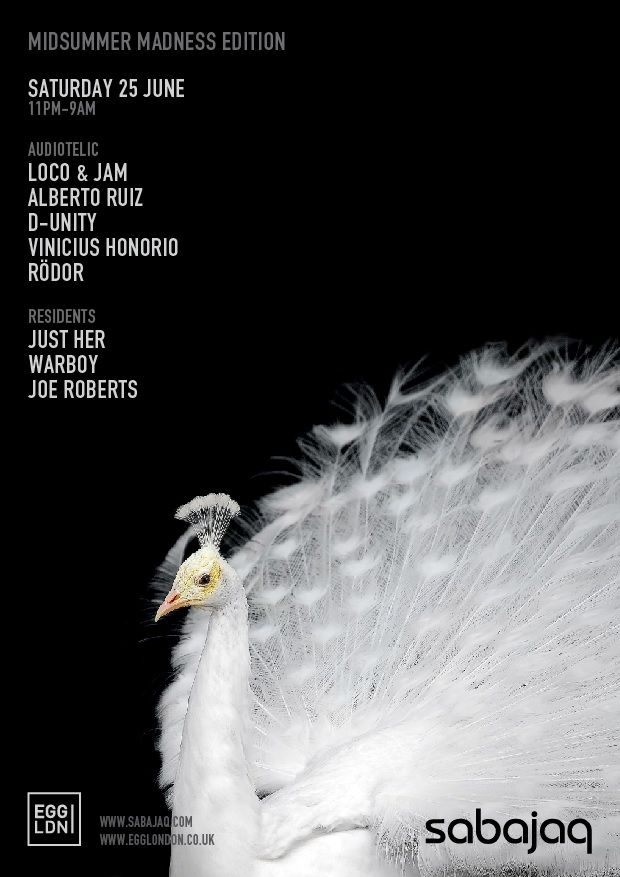 Sabajaq: Loco & Jam; D-Unity; Alberto Ruiz; Just Her; Vinicius Honorio
Saturday 25th June 2016
23:00 – 9:00
On the week that the Stonehenge Summer Solstice celebrations mark the longest day of the year and a cosmic realignment, Sabajaq presents a Midsummer Madness Edition of Shakespearian proportions at Egg London.
There's an earth-tilting torrent of techno in the main room, brought by the elemental forces of Loco & Jam, D-Unity, Alberto Ruiz, Vinicius Honorio and Rödor.
Northern Irish duo Loco & Jam have spent almost a decade supplying everyone from Richie Hawtin to Carl Cox with weapons-grade dancefloor explosives in the vein of their ubiquitous and rarely bettered 'Medussa'.
Toronto's D-Unity comes from the same school of non-stop energy, whether its releasing free bootlegs of classics such as Marshall Jefferson's 'Move Your Body' or straight-up, heads-down heavy groovers like his recent 'Slippin'', or the thumping, old-school flavoured 'Our House' on his own Unity Records.
A former resident at Mallorca super club BCM, Alberto Ruiz has grown into one of the world's most charted techno artists, regularly hitting Beatport's No.1 techno spot to win fans from Dubfire and Pan Pot to Green Velvet and Marco Carola. Most recently, he teamed up with Mr Bizz on his own Stickrecordings.
Vinicius Honorio already has a successful career in drum and bass (as BTK) and has finely tuned ear has proved as expert in the world of house and techno, the sound he first fell in love with. With tracks such as 'Ways Of Old', on Pig&Dan's Elevate label, funnelling the bass energy of d&b into peak time euphoria, expect a summer fresh twist to everything he does. Supporting is Rödor, the anonymous producer whose thus far unreleased productions have earned him a place as new main room resident for Sabajaq.
Sabajaq's other residents take over the ground floor. Previously part of acclaimed Crosstown Rebel's duo HimSelfHer, Just Her (aka Claire Spooner) has continued to gain momentum with her techy sound, both via her own Constant Circles label and with releases across labels such as Suara and Stil Vor Talent. Creative force and Sabajaq founder Jim Warboy brings the brooding sound that has seen him land on labels like Southern Fried and Joe Roberts arrives with an arsenal of house, acid, techno and bass that has seen him guest on stations such as NTS and Rinse FM.
Advance tickets from £10 | Student Members £10 | More on the door